Timothy Zahn Wants To Make More Thrawn Books.
(Not an April Fools' Day article. Seriously.)
If Timothy Zahn has his way, then be prepared for a lot more of Thrawn than the upcoming standalone novel. At a panel at the Emerald City Comic Con, the author revealed that he is currently working on several pitches to Del Rey for new books starring his iconic Star Wars villain in Disney's new canon (if we can still call it new after three years).
On March 3, Timothy Zahn hosted a panel at Seattle, Washington's Emerald City Comic Con to promote his new Star Wars book, Thrawn. Details on this panel have been surprisingly scarce up until this point, but the podcast Far, Far Away Radio recently did a recap that covered the hour-long discussion (starting at about 14 minutes in), which featured new information about Zahn and Thrawn's respective stories. Zahn revealed that he was first made aware of Disney's plans for the character on September 15, 2015 when he was asked if he could show up to talk about Star Wars – which he knew was going to be important when he realized that Dave Filoni was going to be there. When the bomb that Thrawn was going to be in Rebels was dropped, Zahn thought it was a smart decision, but questioned why he needed to be there to hear that. That's when the people at Lucasfilm told him that they wanted him to write a new novel with the character – and the rest is history.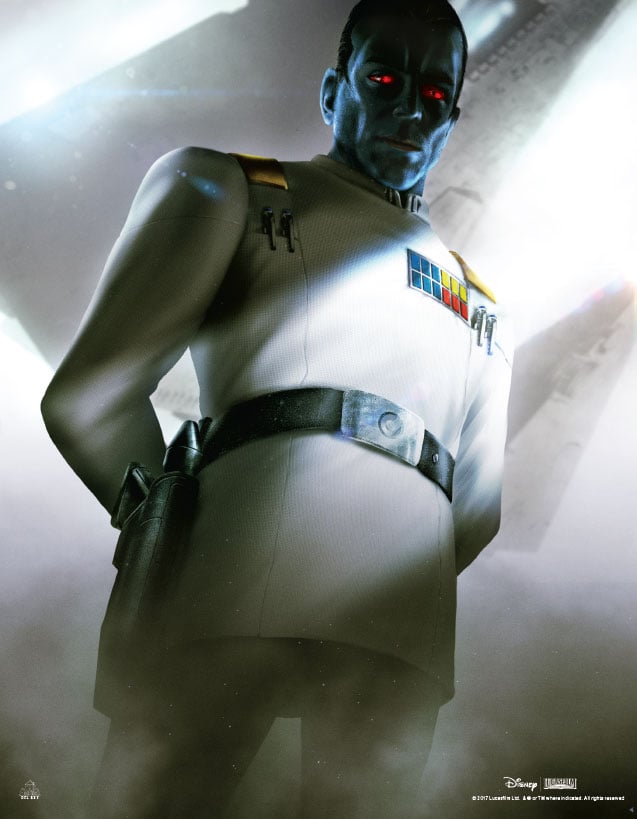 Zahn also praised the presence of the Lucasfilm Story Group and their involvement with his novel, since they were able to help him keep the details regarding continuity consistent to a point where he could focus a lot more of his time just writing the story, and in particular, about Thrawn. He also spoke highly about how the LSG has handled Thrawn's characterization in Rebels – and while a fan asked him about why Thrawn's "losing" in the show, Zahn noted that he's playing the long game (which he almost completely won, as shown in "Zero Hour", since his orders led to Phoenix Squadron dissolving after the destruction of nearly their entire fleet). But the most important part of the discussion is a detail that nobody else picked up on: Zahn's got a plan for more of the character he brought to life. FFAR recapped this portion of the panel as follows:
"Right now, he is pitching Thrawn sequels to Del Rey… He semi-seriously says that he has to do four books with Thrawn, because they've already done a Thrawn Trilogy and a Thrawn Duology. One of the sequels he's pitching involves Thrawn and Anakin Skywalker's backstory, because someone asked 'Well, wouldn't Thrawn have met Darth Vader at some point?'… So that's kind of the little tidbit he gave us… That is one of the ones he wants to write about."
As it stands, Zahn's Thrawn book will go on sale soon and delve into the character's backstory, shedding new light on his role in Rebels and more. Hopefully, Zahn will get his wish of making a Thrawn Tetralogy.
Grant has been a fan of Star Wars for as long as he can remember, having seen every movie on the big screen. When he's not hard at work with his college studies, he keeps himself busy by reporting on all kinds of Star Wars news for SWNN and general movie news on the sister site, Movie News Net. He served as a frequent commentator on SWNN's The Resistance Broadcast.