UPDATE! New Look at Kylo Ren and Rey in The Last Jedi Via Battlefront II.
A new shot from the upcoming EA game Battlefront II shows Kylo Ren and Rey from The Last Jedi. This shot gives us a more detailed look at Rey's new outfit in the film, in addition to some possible character and power traits we can expect to see.
KYLO REN
Kylo Ren is seen without his mask once again, further fueling the speculation that he will be unmasked for a large part of The Last Jedi,  in addition to wearing a cape.
A modifier for Kylo Ren allows you to freeze and pull opponents as you use the Force. Perhaps we'll see Kylo Ren use the Force more kinetically in The Last Jedi?
The image text also mentions a First Order "hero ship". A consistent theme we've seen for The Last Jedi seems to blur the lines between light and dark, but thanks to our reader 
REY
Rey is still using Anakin's lightsaber as we saw in the teaser, and her outfit is darker.
Her character modifier allows you to control the minds of enemies, a trait we saw her discover when she made Stormtrooper 007 release her and drop his weapon in The Force Awakens.
The image text also mentions a modifier involving the Millennium Falcon, so at face value it would appear that Rey may still operate the fastest hunk of junk in the galaxy in The Last Jedi. 
The image was found courtesy of a post on Reddit here.
What do you think of Rey and Kylo Ren's new looks? What are your takeaways from these images and the modifier descriptions? Sound off below and also let me know on Twitter @JohnnyHoey. "For my ally is the Force, and a powerful ally it is."
UPDATE!
Here's a better-quality look at the film stills of Rey and Kylo Ren. (As explained in the fine print seen above, these are not in-game renders of these characters.)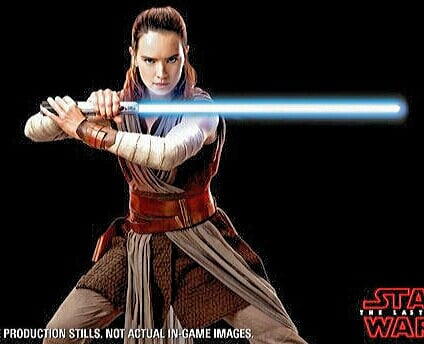 Thanks to Boom Da Funk of Tumblr for providing these images.
John Hoey is the Co-Lead Editor and Senior Writer for Star Wars News Net and the host of The Resistance Broadcast podcast
"For my ally is the Force, and a powerful ally it is."