Kyle's Review: Yoda's Adventure Is Near The End In Marvel's Star Wars #29
In the ways of the Force, as we've learned plenty of times, size doesn't matter. Yet, this latest issue of Marvel's Star Wars deals in the largest and smallest examples of beings that feel the Force. Yoda's story is winding down, but Luke Skywalker may just be picking up where he is leaving off. SPOILERS AHEAD….
Yoda and his new friend and teacher, Garro, have discovered the mountain all of the locals feared is actually a living being. At the conclusion of the last issue, they actually discovered it's heart. The stones that channelled the Force were actually pieces of the benevolent beast. The cover of this issue is a bit misleading, because the more we learn about this mountain-sized creature, the more we discover it is a victim.
The stone giant belongs to a race that once protected the planet, but were brought down by the greed of the inhabitants. Not only did the people weaken the stone giants to immobility, causing them to appear as mountains, they continued to plunder the stones, reducing the stone giants to one. Yoda and Garro are in the presence of the last of the stone giants.
Yoda can sense that the stone giant is awake, but he knows the giant needs to regain it's strength before it can become a protector again. Yoda is very protective of the stone giant, knowing that the wicked Rockhawker children will see the creature as a threat. The Jedi Master seems to place a great deal of faith in young Garro that he will have the same outlook.
To Yoda's surprise and disappointment, Garro gives up everything about the stone giant. Yoda urges him not to, but the boy takes the easy path and takes back up with the Rockhawkers, dismissing Yoda. The Rockhawkers claim possession of the mountain, so Yoda makes his way back to the children he first met upon arriving. This strange world tosses the Jedi Master back and forth, between a fractured race of cowardly parents and confused children.
Let me pause for a second to say that I appreciate what Jason Aaron was trying to do with this contained Yoda story, but I felt by this point in the issue that the story kind of got lost. The jumping back and forth, between Luke reading Obi-Wan's recollections which recount Yoda's recollections, not to mention throwing Obi-Wan's present day encounter with Garro as a grown man on Tatooine….I think you see what I'm saying. Comics are a challenging medium, especially in their brief, episodic nature. I feel like this whole story arc of "Yoda's Secret War" will be served better to the reader if they read all issues back-to-back. I didn't realize it until I reached this point in the issue, but this arc is all over the place. Again, much respect to Jason Aaron's skills and the risk he took, but this arc is feeling pretty dry.  Let's continue.
The children look to Yoda for guidance as he tells them to brace for war. Yoda knows what the Rockhawkers are going to do. The Rockhawkers aggression stems from the Dark Side, and now that Garro can teach them how to communicate with the mountain, that is the side of the Force which will fill it. Yoda frantically tries to teach the children how to commune through the stone power, ergo the Force, so that they can prevent the mountain from wiping everyone out. The children are overwhelmed and Yoda must take matters into his own hands.
Well, if you were a little annoyed by my Lord of the Rings comparison last week, it doesn't look like I was too far off the mark. I have to think this is some sort of homage, but if that's just a thought some of you Star Wars fans can't bear to think, please disregard this frame. Whether this is Yoda channeling his inner Gandalf or not, what you need to know is that Yoda is getting in front of this angry, Dark Side-charged, stone giant. Yoda does not think he is coming back, but he is trying to protect the children, both the good and the Stonehawkers. Again, Yoda doesn't blame this Stonehawkers for becoming what they became, he blames the parents for abandoning them out of fear.
Yoda manages to stand his ground, and the Stonehawkers are amazed. They thought they made this stone giant their puppet, but Yoda is keeping the gargantuan creature at bay. Garro realizes the self-sacrifice Yoda could potentially be making and recognizes that he gave into fear and took the easy path. Remember, we saw Garro as an old man on Tatooine, haunted by memories of the Jedi. This moment is the beginning of a long life of regret for Garro, and this is where Yoda's tale ends (at least in this issue).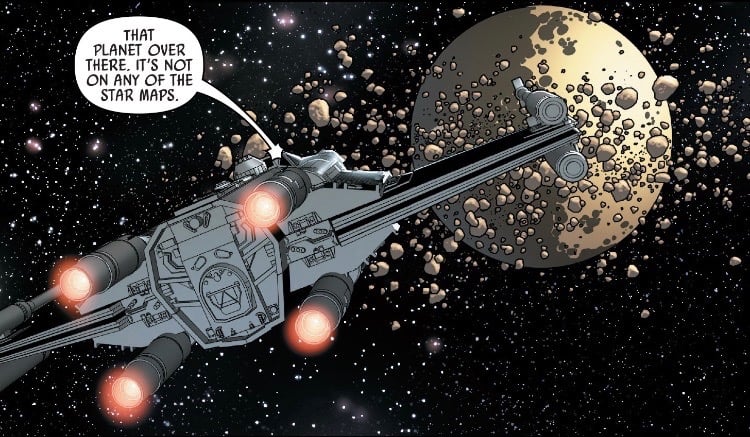 If you remember, Obi-Wan sketched the star map tattooed on Garro's head in his diary, after his encounter on Tatooine. Luke has used this sketch to locate the Vagadaar system. In the typical young Luke fashion, he has decided to stop reading Obi-Wan's account of Yoda's experience and dive straight in without looking. What could go wrong?
Well, that looks a bit foreboding. It looks like Luke is going to have his hands full in the next issue with Garro, last of the Rockhawkers. Whatever soul searching Garro has been doing, it doesn't look like it ended well for him. Given that we know where Luke is going to end up about thirty years down the road from here, it's ironic that he's kind of doing what Rey did when she sought him out. I know that might sound like a stretch, but it's very similar, in my opinion. I like that Luke is witnessing what can go wrong when you cut yourself off from the rest of the galaxy. It makes me wonder if he will view Garro's fate as a cautionary tale, but we'll have to wait until December for that answer.
I'm ready for "Yoda's Secret War" to be done. I love the little, green guy, but this story feels like it's wandered a bit from a fairly strong start. In my opinion, we need more stories that stay relevant to the major events of the galaxy, at least for right now. There's plenty of time to tell stories like these later, but we Star Wars fans are hungry for more. Yoda's great, but I'm sure he was doing more consequential stuff in his years as the senior Jedi Master on the Council. Let's hear those stories, please.
As usual, Salvador Larroca and Edgar Delgado deliver some fine art. It's usually a win with these two on the drawing board.
I'm excited to get to the end of this arc. One more issue, and it looks like Luke's going to get a little lightsaber practice in.
This issue is for sale at your local comic shop or digitally through comiXology.
Kyle Larson lives in Portland, Oregon. When he's not running trails, he's reading and writing.