Star Wars Battlefront Sequel Will Have Single-Player Campaign, Multiple Eras.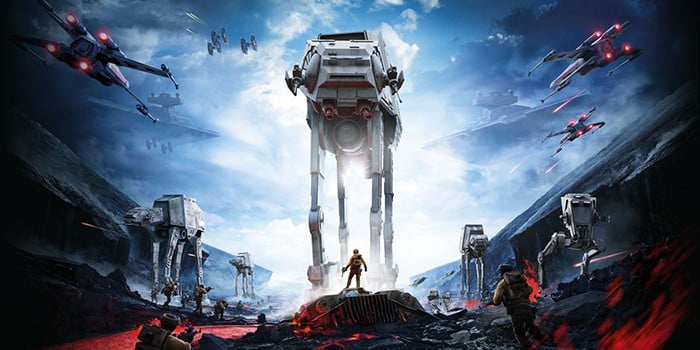 Two of the biggest complaints about DICE's Star Wars Battlefront revolved around two things that were present in the Pandemic Studios games but were absent in the reboot – a playable era aside from the Galactic Civil War and a single player campaign. Well, it sounds like DICE got the message, as a recent investor's call highlighted that these features – and more – will be present and accounted for in the currently-untitled Battlefront sequel.
From the official Electronic Arts website:
We're thrilled to bring a new Star Wars Battlefront game to fans worldwide in the 2017 holiday season. In the past two years, Rogue One and The Force Awakens have opened new storylines and captured the imagination of hundreds of millions of Star Wars fans. We've listened closely to our passionate Star Wars Battlefront community, and expanded our existing game with more great content and experiences since its launch. As that game continues to thrive, we have also heard our players' desire for even more depth and progression. Our next Star Wars Battlefront will be even bigger, taking players into more locations, and allowing them to play with more heroes and characters across multiple Star Wars eras. There will be new ways to play, including an all-new single-player campaign, and much, much more that we are excited to share with our players in the months ahead. To build a game of this magnitude, we've brought together three great studios – DICE, Motive, and Criterion – and aligned their areas of expertise to deliver an amazing experience in the next Star Wars Battlefront.
Note that "multiple eras" does not necessarily ensure that the Clone Wars era will be present, as it has yet to be officially confirmed, while content from the Sequel Trilogy era has already been established as a focus of the game from DICE's concept art and casual discussion of the game. Still, it's worth keeping in mind that the plurality of the statement suggests that we'll be seeing more than just stuff from The Force Awakens and The Last Jedi in the sequel.
In the meantime, the presence of a single-player campaign is probably going to be met with fits of rapture from the fan community. Seeing as Battlefront's planned single-player campaign was canned in favor of getting the game out at an earlier point in time, the inclusion of such a mode in the sequel will likely allow fans to scratch an itch that's been bugging them for a few years. Expect to see more about the Battlefront sequel at Celebration Orlando and E3.
Grant has been a fan of Star Wars for as long as he can remember, having seen every movie on the big screen. When he's not hard at work with his college studies, he keeps himself busy by reporting on all kinds of Star Wars news for SWNN and general movie news on the sister site, Movie News Net. He served as a frequent commentator on SWNN's The Resistance Broadcast.