Mark Hamill Reunites with his 'Return of the Jedi' Lightsaber Prop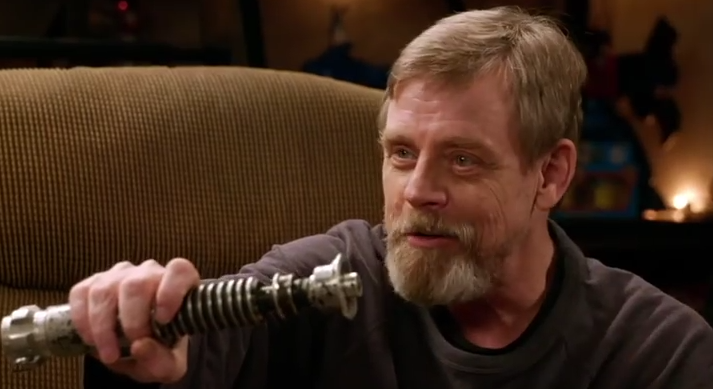 Up until the very final scene of The Force Awakens, it had been over three decades since Mark Hamill's last Star Wars movie. But even though Return of the Jedi came out in 1983, Luke Skywalker hasn't forgotten his lightsaber, because he recognized it immediately when he reunited with the famous prop.
From Outer Places, by Jonathan Kesh:
As a part of his online series Mark Hamill's Pop Culture Quest, part of the streaming site Comic-Con HQ, Hamill goes around looking for rare collector's items hidden away throughout geek culture. But in a teaser released to GeekTyrant in advance of an upcoming episode, Hamill came across something much closer to home. Here's the footage of Hamill seeing the original prop for his green lightsaber in Episode VI for the first time in years (he swears he didn't know about this beforehand):
The prop's current owner attempts to explain its history, noting it was the same prop used by Alec Guinness (Obi-Wan) as his special effects lightsaber in A New Hope. But that's as far as he gets before Hamill, the memories visibly flooding back to him, launches into his own experiences swinging the thing around on camera. According to him, the blades themselves were poles covered in super-reflective movie screen material, and whenever he activated his weapon, he'd have to freeze so crew members could come pop the blade on before running out of sight. He also had a wire running down his sleeve to a battery pack, to keep the hilt's motor running.
Whether or not Skywalker will swing his lightsaber again in Episode VIII is something we won't know until the end of the year (unless a trailer spoils it). It's a safe bet though, even if it'll be the blue lightsaber he used in the first two movies, not the green one he's holding here. It can't be the green one, because it belongs to this guy now. Or yes, they could just make a new prop.
Star Wars: Episode VIII comes out on December 15, 2017, while the next episode of Mark Hamill's Pop Culture Quest goes up this week on Comic-Con HQ.
This article first appeared on Outerplaces.com