EW Reveals New Creatures and Droids from Rogue One!
Entertainment Weekly's collector's edition of The Ultimate Guide to Rogue One: A Star Wars Story is on newsstands now. Several new alien creatures and droids have been revealed by EW, who can also be found on the pages of this issue. Check them out…
Here are some of the creatures and droids, with some insights from EW and creature-effects supervisor Neal Scanlan.
From EW: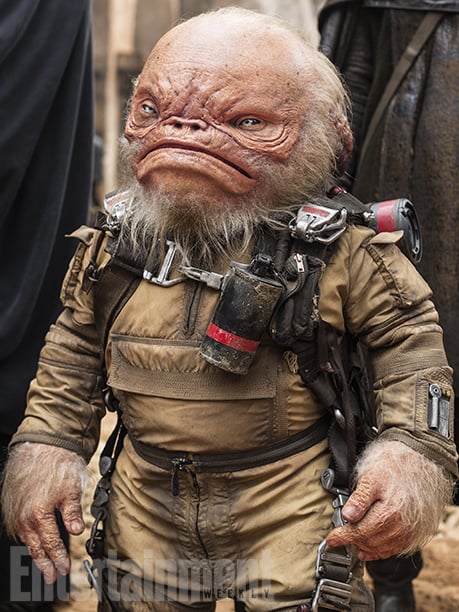 Weeteef Cyubee
Warwick Davis has played various characters in three Star Wars movies — and in Rogue One he's back as a wrinkly member of Saw Gerrera's (Forest Whittaker) team. "Warwick is performing pretty blind inside the animatronic head," Creature-effect supervisor Neal Scanlan says. "He is cocooned in his [costume], and his imagination brings such incredible life to his performance." Though Weeteef is a good rebel, his look was inspired by a mean fish. "We thought of a piranha," says Scanlan, pointing out that Weeteef's name is slang (wee teeth) for his tiny, sharp incisors.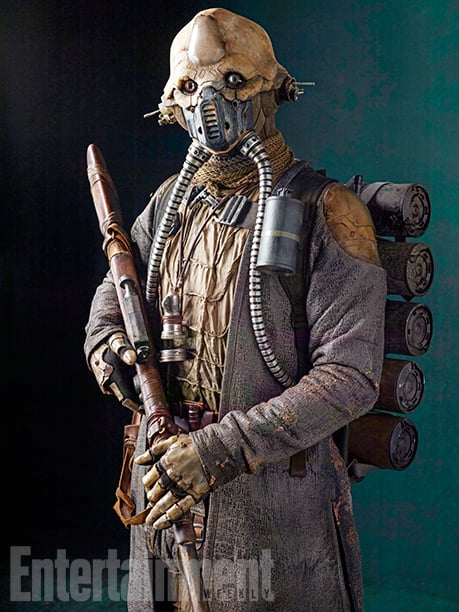 Benthic
Breathing assistance is not a new concept for Star Wars characters, even though the coughing and heavy wheezing are often reserved for villains like Darth Vader or General Grievous. But despite the apparatus on his face (inspired by gas masks from the First and Second World Wars), Benthic is no friend of the Empire. In Rogue One, he's allied with the Rebels to fight back against the evil forces that conquered his home planet, and rendered him a refugee. The oxygen is strong with this one.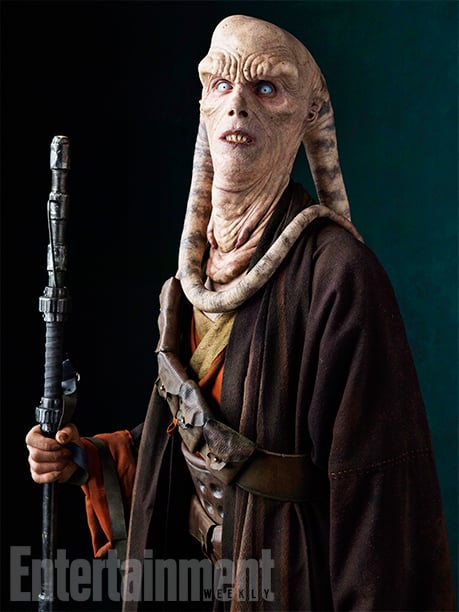 Beezer Fortuna
Sharp-eyed fans will spot the similarity (in name and appearance) between this wormlike fella and the slithery Bib Fortuna, Jabba the Hutt's consigliere in Return of the Jedi.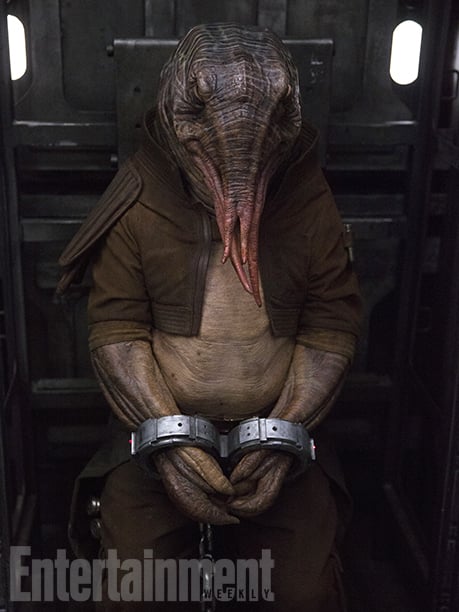 Oolin Musters
Earth's ocean has been a lucrative casting agency for many Star Wars creatures, including this rebel fighter who appears in a prison cell.
Image Credit: Giles Keyte/Lucasfilm Ltd.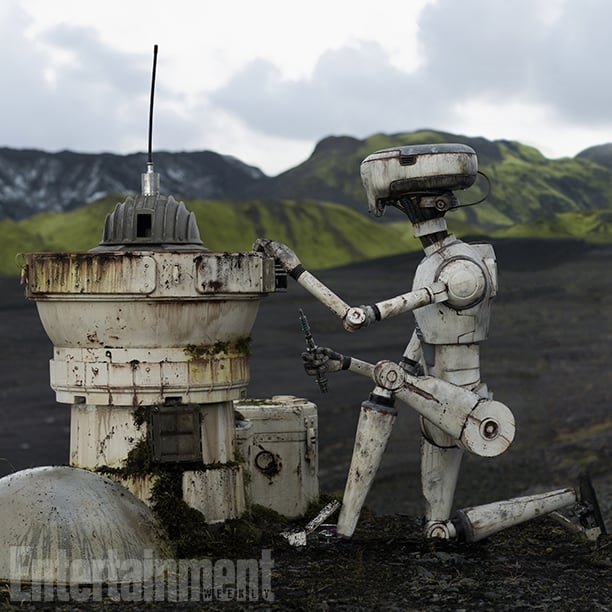 Farm Droid
The loose-jointed robot works on the farm of Galen Erso (Mads Mikkelson), father of Jyn (Felicity Jones). "The character alerts him to the arrival of the Imperial troops," Scanlan says of the character, who's seen at the beginning of the film.
For the full gallery make sure to go to EW.