Weekly Buzz! Felicity Jones is Slowly Becoming a Star Wars Nerd, the Rebels Convor is Back and More
This week on our Star Wars Weekly Buzz:
Felicity Jones becomes a Star Wars nerd; the Convor is back, this time on Sabine Wren's armor from the upcoming episode of Star Wars: Rebels; the future of Star Wars: Rebels' Agent Kallus; Mark Hamill joins Rag and Bones and more!
We kick off this week's BUZZ with Felicity Jones appearance on Jimmy Kimmel Live. The actress spoke about the relationship she has with the Star Wars fan community and also presented a hilarious gift to the show's host.
You can check out the interview here:
Ray Stevenson is voicing the Mandalorian Gar Saxon in the upcoming episode of Star Wars: Rebels:
Yes, that's Ray Stevenson as Gar Saxon! He joins his former ROME co-star @TheRealKMcKidd on the next #StarWarsRebels https://t.co/gTjcSOwZ4z

— Steven Melching (@stevenmelching) October 24, 2016
Also have you noticed the Convor on Sabine's shoulder armor?
In case you don't know why this is interesting, here's Wookieepedia's informative description on it:
Convorees are named after Dave Filoni's wife Anne Convery. When asked about the bird's appearance in "The Mystery of Chopper Base" and "Twilight of the Apprentice", he responded there was a deeper meaning behind its presence, finally acknowledging "In some ways, I could say that it's a messenger, it's an observer. It is definitely something. And I would suggest – I would rather have fans debate – but I would suggest to say that whatever that thing is an avatar of has actually appeared in the animated Star Wars universe before. So decrypt from there… Have a fun summer!"
A bigger role for Star Wars: Rebels' Agent Kallus?
David Oyelowo, who provides the voice for Agent Kallus in Rebels spoke a little about Star Wars this week. JOEie.com caught up with the actor and asked him if he fancied an even bigger role in the Star Wars universe.
Check out what he had to say about the possibility below:
A closer look at Darth Vader from the final Rogue One trailer (notice, the RED lenses):
BBC's Lizo Mzimba has found a listing showing the running time of the two new deleted scenes from The Force Awakens 3D Blu-ray:
2 new deleted scenes in next wk's @StarWars:The Force Awakens blu-ray. Unkar Plutt in 1, Leia poss with @Maisie_RS in other @SimonPegg @BBFC pic.twitter.com/svTAIs7X9H

— lizo mzimba (@lizo_mzimba) October 24, 2016
Daisy Ridley responds to fans that are labeling her Star Wars character Rey as a Mary Sue.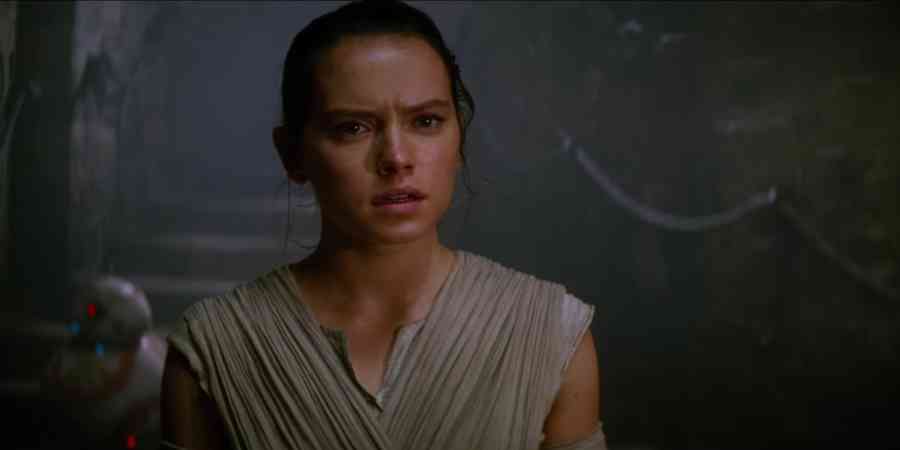 Recently, Daisy Ridley sat down to discuss her work as an executive producer on the new documentary The Eagle Huntress on the MTV News podcast Happy Sad Confused. During the chat, the actress spoke about those who have called Rey a Mary Sue. Ridley had this to say:
"The Mary Sue thing in itself is sexist because it's the name of a woman. Everyone was saying that Luke had the exact same [capabilities]. I think Rey is incredibly vulnerable, and nothing she's doing is for the greater good. She's just doing what she thinks is the right thing. And she doesn't want to do some of it, but she feels compelled to do it. So for me, I was just confused."
Check out the entire Daisy interview here.
Collider Jedi Council's full interview with Pablo Hidalgo:
Ben Schwartz' Star Wars future revealed.
Ben Schwartz' s The Earliest Show, a new sketch series on Funny or Die recently premiered on Thursday, October 27th. In the very first episode, Schwartz's talked about his involvement in the next Star Wars film. His response was hilarious:
" I lucked out with J.J. [Abrams] bringing me in for that one."
He also joked that he would have a different and probably more significant role in the next movie.
"I'm going to play Yoda in the next Star Wars. I'm going to live-action it, I'm going to green myself up. I think it'll be pretty cool. I'm going to talk normal, and then I'm going make it feel like I just fixed my speech and all that stuff." He said. "A goal of mine would be to be in one of those movies as me… not as Ben Schwartz, but as me playing a character there. You know what? I'd like to play myself." He continued. "I mean, I feel like we can make an action figure out of me. My parents would be so excited."
You can see the entire video below or over at Nerdist.com:
Mark Hamill reflects on Luke Skywalker being cooler.
Rag & Bone continues to push the boundaries of traditional fashion campaigns with the announcement of The Men's Project."
The Project, includes nine men with diverse artistic backgrounds that have been selected by actor, writer and director John Turturro.
You can check out Mark's video below.
This week on The Star Wars After Show:
Andi Gutierrez chats with Lucasfilm employees Scott Bromley, Jennifer Heddle, and Daniel Kennedy about the Lando Calrissian casting news, the Battledroids on Star Wars: Rebels, Ahsoka, and more!
Check out the new Star Wars Smuggler's Bounty: Rogue One Trailer!
The November theme for Smuggler's Bounty is Rogue One! Check it out over at Smugglersbounty.com.
A first look at George Lucas' museum designs for L.A. and S.F. Looks amazing!
Star Wars Days at Sea Disney Cruise Special Events.
Travel to a galaxy far, far away on your very own cruise ship! In early 2017, Star Wars Day at Sea is back with a day long galactic celebration for the most out of this world Disney Cruise special event. Cruise goers can experience the Force on both the eastern and western Caribbean seven night itineraries. Star Wars Day at Sea sails each week beginning January – April, 2017.
Run into your favorite characters aboard the ship, compete in Star Wars trivia games, check out exclusive Star Wars food and merchandise, have your little Padawan train to be a Jedi… the list is endless. You can even see a screening of the all-new film, Rogue One: A Star Wars Story, along with the seven films of the Star Wars saga. The epic Star Wars deck party and fireworks are even bigger and better than ever. With an out of this world party that leads into a fireworks display you can't find anywhere else in the galaxy. Enjoy the iconic score, sound effects pyrotechnics that made the Star Wars films iconic. It is pretty easy to see, the Force is strong on this Disney Cruise special event sailing.
Get ready to experience the Force like never before.
Rogue One composer Michael Giacchino is ready for Helloween:
— Michael Giacchino (@m_giacchino) October 28, 2016
The Force is with Super Mario.
Super Mario Star Wars Poster pic.twitter.com/SFFVr8owuP

— Gamer Girl (@Paulita_Lausen) October 28, 2016
Jar Jar Binks invades the new Rogue One poster:
Pfft who am I kidding. Behold! The poster you've all been waiting for: The new and improved final #RogueOne poster! #TheBrotherhoodOfBinks pic.twitter.com/15O7RQWXxJ

— Olly Gibbs (@ollyog) October 24, 2016
The Pablo Hidalgo Spot.
A new comparison on the ship that left Rey on Jakku.
Has anyone proposed this Rey theory yet? If not, dibs. pic.twitter.com/GvDsFn5tCF

— Diablo Hidalghoul (@pablohidalgo) October 26, 2016
James Bond back in the day.
Star Wars / Young Indy shared actors – Daniel Craig (First Order stormtrooper) pic.twitter.com/JaMaVDkPQM

— Diablo Hidalghoul (@pablohidalgo) October 26, 2016
Is that Porkins?
Star Wars / Young Indy shared actors – William Hootkins (Porkins) pic.twitter.com/Y8emmOWBoC

— Diablo Hidalghoul (@pablohidalgo) October 26, 2016
On Michael Giacchino:
@Warmustbeend123 he's a talented composer who knows to create a score suitable to the movie he's working on. What else would one expect?

— Pablood Hidalghoul (@pablohidalgo) October 22, 2016
On the blood in the Star Wars universe:
@rh0dy Changing sensibilities of PG movies. But if you really need an in-universe answer, make up something about Aqualish blood chemistry.

— Pablood Hidalghoul (@pablohidalgo) October 26, 2016
Sometimes production-based answers are better than in-universe answers. Unless you prefer "Cantina aliens are Botoxed and less expressive"

— Pablood Hidalghoul (@pablohidalgo) October 26, 2016
On the age of Hux, Poe and Phasma:
@e_brienne Poe is 32. Hux is 34. Phasma's age is not stated.

— Pablood Hidalghoul (@pablohidalgo) August 30, 2016
On the shooting process of the prequel trilogy and Rogue One:
On the change of looks of Emperor Palpatine: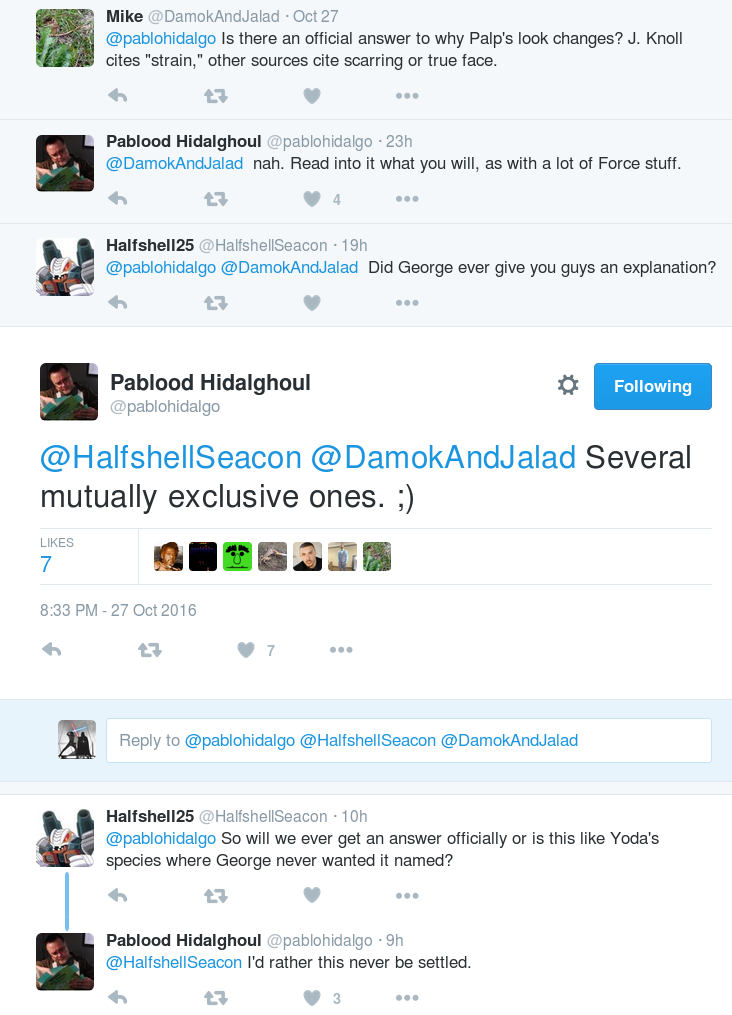 Stay tuned for more next Friday.