Rumor: The Han Solo Movie Will Show the Sabacc Game That Won Him the Millennium Falcon.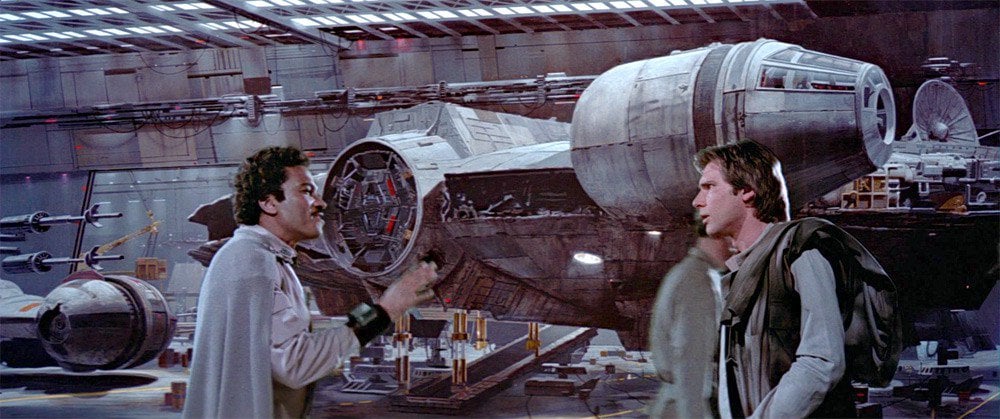 In The Empire Strikes Back, Lando talks about how the Millennium Falcon used to be his ship, at which point Han replies that he won it fairly. In the Star Wars Legends continuity, it was explained that the modified YT-1300 light freighter was offered as a wager in a game of Sabacc – and rumor has it that we're going to see that very game play  in the Han Solo movie.
From Slashfilm (via Borys Kit of The Hollywood Reporter):
Previously the only information we knew about Han Solo's Star Wars Story, besides the two aforementioned cast members, is that it will be directed by 21 Jump Street and The LEGO Movie filmmaking duo Phil Lord & Chris Miller with a script from The Empire Strikes Back and Return of the Jedi writer Lawrence Kasdan and his son Jon Kasdan. There have been a few assumptions about where the story might venture in Han Solo's past, and one of them seems to have been confirmed.

The Hollywood Reporter journalist Borys Kit revealed on Twitter that a couple sources have told him that the Han Solo spin-off will reveal how he won the Millennium Falcon from Lando Calrissian. That's been something fans have presumed would be revealed, but this is the first we've heard that this detail will be included from sources behind the scenes.
A couple of sources tell me the #HanSolo spin-off will tell how Lando Calrissien lost the Millennium Falcon to Han.

— Borys Kit (@Borys_Kit) October 21, 2016
This, of course, would justify the inclusion of Lando Calrissian among the movie's cast of characters, as his presence would be absolutely necessary to tell this chunk of Han's backstory. In general, it's sounding more and more like the movie is going to feature a plethora of elements from the trilogy of Han Solo books by the late Ann C. Crispin, even though those stories are now Legends in and of themselves. The real question is now whether or not Han cheated to get his hands on the ship…
The currently-untitled Han Solo movie is slated for a May 26, 2018 release date. We at Star Wars News Net will cover information on this movie and more as it breaks.
Grant has been a fan of Star Wars for as long as he can remember, having seen every movie on the big screen. When he's not hard at work with his college studies, he keeps himself busy by reporting on all kinds of Star Wars news for SWNN and general movie news on the sister site, Movie News Net. He served as a frequent commentator on SWNN's The Resistance Broadcast.