Star Wars Weekly Social Buzz!
This week we have Mark Hamill's surprising cameo in a British sitcom, some hints at the possible female lead in the Han Solo spin-off movie, first review of the novel Ahsoka, a very cool interview with Freddie Prinze Jr. on the new season of Rebels, several fantastic fan trailers and videos, and more…
First we start with Mark Hamill and his funny surprising guest appearance in Channel 4's British sitcom Man Down. Check out his scene:
This isn't a deleted scene from Star Wars, this is ACTUAL @HamillHimself in #ManDown.https://t.co/gzeBiJo7e9

— Channel 4 (@Channel4) August 17, 2016
Rogue One writer Gary Whitta has a super cool prop from the movie:
Perhaps the nerdiest thing I own – a jar of sand from the beaches of Scarif #RogueOne pic.twitter.com/nuMY0mIaai

— Gary Whitta (@garywhitta) August 15, 2016
Some interesting  backstory on Poe Dameron and his X-Wings from The Force Awakens via Michael Kogge's Poe Dameron: Flight Log:
Didn't I see someone asking @pablohidalgo the other day about Poe's X-wing switch in #TheForceAwakens? Here ya go. pic.twitter.com/FgI6WWOH1l

— Florian B (@germanjedi) August 19, 2016
Han Solo directors Chris Miller and Phil Lord visit the Millennium Falcon on The Force Awakens set:
#TBT to TFA on the day @philiplord & I first set foot on the Falcon pic.twitter.com/PDMYX6m6T5

— Chris Miller (@chrizmillr) August 11, 2016
Mashable's Jeff Sneider made an interesting comment regarding Devin Faraci's article about the cultural representation in Star Wars films:
Is it possible to see Sana Starros in the Han Solo film?
For those of you who haven't read the comics, Sana Starros is (via Wookieepedia):
A human female who lived during the time of the Galactic Civil War. She claimed to be married to Han Solo, though he denied it, and regardless they were not on good terms in the time after the Battle of Yavin. She traveled across the galaxy in search of Han, from Tatooine to the Monsua Nebula, in order to confront him.
Canadian actress Kawennáhere Devery Jacobs revealed that she did get a chance for a second audition to play Rey during The Force Awakens Casting process:
Interesting. Indigenous Canadian actress Kawennáhere Devery Jacobs was called back to a 2nd audition to play Rey. pic.twitter.com/mNcE6B8bV2

— Mark (@quigonsmith) August 15, 2016
While some people think this is a good indication that Rey is not a Skywalker, because of the ethnicity of the actress, we have to keep in mind that this depends on the mother. So, even if we had Jacobs playing Rey, she could still be a Skywalker depending on her mother.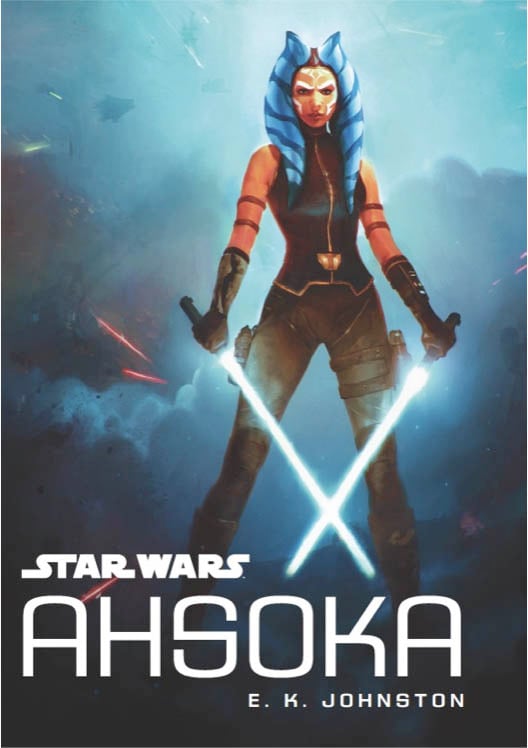 Check out this first brief review of E.K. Johnston new novel Ahsoka:
From KirkusReviews:
She is a Togruta who managed to survive the aftermath of Order 66, the Empire's plan to eradicate all the Jedi. Ahsoka is forced to hide on planets in the Outer Rim, so as to not attract attention while she tries to reconcile her new fate without the guidance of her former master, Anakin Skywalker. As a Padawan left without counsel, Ahsoka must rely on her Jedi training to keep her true identity a secret. Taking on a new name, Ashla, she finds refuge and work as a mechanic on the farming moon of Raada. After the Empire makes a surprise visit in an attempt to occupy the moon, a failed resistance plan by farmers incites an Imperial attack on Ahsoka's new friends, and she is forced to openly use her Jedi powers to temporarily save them. Now that the Empire is aware that there is indeed a Jedi still alive in the galaxy, they spare no expense to find her. Johnston offers up an emotional and exciting chapter in the Star Wars saga, filling fans in on what exactly happened to at least one Jedi that survived Order 66. The best revelations come when familiar faces treasured by fans appear from the shadows as Ahsoka's allies, as the fight between Light and Dark continues.
New Rogue One coloring book is on the horizon. You would need a lot of grey for that Death Star:
Art of Coloring @StarWars#RogueOnehttps://t.co/gjBKVSnmCG#fbpic.twitter.com/ie7G1dI3Dq

— Stitch Kingdom (@stitchkingdom) August 19, 2016
Peter Mayhew wrote a touching farewell message to his old friend Kenny Baker:
In remembrance of Kenny…https://t.co/3vHlopDeoO pic.twitter.com/sSpVKHRcdk

— Peter Mayhew (@TheWookieeRoars) August 15, 2016
Rich Williamson has cut together an amazing fan trailer showing what Ben Kenobi's life may have been like after the events depicted in 2005's Star Wars: Revenge of the Sith. The trailer shows the famous Jedi master living his life of exile on Tatooine (seen in the original Star Wars film), while watching over a very young Luke Skywalker. A majority of the footage comes from Rodrigo García's film named 'Last Days in the Desert'.
Another cool trailer from The Star Wars Alert. This time a mashup between The Force Awakens and Rogue One:
Also here's a pretty cool Rogue One fan trailer using the Beastie Boys music:
Now this is a super cool bike. They should start mass produce those and sell them with the Scout costume:
Very cool fan movie, showing us that Stormtroopers are regular people fighting for a cause. The 12-minute short directed by Samtubia and Samgoma Edwards won a Filmmaker Select prize at the Fan Film Awards (via Yahoo):
Our friend Dash Star has posted his full interview with Freddie Prinze Jr. who voices Kanan in Star Wars: Rebels. Check it out:
The latest from Pablo Hidalgo.
On the rocket launcher and AT-ACT from the Rogue One trailer:
@SuperFryX We've never seen an AT-ACT in action before. We also don't see how that shot resolves itself. Ask again in December.

— Pablo Hidalgo (@pablohidalgo) August 15, 2016
On the Story Group's involvement with the movies:
@Naquicious We visit the sets quite regularly.

— Pablo Hidalgo (@pablohidalgo) August 15, 2016
Kylo's shuttle from TFA still has no name:
@SLSurovec No, it has no name.

— Pablo Hidalgo (@pablohidalgo) August 18, 2016
On Muuns:
@E_Harz1138 Tim created the planet for his book. the EU made San Hill of the banking clan a "Muun". Clone Wars kept that name.

— Pablo Hidalgo (@pablohidalgo) August 18, 2016
@E_Harz1138 In George's mind, they come from Scipio. So that's what we're sticking with, though he didn't mind enough to change their name.

— Pablo Hidalgo (@pablohidalgo) August 18, 2016
@E_Harz1138 He pointed to some art & said make it something like that. Weirdly, it was Neimoidian art so I'm dunno where the Muun thing came

— Pablo Hidalgo (@pablohidalgo) August 18, 2016
The Episode III art suggested as a possible starting point for Plagueis in publishing. Not sure how it became a Muun pic.twitter.com/aWVw3jpQvx

— Pablo Hidalgo (@pablohidalgo) August 18, 2016
On the EU and the Skywalkers:
@natteed Always? No. The Thrawn trilogy doesn't work if it was public knowledge. Thrawn would never have trusted the Noghri to fetch them.

— Pablo Hidalgo (@pablohidalgo) August 16, 2016
On the Death Star dish being installed in Rogue One:
Stay tuned for more next week.