Star Wars Weekly Social Buzz!
We're exactly one week before Star Wars Celebration Europe! Check out the latest posts and comments from the Star Wars cast and crew before the highly anticipated event. This week we've got the latest from Daisy Ridley, John Boyega, Rian Johnson, Pablo Hidalgo and more.
As we know Star Wars: Episode VIII will finish principal photography on July 22. Several cast members have already revealed that they are done with the filming.
Anthony Daniels was first to officially announce that he is done filming yesterday:
Sad yesterday. I wrapped on Ep VIII. Thanks to ALL the team especially David & Joe, Kathy & Ram, Jamie & of course RIAN. I have loved it. XX

— Anthony Daniels (@ADaniels3PO) July 7, 2016
Next it was John Boyega:
A photo posted by BOYEGA (@jboyega_) on
And Pablo Hidalgo has to say something about it 🙂
There's more wrapping going on here than a Japanese gift shop.

— Pablo Hidalgo (@pablohidalgo) July 7, 2016
Also Adam Driver has already been spotted in New York, meaning that he wrapped even earlier. Still don't read too much about the amount of screen time that an actor has based on when he wraps filming:
@tukicarreno there are way too many variables to figure out what a wrap date means for an actor. It's often their availability that sets it.

— Pablo Hidalgo (@pablohidalgo) July 7, 2016
Mark Hamill shares another image from Pinewood. You can clearly see that he has only trimmed his beard. It's not a clean shave as we thought a few days ago.
Here is a closer look at the galaxy far, far away from the young reader's book Star Wars Galactic Maps (via JediBibliothek):
Learn about all of the various planets of the Star Wars universe with Galactic Maps! With detailed maps showing the different worlds and characters, this is the perfect book for any avid Star Wars reader. Fans will be delighted to find a spread introducing them to the planet and characters featured in Rogue One!
So it appears that there's a Rogue One planet/s hidden in the map. Here's what SWNN's Jordan Pate speculated about this:
What's interesting is that all of these planets have appeared (or been mentioned) in Canon before. Most were featured in the Clone Wars series. If I had to guess at which planet is in Rogue One, I would say Quermia is the best bet, mainly because of all the planets shown here, it is the only one with no significant history in Canon so far. It is the homeworld of Jedi Master Yareal Poof, and has been mentioned in various SW encyclopedias. The fact that it even appears on the map here tells me that the story group has future plans for it. From the map picture, it seems to have a lot of ocean as well which we have seen in Rogue One photos and footage already. It actually looks a lot like earth to me. I could see Cerea as a possibility as well.
As you know Chuck Wendig's second book from the Aftermath trilogy, titled Life Debt, will be released on July 12 (stay tuned for our review on that day). Barns & Noble have a special edition of the book that also features a pull out poster featuring Millennium Falcon blueprints, and the new character Mr. Bones inspired from the Prequel Trilogy: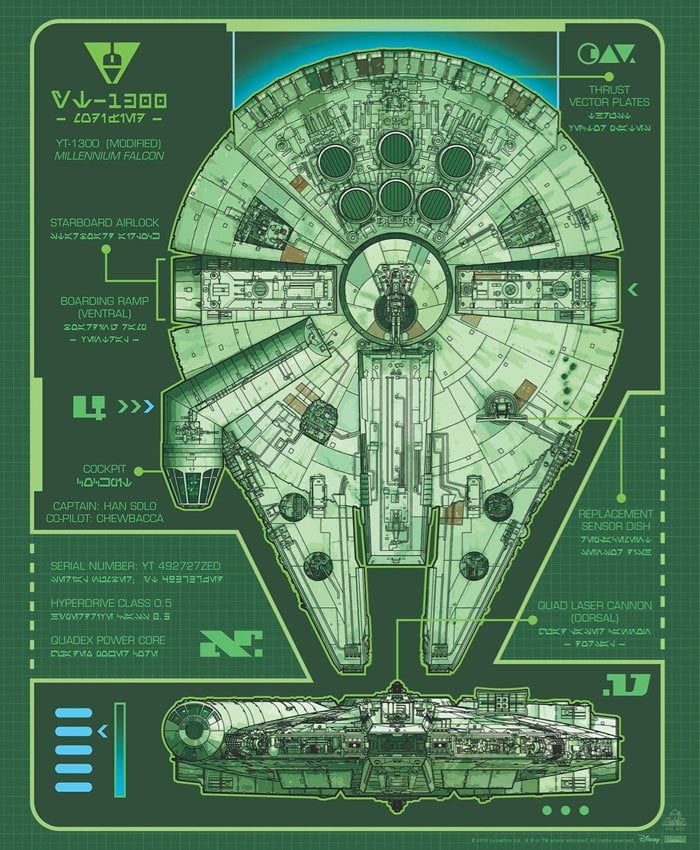 More on Star Wars Aftermath: Life Debt on July 12.
Speaking of Life Debt, our friend Kristian Harloff will interview Chuck Wendig next week. Stay tuned for that one, you don't want to miss it:
Great! Interviewing @ChuckWendig next week. https://t.co/moinocW4H7

— KristianHarloff (@KristianHarloff) July 8, 2016
Next, we have some more posts from Episode VIII director Rian Johnson.
On the possible commentary track for the Episode VIII Blu-ray:
@LaRabiaCompany I hope so…

— Rian Johnson (@rianjohnson) July 6, 2016
@MarissaTalchi @LaRabiaCompany Honestly I'm not sure, but will find out when it comes time.

— Rian Johnson (@rianjohnson) July 7, 2016
The romance between Rian and Pablo continues this week as well 🙂
I ❤️ @pablohidalgo pic.twitter.com/HQOA6PWbig

— Rian Johnson (@rianjohnson) July 7, 2016
@BrianFlaherty @pablohidalgo ok man

— Rian Johnson (@rianjohnson) July 7, 2016
@rianjohnson @BrianFlaherty I challenge anyone to find a better executed horse-craps-in-a-car gag in cinema.

— Pablo Hidalgo (@pablohidalgo) July 7, 2016
— Rian Johnson (@rianjohnson) July 7, 2016
Rian also shared two photos from the Millennium Falcon from the Episode VIII set:
Some actors might have already wrapped filming, but this is not the case for Daisy Ridley, who continues to be hard at work:
If you want to hear more from Rey, get the new LEGO Star Wars game:
It appears that even your hair cut can be considered a spoiler. Daisy took some precautions trying to hide it in the following training video. So there's a big possibility that Rey will have a different hair cut in Episode VIII.
Daisy having fun with Carrie Fisher's dog Gary:
A photo posted by @daisyridley on
And some weird face swapping between Daisy and Rian:
And Rian's comment:
I cannot apologize enough for this. https://t.co/mlVFoiO3zw

— Rian Johnson (@rianjohnson) July 7, 2016
ps Daisy is amazing.

— Rian Johnson (@rianjohnson) July 7, 2016
Mark Hamill shares who is his hero!
@HamillHimself Mr. Hamill… As you are my hero, I was wondering who is yours? Or someone that inspires you or that you look up to?

— My Saga (@MySaga_SW) July 6, 2016
Sir Alec Guinness https://t.co/RpJAZ9oUTJ

— Mark Hamill (@HamillHimself) July 6, 2016
The Maker watched some F1 action during the weekend in Austria on the circuit named after Steven Spielberg:
Star Wars creator George Lucas is down at Mercedes 👀

But we think he might be a fan of (Force) India 🚀 😂 #Quali #F1 pic.twitter.com/QxwqDz2RGU

— Formula 1 (@F1) July 2, 2016
And finally some tweets from Pablo Hidalgo:
@THEcjhogan No, stormtroopers did that.

— Pablo Hidalgo (@pablohidalgo) July 6, 2016
On the timeline of the Del Rey books:
@shuttletyderium the timeline at the start of Del Rey books are only books they publish.

— Pablo Hidalgo (@pablohidalgo) July 6, 2016
On the dating system from the Galaxy Atlas that we mentioned above:
@TMBGeeks @HolocronKeeper Or at least the peculiar artists behind this atlas use it for whatever reason.

— Pablo Hidalgo (@pablohidalgo) July 6, 2016
On the Jedi featured in Shroud of Darkness:
@pablohidalgo can you say who these Jedi are from the Rebels season two episode Shroud of Darkness? pic.twitter.com/SJODMiRwUV

— Steve Tilly (@TheStarWarsGuru) July 5, 2016
@TheStarWarsGuru I'd have to check, but I think they're just anonymous randos.

— Pablo Hidalgo (@pablohidalgo) July 6, 2016
On the rule of two:
@jasue_pastrana The Jedi knew about Bane and what he tried to do, but also knew that he died and assumed he failed.

— Pablo Hidalgo (@pablohidalgo) July 6, 2016
On the shaft scene in TESB:
@chris_attebery I always figured it to be some unrelated trash. His hand and saber fell earlier and prob wouldn't end up in the same chute.

— Pablo Hidalgo (@pablohidalgo) July 5, 2016
On Walkers:
On Mara Jade:
On Shaak Ti:
And there is much, much more from Pablo. Just follow him on Twitter for lots of interesting stuff.
Stay tuned for more next week.