UPDATE! Adam Driver Spotted in Kerry. First Photos from Dunmore Head.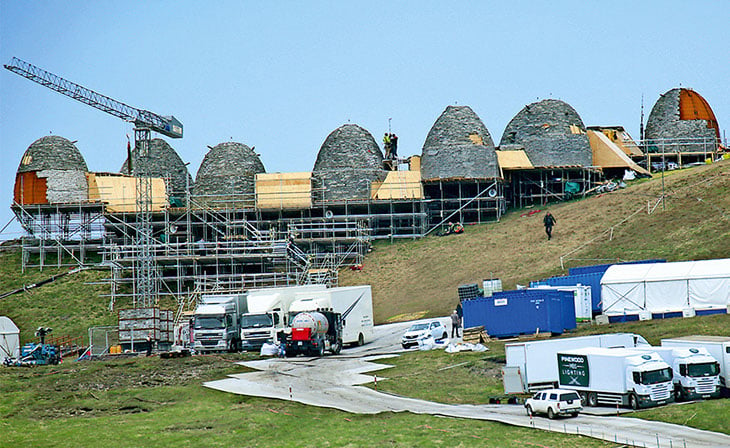 On May 13 Mark Hamill, Daisy Ridley, Adam Driver and Rian Johnson arrived in Ireland. The first few days they filmed at Malin Head, where we saw a partially built Millennium Falcon on the set. Then the crew moved to Brow Head, without Adam Driver who had to attend this year's Cannes Film Festival. Now the cast and crew has moved to Kerry and reports claim that Adam Driver has been spotted again with the rest.
From Kerry'sEye:
Hollywood stars Mark Hamill and Daisy Ridley arrived in Kerry on Wednesday afternoon in a convoy of UK-registered Toyota Landcruisers for the filming of the latest Star Wars blockbuster. American star Mark Hamill, who plays Luke Skywalker, and UK actor Daisy Ridley, who plays Rey, are scheduled to begin filming in West Kerry today (Thursday).
Actor Adam Driver – who plays the villain Kylo Ren – and writer and director Rian Johnson were also in Dingle on Wednesday.
Also here are two recent photos from the set at Ceann Sibeal:
Looks like there was some night time action taking place:
And some aerial filming in the area:
Lots of activity here today. Filming the next Star Wars movie #StarWars #Ceannsibeal #Dingle #WestKerry #Ireland pic.twitter.com/hFVUVTZf3a

— FerritersCove.com (@Ferriters_Cove) May 21, 2016
As we know there is a second filming location in Kerry – Dunmore Head. Thanks to Sean O'Callaghan, now we have a first look at the place where they will be filming:
Again thanks to our Irish friend and reporter on site Terence Mulvey. 🙂
UPDATE!
Small clarification. A few days ago the IrishExaminer posted an article in which they stated that Carrie Fisher was seen in Dingle, Ireland on Wednesday (May 18). This is definitely not true and I am sure that the site mistakingly quoted Fisher's name instead of Daisy Ridley's. During that time Carrie Fisher was at the Cannes Film Festival. Here's a tweet by Carrie from the same day:
My hands are fists! I'm frustrated❗️I broke my phone & I can't get Twitter….I'll be back soonau revoir pour now pic.twitter.com/DLY321i6O5

— Carrie Fisher (@carrieffisher) May 18, 2016
Later she also shared more tweets from Cannes, so we're sure that she was there at least until May 20.
The only actors part of the Ireland shoot, that we know of so far are Mark Hamill, Daisy Ridley, Adam Driver and Joonas Suotamo (Peter Mayhew's stand in for the more dynamic scenes).