This Is Madness, The Star Wars Character Tournament Returns!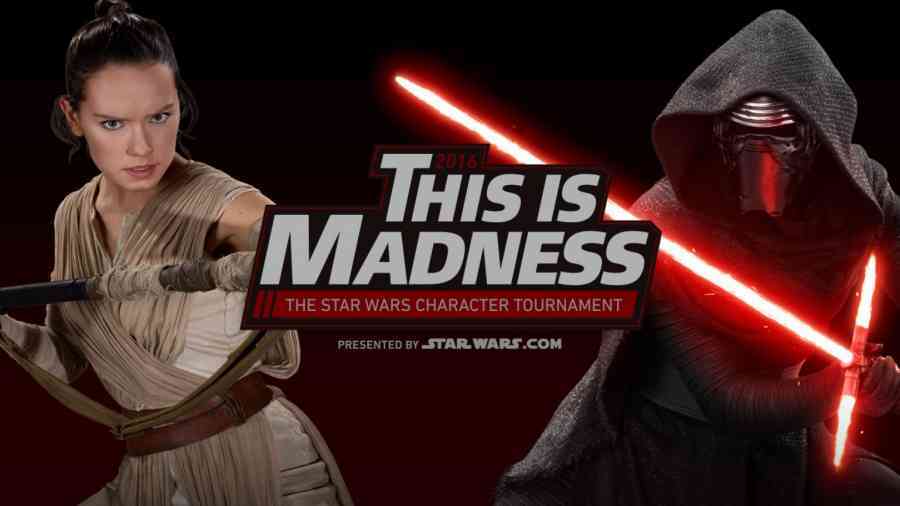 The Star Wars answer to the NCAA's March Madness basketball tournament will hit the web in two weeks – this time, featuring several key characters from The Force Awakens and multiple prizes!
From the official Star Wars website:
StarWars.com's annual event, where you choose the most popular character of a galaxy far, far away, is back. See below for full details on this year's competition, including voting dates, matchups (featuring new heroes and villains from Star Wars: The Force Awakens!), and how you can fill out your own bracket and win a bounty of Star Wars-themed prizes. 

Set your hyperspace coordinates for StarWars.com/This-Is-Madness — the tournament kicks off on Monday, March 14. Vote on new matchups every day until the championship showdown on Monday, April 4; the winner will be announced on Tuesday, April 5. Get a first look at the bracket below, including opening round matchups!


Can you see the future as well as Yoda? Now's the time to put your abilities to the test. Wookieepedia once again presents Predict the Madness, where fans can fill out their own brackets and take home amazing prizes that Unkar Plutt would love! Here's how it works: Visit Predict the Madness, pick who you think will win each matchup and, ultimately, the tournament. Choose wisely! The most accurate brackets will qualify for incredible prizes, but make like BB-8 speeding away from the First Order — the deadline to submit your bracket is Monday, March 14, at 9:59 a.m., or just before the first round of This Is Madness begins.
Players have to predict which characters will win which rounds – the closest guessers wind up with the most points, and those who make the top five get their own bundles of prizes. The bundles vary based on how well one places. The specific details on these bundles  can be viewed on the website itself.
There are already some really hard choices. Like Han vs. Chewie; Leia vs. Poe and Ahsoka vs. BB-8.
Grant has been a fan of Star Wars for as long as he can remember, having seen every movie on the big screen. When he's not hard at work with his college studies, he keeps himself busy by reporting on all kinds of Star Wars news for SWNN and general movie news on the sister site, Movie News Net. He served as a frequent commentator on SWNN's The Resistance Broadcast.