Carrie Fisher Reenacts Star Wars Scenes with Comedian Russell Howard Imitating David Prowse's Vader
James Earl Jones is the actor most famous for playing the intimidating, deep-voiced Darth Vader. However, behind the mask and the suit was David Prowse who played the evil Darth Vader from 1977 to 1983 in the original trilogy. Imagine what a different movie Star Wars would have been if they had left Prowse's voice as is.
Discussing this tidbit with Carrie Fisher on the Jonathan Ross show, she pointed out that the replacement was probably inevitable. While acting on set with Prowse in the Darth Vader suit, Ms Fisher heard Prowse's own West Country voice instead.
"they always knew they were not going to use that voice" she said "We called him 'Darth Farmer,'" She added.
You can hear the original on set voice of Prowse as Darth Vader in this clip from the Documentary "Empire of Dreams".
Ross thought it would be nice to see British writer/ comedian Russell Howard do a reenactment with Fisher because he was also from the West Country.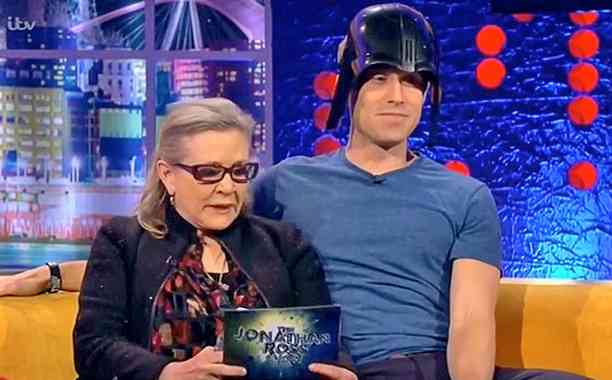 Ross handed Howard part of a Vader mask and had them read lines from the series' very first scene between Vader and Leia, when the Sith Lord captures the princess and her ship in pursuit of stolen Death Star plans. After they spoke the lines together with applause, the Producers even added a synthesizer effect to Howard's voice and Fisher looked likes she either was cringing or got chills.
You can check out the hilarious clip below.

Be sure to check back for more 'Star Wars' breaking news daily here at SWNN.