SWNN REVIEW: Marvel's Star Wars Obi-Wan & Anakin #2
Issue #2 puts us right back in the frozen wasteland of Carnelion IV.  In my review of the previous issue, I likened this world and it's remaining population to a kind of Mad Max-like setting.  I still feel that way, even more so, after this issue.  The survivors of Carnelion IV's ruined civilization are terrified, warring, and completely isolated from the rest of the galaxy.  Imagine if a Jedi dropped into the middle of a Mad Max film and that's pretty much what you are getting here.

The mother and daughter, Pran and Kolara, have drawn their blasters on Obi-Wan and Anakin.  They don't know what a Jedi is.  I don't think they really care.  Kolara senses the benevolent nature of the two Jedi and softly tries to restrain Pran (who may or may not be her mother…I was confused as to whether it was a title or relation) from blasting away at the Jedi.  Just as Obi-Wan uses a little verbal persuasion of his own, the exchange is interrupted by an attacking airship, similar to the one Pran and Kolara crash landed.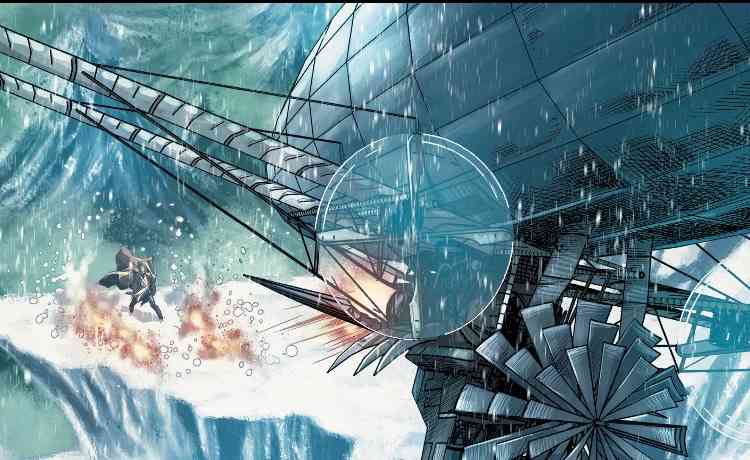 Who needs a blaster by their side when you've got a perfectly good lightsaber?  That's Obi-Wan, there in the background, taking a boomerang offensive against the enemy craft.  Anakin looks up to his master, explaining to the two women they've encountered that Obi-Wan is about as good as it gets.  Little moments like those are sprinkled through these first two issues, and I imagine there will only be more.  We only really saw the two of them bicker and backtalk each other, so it's nice to see Anakin really trying to learn and look up to Obi-Wan like the Jedi Master is his older brother.
A little more Mad Max, with the dueling, shotgun-esque blasters and Grecker referring to them as "bangers".  Meet Grecker, the pilot of the airship Obi-Wan just took out.  Grecker managed to bailout at the last second and Anakin pulled him to safety.  Mother Pran is not terribly happy about this, so Obi-Wan gives Anakin the green light to disarm the would-be duelers.
After everyone is disarmed of their "bangers", the lot realizes they are essentially up the creek without a paddle.  In the middle of a blizzard, both parties blaming each other for the planet's death, they realize they will either freeze to death or die trying to get to safety.  There are other things they fear than each other.  Obi-Wan and Anakin agree to help the trio of survivors.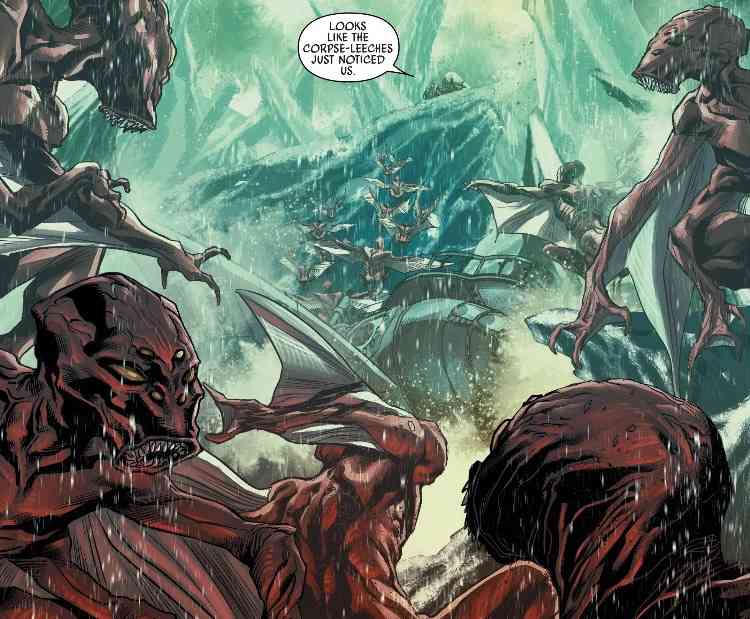 Corpse Leeches!!!  How cool of a name is that?  Well, Corpse Leeches look like they have about as much sense as you'd expect from a zombie, only they are living, and even the Jedi have soft spots for Corpse Leeches.
So, Obi-Wan wants to try and settle the Corpse Leeches down with the wave of a hand and some Jedi mind soothing.  Anakin agrees to try, but that works out for the Corpse Leeches about as well as Anakin's lightsaber "trying" to not slaughter an entire village of Sand People.  This failure brings Anakin back to a memory of his time back on Coruscant.
So…how did the Jedi didn't guess Sheev Palpatine was Darth Sidious is something I will never understand.  See above frame.  Anakin's Coruscant flashback takes him to a stroll he took with then Supreme Chancellor after being permitted to by a very reluctant Obi-Wan.  This flashback ends abruptly, most likely to be finished in the next issue.  The less you know about this the better, and you should read it for yourself, but it's a very interesting look into the relationship Palpatine set out to create with Anakin.  Palpatine was at his finest when muddying the waters.
We are left on another cliffhanger at the end of this issue.  No pictures here, but we are about to meet the other thing Grecker, Pran, and Kolara didn't want to bump into on Carnelion IV.  Judging by next issue's cover, the Jedi are about to face some fun of their own.
This is another great issue in this series I have a lot of optimism for. I heard some people complain about Anakin being whiny, and compared to the prequel films, I don't really get it.  I don't find him whiny at all in this series  He seems very curious and eager, but not the angsty Jedi we meet further down the road.
The issue's great writing by Charles Soule is helped along by the dynamic duo of penciler Marco Checchetto and colorist Andres Mossa.  Checchetto and Mossa have been responsible for some of my favorite Star Wars books over the last year, and they bring their talents here.  The storm of post-apocalypse is present in every frame.  Get out and get this issue now.
Purchase this issue through comiXology or at your local comic shop.
Kyle Larson lives in Portland, Oregon. When he's not running trails, he's reading and writing.