Star Wars: The Force Awakens Clears $900 Million in America & $2 Billion Worldwide.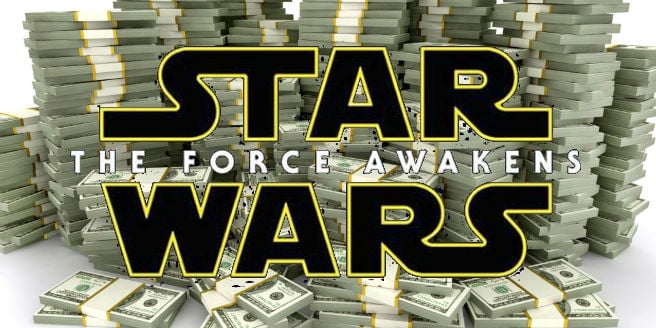 Star Wars: The Force Awakens has officially become the third film to make $2 billion worldwide, and the second film to make that much money in a single release. In the United States alone, it just crossed the $900 million mark (which will make it the first movie do accomplish such a feat).
From Entertainment Weekly:
"This is a historic moment for Star Wars, for Lucasfilm, and for Disney, and all of us here are extremely gratified to be a part of this journey with fans around the world who have made Star Wars: The Force Awakens such an extraordinary success," Disney chairman Alan Horn said in a statement. "The film's achievements are truly astounding, and it's our great honor to relaunch this cinematic galaxy not only for all the devoted decades-long fans but for a new generation who will keep the Star Wars legacy alive for many years to come."
The movie has made $2 billion in a mere 53 days worldwide, and it only took 50 of those days for the movie to reach $900 million in the United States. While attendance is winding down as the movie starts to leave theaters, that's still a pretty mind-blowing accomplishment. Other illustrious financial accomplishments by the film include a $125 million run in China and a $600 million run in all of Europe.
It should also be worth noting that the Lucasfilm effectively finished what George Lucas started by means of making a Star Wars movie that outgrossed Titanic (or rather, Titanic's gross before it was re-released in 3-D). Perhaps if the movie is re-released a few decades from now, it could completely beat Titanic's record. And while it couldn't reach Avatar's heights, it was a less expensive film to make, meaning that Lucasfilm will probably end up walking away with larger profits than Twentieth Century Fox did when merchandise sales are taken into account.
Grant has been a fan of Star Wars for as long as he can remember, having seen every movie on the big screen. When he's not hard at work with his college studies, he keeps himself busy by reporting on all kinds of Star Wars news for SWNN and general movie news on the sister site, Movie News Net. He served as a frequent commentator on SWNN's The Resistance Broadcast.