Carrie Fisher Talks Star Wars with The Wall Street Journal and on "Live! with Kelly and Michael"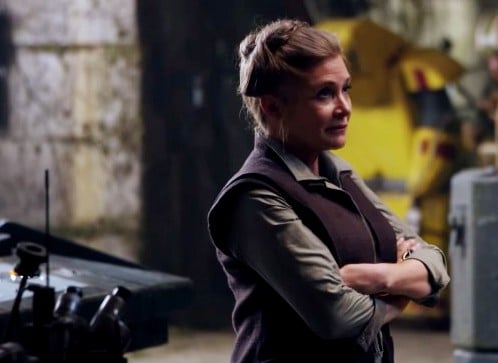 Carrie Fisher spoke to The Wall Street Journal, discussing Princess Leia, her fans, the marketing campaign for The Force Awakens, and why she's glad Harrison Ford is getting most of it. She also appeared on the "Live! with Kelly and Michael" show, talking about her family her new book about her Star Wars experience and more…
From The Wall Street Journal:
Much of the marketing campaign for the new movie focuses on Harrison Ford (Han Solo) and Chewbacca. Do you want to see more of yourself as part of the campaign?
Sometimes I do when I get immature, but no. Finally, no. I don't like looking at myself. I have such bad body dysmorphia. But I'm in the movie. I think Harrison's the most popular character. He's the most popular actor of the gang, so they're going to show a lot more of him. It's business.
"Star Wars" fans, as you know, are …
Are lovely. And they can be crazy. But mostly they're lovely. You notice the crazy ones because, depending on how crazy, you have to pay strict attention. But they're lovely and loyal. On my Twitter, it's hilarious.
What's the weirdest thing you've ever seen or heard from a fan?
Oh come on, that's endless. It's: "I thought about you every day, from when I was 12 to 22." Every day? "Well, four times a day."
Fisher also appeared on the "Live! with Kelly and Michael" show, discussing her hair style, her dog Gary and her upcoming book about her Star Wars experience. As always Carrie is the best!