SWNN Review: Marvel's Chewbacca #3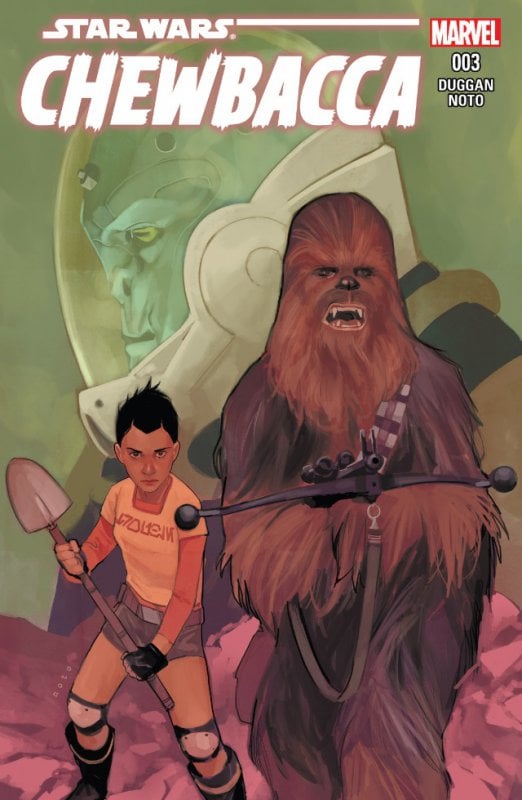 Gerry Duggan, this series' writer, is really doing the best he can. I'm not going to guess whether or he came up with the story or someone else at Lucasfilm already had it in mind. Either way, I'm starting to warm up to the overall approach of what they are doing. Not every planet in the galaxy is a megalopolis or home to key Imperial installations. There are some planets, like Andelm IV, that feel the ripples of Imperial life without anyone to look out for them. They are not part of the Rebel Alliance, but also not part of the Imperial infrastructure; they are normal people, just trying to live out their lives, but end up under the cruel thumb of those who would exploit anything of value on their world. Phil Noto's artwork shines especially bright in this book, depicting the watercolors and pastels of Andelm IV.
With my best foot forward, I am sorry to say my enjoyment of this series did not grow in this issue. I have nothing against Chewbacca, but he should not be the central character in a story. I hate to say it, but your titular character should be able to speak, and the '60's era "Batman" titles indicating the tone of his growls make his vocal means of communication seem silly. This is my favorite of the Chewbacca series, but I won't lie that after its next and final issue, I will not mourn the loss of Chwbacca in my queue.

Well, that jerk Jaum is really putting his eggs (literally, they are mining beetle larvae) in one Imperial basket. I'm thinking for a guy who has such an elaborate appearance, he's not too bright. I don't want to ruin the end for any of you, and I don't know what it is, but I'm going to guess the Empire won't be dealing with Jaum anymore than they need to.

Chewbacca and friends survived that big, explosive ending of the last issue. These folks can't catch a break, though. Turns out when the beetle larvae hatch, the beetles themselves are deadly. Luckily, Chewbacca helps them escape, but it's just another dead end in tunnel deep underground. Never fear, Chewbacca is here.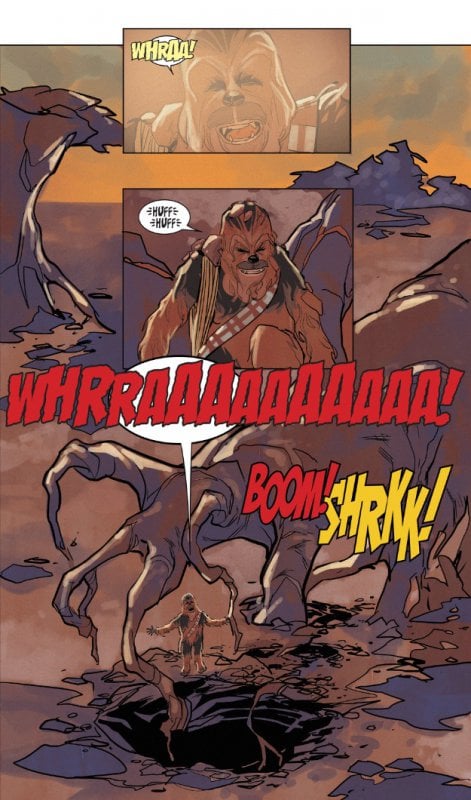 This is just one of the many moments where Chewbacca is loud and in charge, letting everyone on Andelm IV know there's a Wookie here, and he means business. Once Zarro, the young girl, and her father are up, they must set about repairing Chewbacca's ship. There is a nice exchange between Zarro and her father. Zarro's youth calls her to join the Rebellion, but her father just wishes she could be a kid on her home world and not have to worry about such things.

Chewbacca and Zarro make their way into a spaceport, to her friend Sevox's junk shop. They mean to build a droid, and if we know one thing about Chewbacca, assembling droids is not his strength.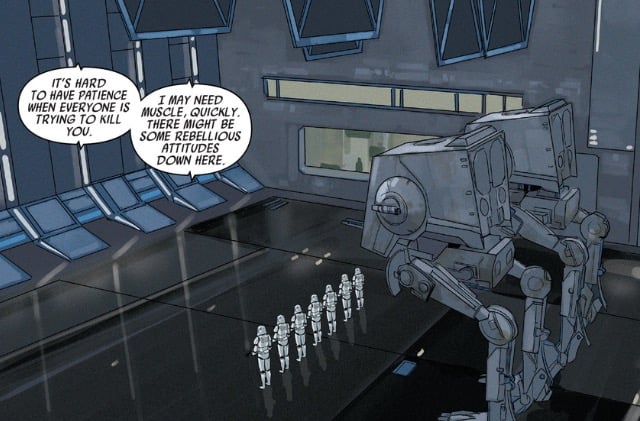 Meanwhile, Jaum has placed a long distance call to his potential employers. Looks like things are going to get ugly in the next issue.
Once again, there is nothing canonically pressing about the events of this issue. There are going to be some pretty heavy hitters in the Star Wars comic universe coming out over the next few weeks. You would do well to save your money for those. However, if you need your Star Wars fix, they are not as awful as my first review made them out to be. Just set the bar accordingly.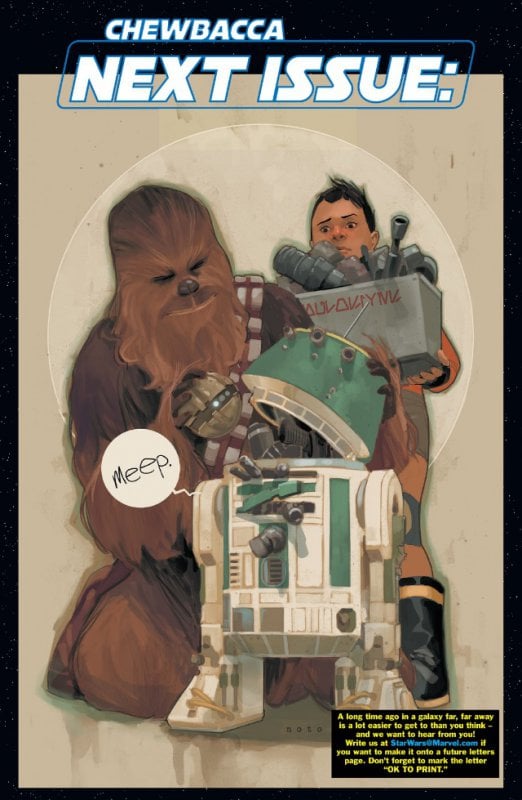 Kyle Larson lives in Portland, Oregon. When he's not running trails, he's reading and writing.