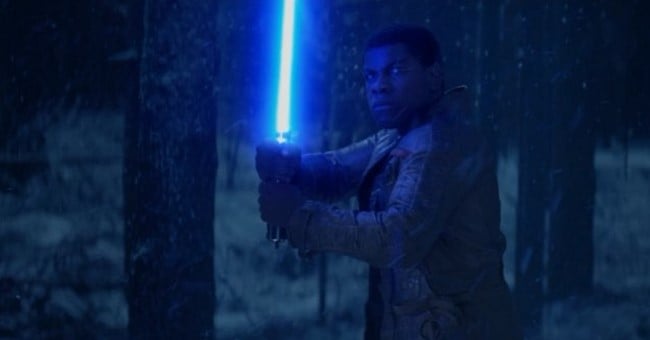 Cinelinx recently posted a report compiling three rumors about Finn, John Boyega's character in Star Wars Episode VII: The Force Awakens. Detailed after the jump are some potential leads on his name, how he's able to use a lightsaber, and who he reports to.
Some spoilers ahead.
The first rumor is one that many have already come to suspect – "Finn" is a name derived from his Stormtrooper designation, "FN-2187". However, the writers at Cinelinx take this a step further and add that he apparently does not have a surname at all (as far as this particular movie goes, anyway). The idea is that Finn doesn't remember his birth name – and it's believed that this is because he was recruited by the First Order at a very young age.
The second rumor explains how Finn knows how to use a lightsaber. The First Order military apparently believe in making use of more "civilized weapons" than mere blasters, because Finn's military training involved a few lessons with lightsaber-esque weapons and shields. A neat little throwback to a famous piece of concept art by Ralph McQuarrie. It should be noted that only some Stormtroopers are trained with sword and shield – they're not necessarily standard-issue.
The third rumor involves who Finn reports to – namely, Captain Phasma. Apparently, FN-2187 is meant to be her protege of sorts, which would explain why she takes interest more in where he is than other individual Stormtroopers. So if that's the case, Finn ditching the army is most likely seen as an extremely dire situation by the First Order, and Captain Phasma would have a personal reason to lead a manhunt against her former pupil. On another note, if Finn trained with a laser sword under her, this would also likely imply that Captain Phasma really does have her own lightsaber after all, even though we've heard nothing about that rumored plot thread in a long while.
Thanks again for Cinelinx writer Jordan Maison for the information. Stay tuned to Star Wars News Net for more news on everything concerning the Galaxy Far, Far Away.
Grant has been a fan of Star Wars for as long as he can remember, having seen every movie on the big screen. When he's not hard at work with his college studies, he keeps himself busy by reporting on all kinds of Star Wars news for SWNN and general movie news on the sister site, Movie News Net. He served as a frequent commentator on SWNN's The Resistance Broadcast.