Chloe Grace Moretz Would Kill to be in Star Wars: Episode 7.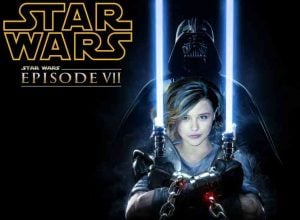 After the rumors that Star Wars: Episode 7 will have a female lead, many fans started to speculate that Chloe Grace Moretz (Kick Ass, Hugo, Carrie) would be perfect for the role. Read what she had to say about this after the jump…
The rumors for a female lead in Episode 7 started a few months ago from several different sources. The idea was to attract the female part of the audience to the movie.
Before J.J. Abrams was hired to direct the movie it was revealed that Kathleen Kennedy spoke with several other directors. One of them – Matthew Vaughn openly pitched to have Chloe in the lead role.
Also one of the characters from the leaked Episode 7 casting list was a girl in her "late teens, tough, smart and physically fit" which perfectly fits with Chloe's appearance.
While Chloe was promoting her latest movie Kick Ass 2 she was asked by MTV if she is interested to be part of the upcoming Star Wars movie. Here's what she answered:

Personally I'm not a big fan of the actress and would prefer to see another less popular young talent.
We expect to hear some official casting announcements at Disney's D23 Expo from Agust 9- 11 so stay tuned…


source: mtv.com