Royal Mail to Release 18 First Class Stamps with Characters and Scenes from Star Wars Including The Force Awakens!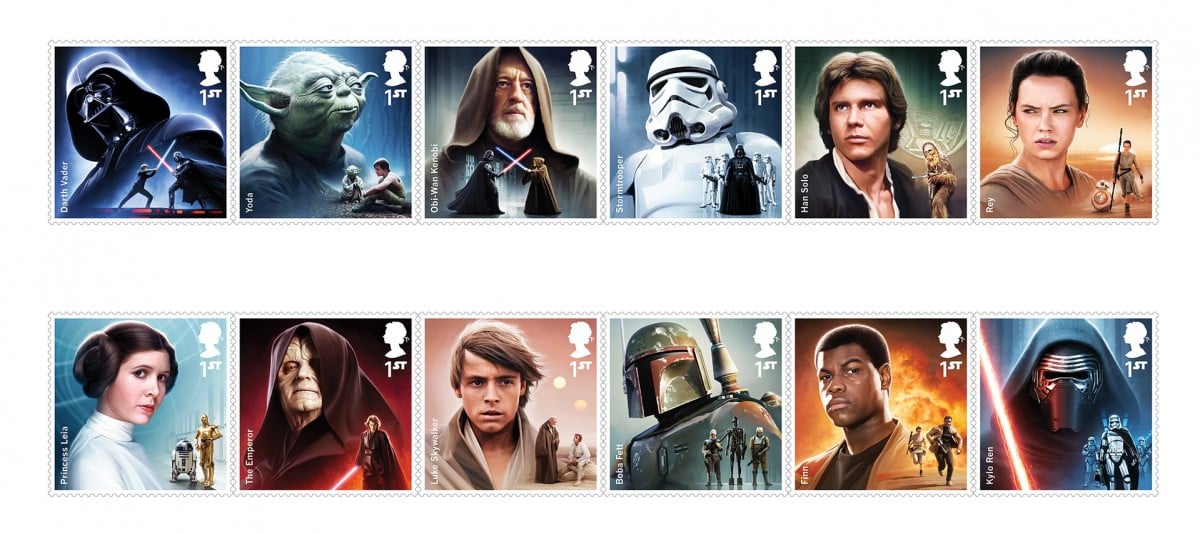 The British Royal Mail announced that a set of 18 first-class stamps will be on sale from October 20. The stamps will feature characters and scenes from all Star Wars movies. This issue in particular celebrates Star Wars: The Force Awakens and the role that Britain's world-leading film industry has played…
The stamps feature portraits of Luke Skywalker, Han Solo, Princess Leia,  Darth Vader, Emperor Palpatine, Boba Fett, Stormtrooper, Yoda and Obi-Wan Kenobi as well as new characters Rey, Finn and Kylo Ren. The remaining stamps, which feature vehicles and spacecrafts from the movies are illustrated by British artist Malcolm Tween.
Here's the brief description of the characters from The Force Awakens:
Rey: Three decades after the battle of Endor, Rey makes a living by scavenging on the desert planet Jakku. However, she soon finds herself catapulted into the heart of a new crisis in the galaxy.
Kylo Ren: As the First Order emerges from the remnants of the defeated Empire, Kylo Ren becomes a new symbol of terror, with his dark hood and cloak and his mastery of a new kind of lightsaber with three red blades.
Finn: Fin was a Stormtrooper in the forces of the First Order until he got stranded on the planet Jakku. There, an unlikely alliance with local scavenger Rey starts a chain of events that will affect the fate the entire galaxy.
(images via DailyMail.co.uk)
You can see the rest of the stamps and pre-order them from RoyalMail.com.