Entertainment Weekly: Who is the "Ralph McQuarrie" of The Force Awakens?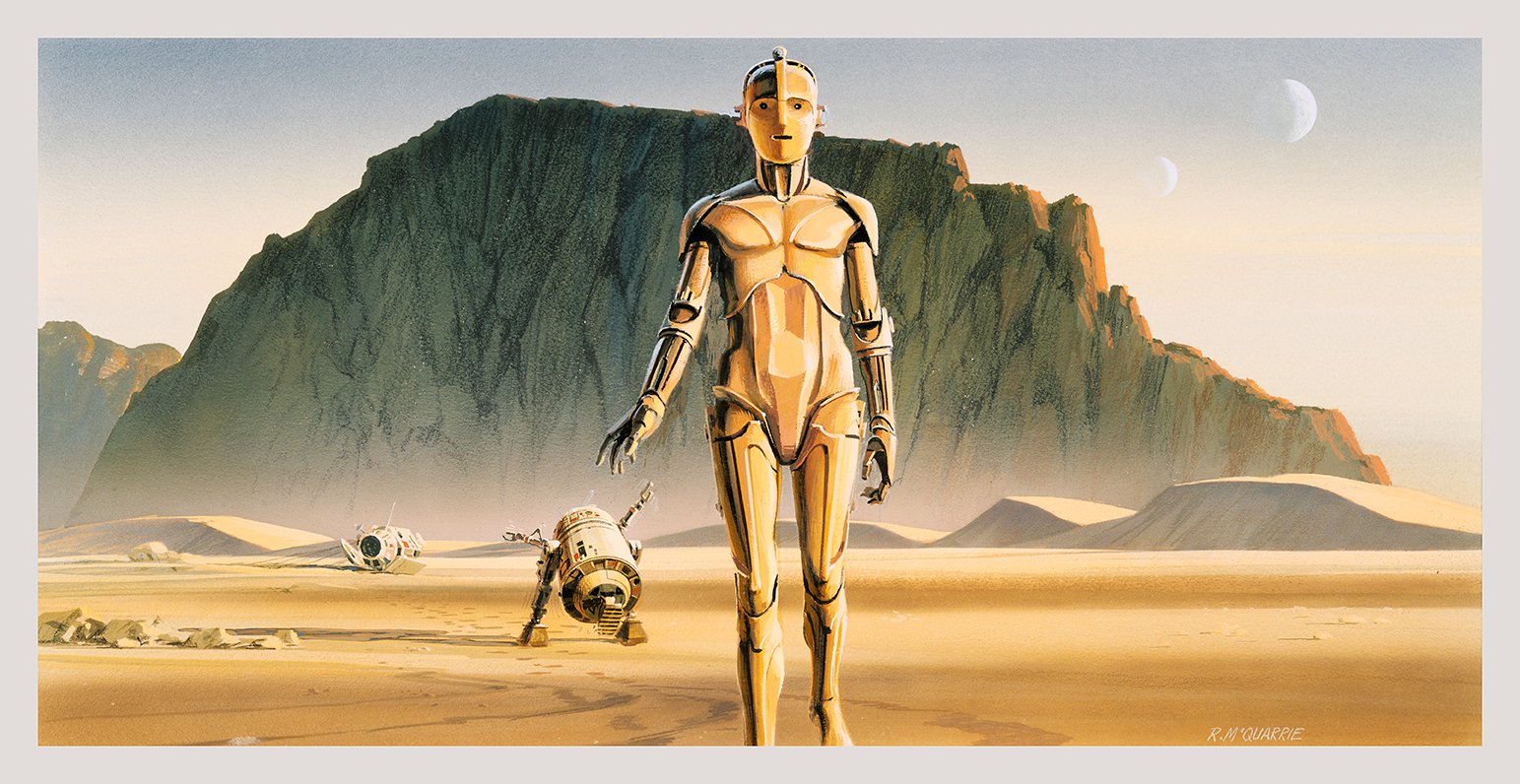 In another in their series of articles about The Force Awakens, Entertainment Weekly takes a look at Star Wars concept artist Ralph McQuarrie and asks director J.J. Abrams about who filled that role for him during the production of TFA. Read on for more…
Entertainment Weekly's latest Star Wars related article delves into the question of what influence the late production illustrator Ralph McQuarrie had on the upcoming Star Wars sequel, The Force Awakens, and whether J.J. Abrams found somebody to fill McQuarrie's shoes for the new film.
McQuarrie, who died in 2012 at age 82,  painted countless concept images for the original Star Wars trilogy, creating the iconic landscapes of Tatooine, Hoth, Cloud City, and Dagobah, as well as the visage of characters like Darth Vader, R2-D2, C-3PO (pictured above), and many, many more.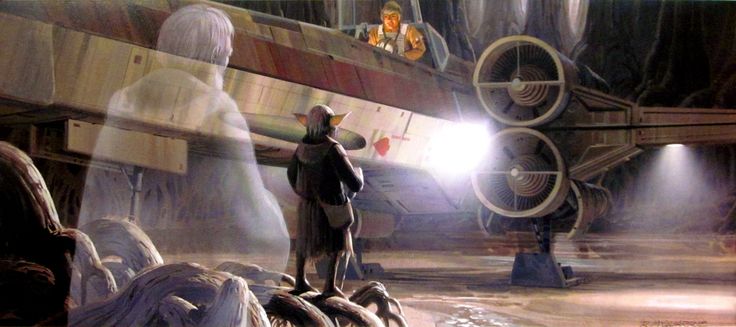 His influence can still be found in the details of The Force Awakens, more than 40 years after the artist began visualizing the galaxy far, far away. But in talking with writer-director J.J. Abrams about this first step back into the cosmos, I wanted to know: Who was his Ralph McQuarrie?

In other words – who helped him see the unimaginable?
J.J.'s answer? His production designer, Rick Carter, about whom J.J. is almost gushingly enthusiastic:
"I was incredibly blessed to work with Rick Carter, who – beyond being a brilliant production designer – is a font of imagination and associations," Abrams says, without having to think long, "He is able to make connections to things that no one else can see, and he has such a trove of references and life experience and images and design ideas."

[…]

"I brought him in very early on, when I was working, originally, with [screenwriter] Michael Arndt," Abrams says. "I brought Rick in to our story meetings, which is atypical in a production designer's job description, but I wanted him there because he was a dreamer – a complete dreamer."

Abrams described Carter as "a giddy, excited genius, and he was a muse for me in that regard. Not just visually, but also spiritually, and he was just a terrific partner in crime."
But what of McQuarrie himself? Was his influence still felt during the TFA production? I think we all know the answer to that, but… for the record:
Another person who was Abrams' Ralph McQuarrie was … Ralph McQuarrie. Even though he's gone, his illustrations are still influencing Star Wars, and the late artist was a kind of guardian angel for both Abrams and Carter.

"We both knew the importance of what McQuarrie had done, and how critical he was in creating the aesthetic of what we all know is Star Wars," the director says. "We could have taken another path and said, 'Okay, everything that we all know about Star Wars has been done; let's go somewhere else and do something totally different,' but when you're lucky enough to inherit the history of this world that we know, there should be a continuum."
Okay J.J., okay… we get the broad conceptual angle on this, but let's get right down to it. What IS it about McQuarrie's work that still has a hold on you all these years later? C'mon man, you can tell us…
"I don't know what a Star Wars movie would look like without TIE fighters, and stormtroopers, and that pill-shaped lighting from the Empire," Abrams said. "All things that are Ralph McQuarrie's brainchild."
And there we have it. For those of us of Abrams' generation who, sitting in darkened movie theaters as children, were bowled over by "Star Wars, mesmerized by "Empire", and enthralled by "Jedi", that beloved galaxy far, far away looks the way it does largely due to the imagination and artistic sensibilities of Ralph McQuarrie. Not to downplay the astounding stuff that Joe Johnston and the others also laid on us back in the day, of course. But McQuarrie's design work formed the foundation on which all of that was built. And clearly, it's a foundation that J.J. Abrams and company still endeavor to build upon today, almost 40 years later.
Read the entire Entertainment Weekly article HERE.