Star Wars: The Force Awakens – SDCC Hall H Panel.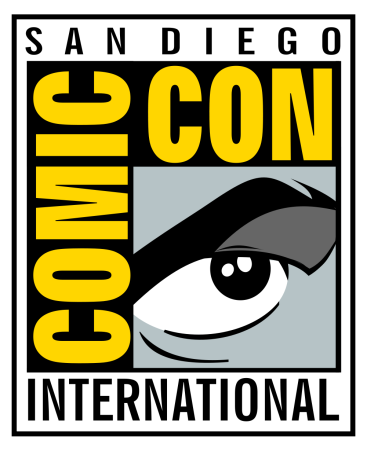 The big moment is finally here: Star Wars taking center stage at the center of the San Diego Comic Con. While the panel won't be streamed, it will be liveblogged by Entertainment Weekly and the official Star Wars website. With the assistance of one of our own staff members, ZebroGodilla, we'll be able to paint an even clearer picture of what goes on at this presentation. Keep refreshing this page for updates as we learn of them.
As a prelude, there's this tweet released from Bad Robot:
May we please introduce you to #KyloRen #TheForceAwakens pic.twitter.com/EnFzbFCToO

— Bad Robot (@bad_robot) July 10, 2015
  For those of you that don't use Twitter, tagging #TheForceAwakens right now will net you with an emoticon of a crossguard lightsaber. Right after this post was unveiled, tagging #KyloRen will give you an emoticon of the character's face. If this is sounding familiar, that's because Lucasfilm did the same thing at Celebration Anaheim with C-3PO, BB-8, and the new Stormtrooper design.     Furthermore, a tweet from the host himself seems to be a good indicator of what's to come…  
It's going to be a #KyloRen kind of afternoon. — Anthony Breznican (@Breznican) July 10, 2015

This, along with the Kylo Ren emoticon, definitely seems like a hint that Kylo Ren will be a focus of the event, and that Adam Driver might be one of the "special guests" at the panel. Speaking of special guests…
So this just happened! @JohnBoyega and Daisy Ridley at #SDCC ! #StarWars #TheForceAwakens pic.twitter.com/2MHIhLoKJR

— Eliot Sirota (@OneEyedJedi) July 10, 2015
Rey & Finn are in the house! #StarWars #TheForceAwakens #SDCC pic.twitter.com/52GpHWboOJ — Star Wars (@starwars) July 10, 2015
It looks as though John Boyega and Daisy Ridley are going to be among those special guests. Not a huge shocker, but hey! It's news. They'll be joined by Carrie Fisher…
Who, of course, brought her adorable dog Gary along for the ride.
And now, the event has begun. What better way than to start it off with this?
I hear if we all tweet #HanSolo, you know… maybe he'll appear.

— Anthony Breznican (@Breznican) July 11, 2015
  (On a less important note, Captain Phasma has her own emoticon.)    
Look who I'm sitting with at the #StarWars panel at #ComicCon2025. It's @greggrunberg who's in the film. pic.twitter.com/1eXDwEeM45 — George Pennacchio (@ABC7George) July 11, 2015
Alrighty, looks like President of Disney, Alan Horn is seated, it's starting

— Harry Knowles (@headgeek666) July 11, 2015
Greg Gunberg is present at the event… Might he be speaking onstage?   J. J. Abrams, Kathleen Kennedy, and Lawrence Kasdan have all arrived onstage. J. J. just brought the puppet from the Omaze video in.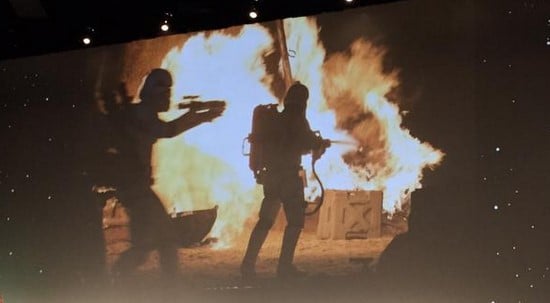 Bobba Joe is incredible! Such seem less robotics and puppetry!!! pic.twitter.com/mwH0Qi9Vph — Tracy Gardner (@Feministnerd) July 11, 2015
Lucasfilm brings a puppet out on stage. Audience FREAKS. pic.twitter.com/5LCWuGt8T8

— Joanna Robinson (@jowrotethis) July 11, 2015
Big applause for background shots of #BB8 & Chewie #StarWars #TheForceAwakens #SDCC pic.twitter.com/FWbXdU3cmu — Marcus Errico (@MarcusErrico) July 11, 2015
Peter Mayhew is apparently in the question line waiting to ask something.
Gareth Edwards is going to begin filming for Star Wars Anthology: Rogue One in three weeks.
Stuff n thaaaangs. pic.twitter.com/np7en89wZU

— G@BRIELGR@Y (@GBRIELGRY) July 11, 2015
  John Boyega, Daisy Ridley, and Oscar Isaac are now on-stage.  
Footage had Simon Pegg, Leia's costume, Neim Numb, a crashed tie fighter, and so much more it would be impossible to sum it up here. — Steven Weintraub (@colliderfrosty) July 11, 2015
"Everything's changed but nothing's changed" – Mark Hamill says in the never-before-seen footage #SDCC #StarWars

— Stuart Oldham (@s_oldham) July 11, 2015
More #starwars creatures! And they're all practical effects. pic.twitter.com/CoJqrdO5ih — Kyle Buchanan (@kylebuchanan) July 11, 2015
Daisy Ridley talking about training pic.twitter.com/js6mfUcgqw

— Peter Sciretta (@slashfilm) July 11, 2015
  Simon Pegg does indeed cameo in an alien costume.   Adam Driver (Kylo Ren) walks onstage! As do Domhnall Gleeson (General Hux) and Gwendoline Christie (Captain Phasma)!  
The dark side. #StarWars #SDCC pic.twitter.com/MfxpF1rXtm — JoBlo.com (@joblocom) July 11, 2015
Who is Kylo Ren? pic.twitter.com/jE4vRpjXZP

— Peter Sciretta (@slashfilm) July 11, 2015
  J. J. Abrams has confirmed that "Darth Vegas" will not be in the movie. A fan was asking about Darth Plagueis and why they would or wouldn't use him in the movie, so they sort of dodged the question. On a surface level, though, don't count on Palpatine's old master showing up.   General Hux's superweapon is called Starkiller Base.  
  Carrie Fisher walks onstage! As does Mark Hamill! And Harrison Ford!  
The Trinity. #StarWars #SDCC pic.twitter.com/lb4rtMTTcA — Marcus Errico (@MarcusErrico) July 11, 2015
A live Star Wars concert was shown near the panel.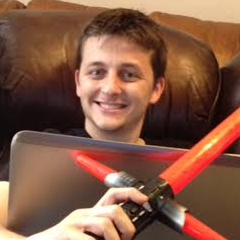 Grant has been a fan of Star Wars for as long as he can remember, having seen every movie on the big screen. When he's not hard at work with his college studies, he keeps himself busy by reporting on all kinds of Star Wars news for SWNN and general movie news on the sister site, Movie News Net. He served as a frequent commentator on SWNN's The Resistance Broadcast.