Star Wars Celebration Anaheim: Future Park Toys and Merchandise.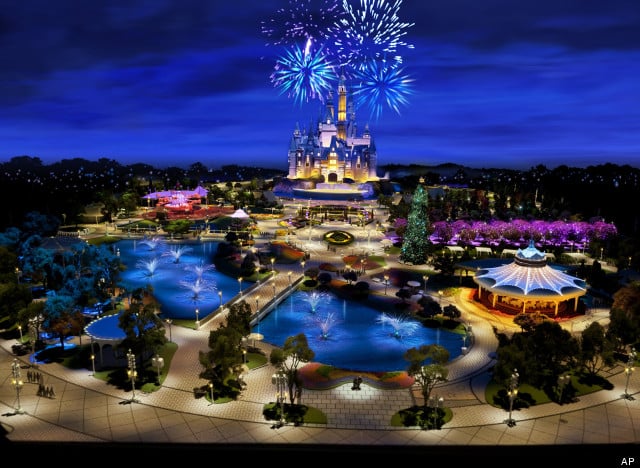 When you wish upon a star, you end up with a company that makes millions upon millions – and since October 2012, the already-loaded company in question got a sweet deal for the keys to the Star Wars franchise. Click ahead to get a glimpse at a flood of merchandise tied to Disney's theme parks.
The panel opened up with discussion about a history of a toy developer's involvement with Lucasfilm (which included Disney/Star Wars toys).
Disney store toys came first. The first announcement was Hologram Princess Leia Minnie and Pluto as R2-D2
Chief Chirpa got a plushie, alongside Wicket, Teebo, Lugray, Princess Kneesa, and Romba.
Darth Maul Donald Duck was another reveal, along with Star Wars art pieces and themed baseballs.
An expanded version of the Droid Factory build-a-figure is also coming. New hats and accessories are available.
May The Fourth Be With You and Revenge Of The Fifth had a few special releases. Star Wars Weekends will be back from May 15 to June 14 later this year.
A "Darth's Maul" complex will come into being.
Galactic Gathering attendees will get a MagicBand and an Aurebesh nametag. Pete as Jango Fett will be available to purchase here, along with several pins. Mystery Pin collections will also be available, and you can obtain mini prints and Dooney & Bourke bags. Mouse-eared character figures will be ready to buy at this event.
D-Tech Me has two figurines of a Jedi and a TIE fighter pilot.
Star Wars Weekends have an assortment of shirts available. Mini-globes, cups, and a new wave of character mashups will be made for the events. Jedi Mickey's Secret Mission will be the last character mashup action figure set released for a while. However, more character mashups will be made available through plushies.
New blasters based on Boba Fett, Han Solo, Chewbacca, and the Stormtroopers are available now. Youngling lightsabers are another forthcoming toy, allongside latex Rancor and Space Slug figures. Foam lightsaber and ball sets are in the works, along with box sets for the Prequel Trilogy and the Original Trilogy. Rebels box sets are also in the pipeline.
Star Wars racer toys include Chewbacca and the Inquisitor.
R2-D2 Rebel Trainer lets the droid project images that you can shoot at with a toy blaster.
Collector packs containing characters from all eras are also being made.
Build-A-Lightsaber is getting a whole new series of nearly 40 new pieces to customize your weapon for a more civilized time with.
Holographic R2-D2 is headed for Star Wars Weekends. In Fall, R2-D60 and R4-D23 will hit, alongside Imperial Binders, Luke Skywalker lightsabers, and a Yoda Santa Claus plush.
Disney Cruise will start up a line for Star Wars called "Cruising The Galaxy".
Pixar's Cars-themed toys are also in the making.
Grant has been a fan of Star Wars for as long as he can remember, having seen every movie on the big screen. When he's not hard at work with his college studies, he keeps himself busy by reporting on all kinds of Star Wars news for SWNN and general movie news on the sister site, Movie News Net. He served as a frequent commentator on SWNN's The Resistance Broadcast.