Kevin Smith Was Told the Final Shot of 'The Rise of Skywalker' "Will Melt Your Mind"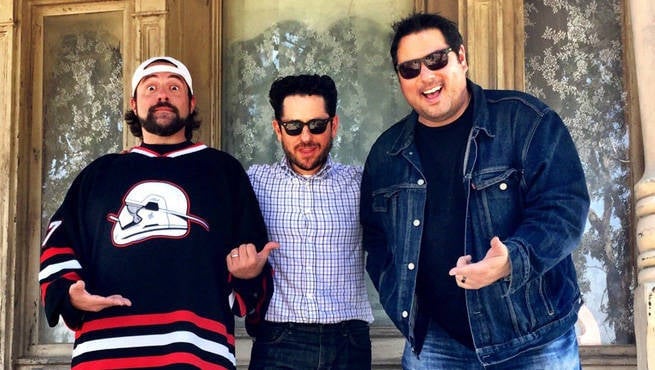 Kevin Smith is no stranger to being an unapologetic Star Wars hype-machine, and that trend continues, but in a slightly more specific way than the past. While at Comic-Con, The Jay and Silent Bob Reboot writer and director was asked about his visit to the set of The Rise of Skywalker, and Smith spoke non-spoilers, but specifically about the final shot of the film which leads us to believe the very end of the movie may be a bit more than your standard end of Star Wars celebration shot.
In an interview with IGN at San Diego Comic-Con, arguably the biggest nerd convention on the planet, it came as no surprise that Kevin Smith, a massive Star Wars fan, would be asked about the upcoming final episode in the Skywalker saga. Now, I am well aware that Smith has been a super hype-guy, especially about Star Wars projects he has been able to visit over the years. It would be shocking to ever hear him say anything disparaging about them to be quite honest. But this was a bit different, as instead of generic hype-words, Smith got specific, and without spoiling anything, revealed that the end of the movie, specifically the final shot, may be a pretty major reveal or surprise.
Here's the transcription of the IGN interview (and video below):
IGN: Kevin, can you predict the last shot of Star Wars: Episode IX? Maybe you've seen it, I have no idea.

KEVIN SMITH: I haven't seen it, but I was on set. I went to London at one point and visited the set. JJ invited me cause I had a heart attack. He wrote to me "you gotta pull through man, so you can visit Star Wars. And I was "Can I be in it", and he was like "Come visit". So I pulled through and I wrote him back "Remember when you said…" And he was "Come on out". So I got to hang out and be on set. And there was this scuttlebut about a set, they are on Pinewood. A big set that they were like "You have to see this. When you see it, it will melt your mind. And I was like "What was it"? They were like "Ask JJ".

So I asked JJ "They keep telling me I should see the set", and he goes "Don't". I say "Why" and he goes "It's the last shot of the movie".
So I was like "Now I really want to see it". And he goes "You don't want to be spoiled". "You want to be in a theater when this happens, trust me".

And then other people on the crew were like "Bro, I wish I hadn't seen it. I am glad I did. It will melt your mind". For that reason alone no matter how curious I am, I desperately wanted to go look, but when you talk to the magician, and the magician's like "Trust me on this one". You know sometime as human beings we want to know how they pull the rabbit out of the hat. And JJ is such a magical magician, and I am just like "You know what, trick me. I will wait to be tricked. Even though I could have seen what it was, I was like "I will sit back, I like your plan." He's never let me down so far. There are people in the world knowing what the last shot is, even if the movie is not fully cut at this point. I am not one of them.

IGN:I think it's beautiful that you didn't look.

SMITH: I wanted to so bad, but JJ is such a nice dude such a sweet guy. He said it with such sincerety. He was not like "Bro don't do this". He was just like "You don't wanna do this you want to see it in the movie theater." And he said it as a film fan. And at that point I was like "I hear ya, I hear ya". I heard it as a film fan.
Here is the video of the interview:
Kevin Smith talks about the last shot of Star Wars: The Rise of Skywalker: crew members said seeing it would "melt your mind." #SDCC2019 pic.twitter.com/BtJ4E06hu9

— IGN (@IGN) July 20, 2019
We all know that J.J. Abrams loves theatrics, he loves the surprise and spectacle, so it is very interesting to hear that Abrams specifically urged Smith, who was allowed to see it if he wanted to, to not go inside and see the set of the final shot for The Rise of Skywalker. Based on this, it sounds like we are in for something a bit bigger than Owen Lars looking at the twin suns (Revenge of the Sith) or our heroes posing together for a family photo (Return of the Jedi). So what will it be? What will the final shot of our farewell to the Skywalkers be? Any guesses on what we'll see right before we see this?
We'll find out in less than five months as Star Wars: The Rise of Skywalker opens in the United States, likely with Thursday night preview showings, on December 19.
John Hoey is the Lead Editor and Senior Writer for Star Wars News Net and the host of The Resistance Broadcast podcast
"For my ally is the Force, and a powerful ally it is."