Star Wars Celebration Anaheim: Day 1 Recap!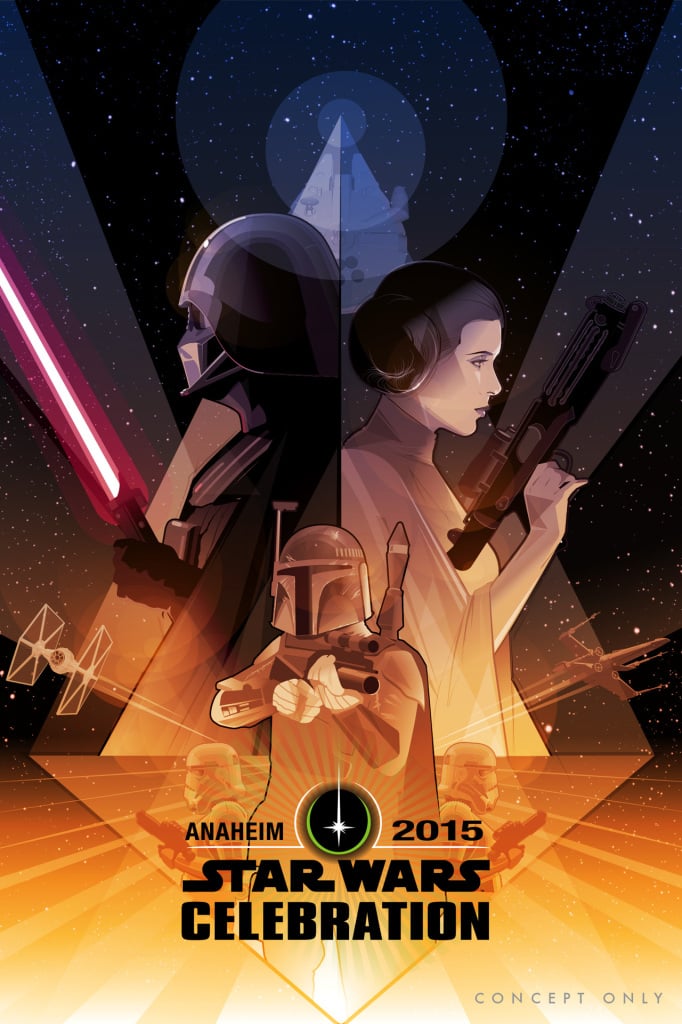 The first day of Star Wars Celebration has come to a close. Click ahead to get a quick recap of the day's events covered by this site!

PRIMARY ARTICLE: Celebration Anaheim Introduction.
Lots of neat information to go around!  It was confirmed that the desert planet was not Tatooine as some had speculated, but a new planet called Jakku. Finn, Rey, and Poe all fit into the rumored character descriptions that we've heard about for a long while. Mark Hamill, Carrie Fisher, Peter Mayhew, Anthony Daniels, John Boyega, Daisy Ridley, Oscar Isaac, BB-8, R2-D2, and several Stormtroopers took center stage alongside Kennedy and Abrams. In other news, J. J. Abrams and Kathleen Kennedy announced an initiative to help solve the issue of world hunger.
PRIMARY ARTICLE: The Force Awakens Teaser 2.
Okay, do we really have to say anything about this? Just… Watch it if you haven't already. Watch it again even if you have. We'll wait.

SECONDARY ARTICLE: The Force Awakens Props Exhibit.
All sorts of models, props, and costumes were put on display for the movie, including the new kinds of Stormtroopers and the names of two new factions: the First Order and the Resistance (and yes, these are official and not codenames).
SECONDARY ARTICLE: Future Theme Park Merchandise.
There's unfortunately not a lot to say about this one, but it's worth a look if you're into Disney/Star Wars character mashups and events like Star Wars Weekends.
PRIMARY ARTICLE: The Clone Wars Legacy.
A lot of ground to cover on this one, discussing a handful of story arcs that were planned but remain unfinished. One of the arcs, "The Bad Batch", is set to have its animatics shown tomorrow.
Stay on target at Star Wars 7 News for the next three days as we bring you even more stories from Celebration.
Grant has been a fan of Star Wars for as long as he can remember, having seen every movie on the big screen. When he's not hard at work with his college studies, he keeps himself busy by reporting on all kinds of Star Wars news for SWNN and general movie news on the sister site, Movie News Net. He served as a frequent commentator on SWNN's The Resistance Broadcast.