EXCLUSIVE: A New Interesting Item from Star Wars: The Force Awakens!
Our sources have dropped by with a few extra — and juicy — pieces of content relating to the production of Star Wars Episode VII: The Force Awakens, and we're ready to give you details about one of them!
The following description can be considered a pretty big SPOILER, regarding what may very well be the climax of the film. Advance at your own risk.
SPOILERS BEGIN HERE!
This item will probably invoke a bit of déjà vu for a lot of you, drawing inspiration from the movie that started it all: A New Hope. It involves a model of a "console . . . used on a Star Destroyer Bridge" that appears as though it could either be connected to the back of a wall or it could be viewed from two sides. The console shows three massive objects – the first of which is a large planet, the second of which is a smaller planet orbiting the planet in question, and the third of which is another celestial body approaching, with a targeting range.
I'm going to take an educated guess here and say that the approaching object is decidedly not naturally related to either of these planets, based on the fact that one, the planets are colored green while the approaching object is hollow with red horizontal lines, and two, the object's approach does not resemble an orbit, but a diagonal movement.
The item we were sent is not a concept art, it's real. We asked our friend Eli Hyder to do a sketch of it. Here it is: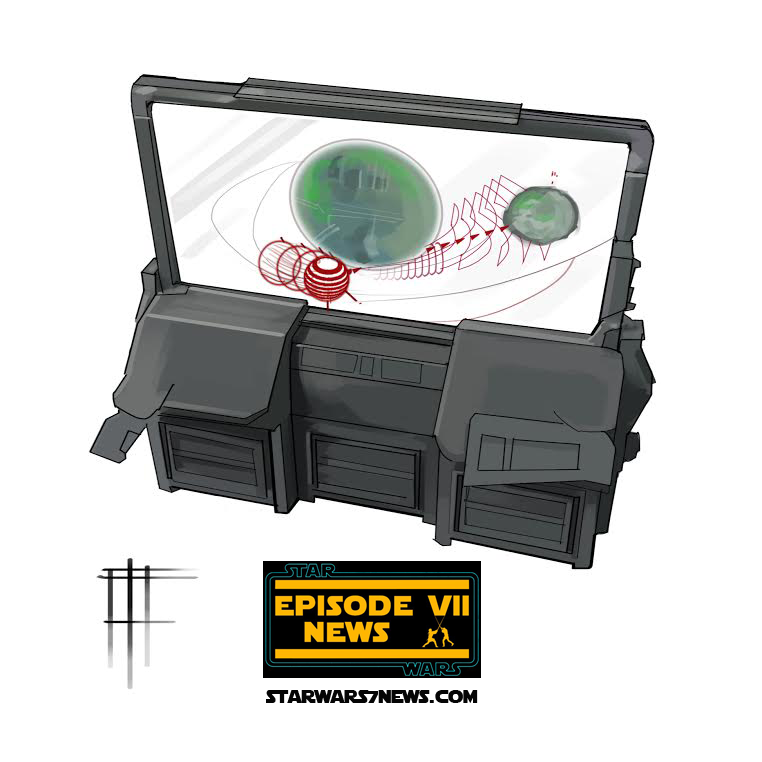 So what I'm getting from this is that it looks a lot like the Battle of Yavin, and that it lines up a lot with the Mizzlewump leak and planet-weapon rumors. However, one aspect that separates the weapon from being a simple Death Star III is that its range seems to extend beyond the reach of the planet. It'll be interesting to see how the good guys deal with this threat – after all, what can you do to stop an approaching planet?
I know that many of you think that this is just too similar to the display computer we've seen in A New Hope, and that it's very unlikely for Disney to use such thing again. But believe us, this item is as real as it gets. The question is how important will it be for the plot. It might be an essential part of the story but it's also possible that this will be used just like a cool background prop, or an easter egg maybe?
Whatever the case it appears that the super weapon rumor is very far from a fan fiction. Recently one of our sources contacted us and told us the production name of that weapon:
The Weapon is planet based and it's called "Catapult" that's the code name and Leia needs to destroy it. They do test fire it or demonstrate it early in film. 
And as expected this would suggest that Leia probably is some kind of leader of the Rebellion – the Mon Mothma of the Sequel Trilogy.
A few days ago we told you about the "Evil Castle" and now we hear about the "Catapult". Also the villain has a "Cross Guard" lightsaber! And of course we have a Jedi KNIGHT. Sounds like we're going to see a lot of Excalibur-esque influence on The Force Awakens as we discussed it before (HERE).
Stay tuned for more interesting info next week when we will discuss another report we received, much different from what we've heard so far.
Grant has been a fan of Star Wars for as long as he can remember, having seen every movie on the big screen. When he's not hard at work with his college studies, he keeps himself busy by reporting on all kinds of Star Wars news for SWNN and general movie news on the sister site, Movie News Net. He served as a frequent commentator on SWNN's The Resistance Broadcast.