ESPN2 to Air Star Wars Halloween Special Today.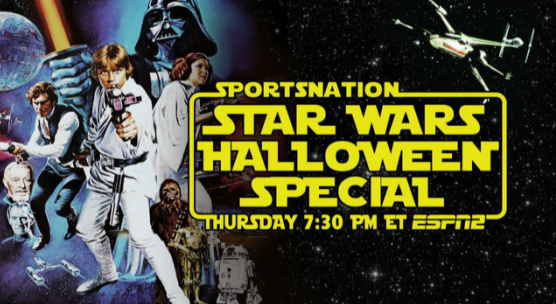 It will be a half-hour episode, airing Oct. 30 at 7:30 p.m., and will feature characters like Han Solo, Boba Fett, Yoda, Darth Vader, R2D2, Chewbacca and C-3PO. Also there will be a special appearance by Chopper from Star Wars Rebels…
From THR:
ESPN2 is going all out, revamping the SportsNation set to look like the Millennium Falcon. The special will highlight sports clips under Star Wars-inspired categories, such as "Best Jedi Mind Trick" and "Most Unstoppable Skywalkers," as well as premiere an exclusive sneak peek at an upcoming Star Wars Rebels episode.
One can only wonder if this will have the same fate as the "famous" Holiday Special from 1978. 🙂