Disney's Presentation At CinemaCon 2014.
CinemaCon is an annual convention that takes place in Caesars Palace in Las Vegas from March 24 through 27. During the event each studio is giving the exhibitors a first look at their upcoming films. Disney's presentation is expected to be about the upcoming Marvel movies and possibly Lucasfilm's Star Wars: Episode 7 and/or Indiana Jones…


The official CinemaCon schedule is not saying anything about Marvel and Lucasfilm:
"The Walt Disney Studios Invites You to an Exclusive Presentation including a Special Screening of "Million Dollar Arm", presented in Dolby Atmos.
Hosted by: Alan Horn, Chairman, The Walt Disney Studios and Dave Hollis, EVP, Theatrical Distribution, The Walt Disney Studios"

But according to THR:
Walt Disney Studios chairman Alan Horn and executive vp, theatrical distribution Dave Hollis will host Disney's presentation, which will also cover Marvel and Lucasfilm titles.
The presentation will begin at 9:45 am and will end at 12:30 pm. which is only 2 hours away!
The chances to hear some huge Star Wars news are very slim, but still I believe there will be some tidbits. Also I won't be surprised if they reveal something about the upcoming Indiana Jones films. I've been hearing lately that they want a new young Indy TV series on the small screen for next year.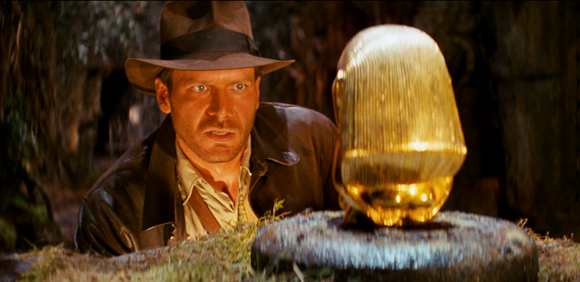 And check out Latino Review's latest rumor on Indy:
Our ever reliable sources are informing us that while Harrison Ford might still play Indiana Jones in the next film of the franchise, the window of making that happen is getting smaller and smaller.
There is a date and if Indiana Jones 5 is not moving forward by then, the studios are 100% prepared to recast a younger Dr. Jones and ready up a new trilogy.
And who just might be one of the actors that the studio is looking at ? The word is that they are looking at several but Bradley Cooper is at the top of the list.
As to who might be writing the next Indy? We are hearing that Frank Darabont might be taking a crack at the franchise once again. All we heard is that Darabont pitched an idea, what that idea is, I have no clue as our source wouldn't say.

And while we wait for the presentation to start here's something interesting from THR's Borys Kit:
Tidbit: John Boyega (Attack the Block) tested for #StarWars but he is also wanted for #Terminator : Genesis. The role: son of Miles Dyson.
— Borys Kit (@Borys_Kit) March 25, 2014
@andreweplotkin He can't do both. He has to wait out the Star Wars game.
— Borys Kit (@Borys_Kit) March 25, 2014
And even more interesting reaction from The Wrap's Jeff Sneider:
@Borys_Kit Odd tweet, especially if he gets it. I suspect you're just trying to throw the rest of us off the scent…
— Jeff Sneider (@TheInSneider) March 26, 2014
More later today…
The Indiana Jones rumor is not true. I have a source who 100% debunks it.
— Peter Sciretta (@slashfilm) March 26, 2014
UPDATE: Indiana Jones Not Being Rebooted http://t.co/16Eyvn5v8p pic.twitter.com/eaZCyMIzhS
— Peter Sciretta (@slashfilm) March 26, 2014
FYI, phones are not allowed to be on during CinemaCon presentations so no tweets till it's over.
— Steven Weintraub (@colliderfrosty) March 26, 2014
So the even starts now but no news until it's over in 3 hours time
Disney's Alan Horn just did his best Yoda: "Patience you must have." Re: news on #StarWars
— Rebecca Ford (@Beccamford) March 26, 2014
And no STAR WARS news at the Disney panel. Nothing. Alan Horn says they're not ready, crowd groans.
— Mystery Devin Faraci (@devincf) March 26, 2014
@devincf They're not ready. It shoots in 5 weeks, there's no information they can share.
— Germain Lussier (@GermainLussier) March 26, 2014