UPDATE 2! Clarification On What's In The Star Wars Canon.
Because of the many questions I've seen in the comments and in my e-mail, here's a quick clarification on what's included in the Star Wars canon…


First back in January it was announced that a group called Lucasfilm Story Group is developing a unified Star Wars canon. Leland Chee and Pablo Hidalgo are both part of that group.
Chee said that the Story Group has a hand in all facets of Star Wars storytelling, including movies, TV, games, and publishing. Also he mentioned that the canon field will serve them internally simply for classification rather than setting hierarchy. Later he added that their main goal is to create one cohesive Star Wars canon.

And a tweet by Pablo Hidalgo himself gives the answer to the main question. What's included in the new Star Wars canon?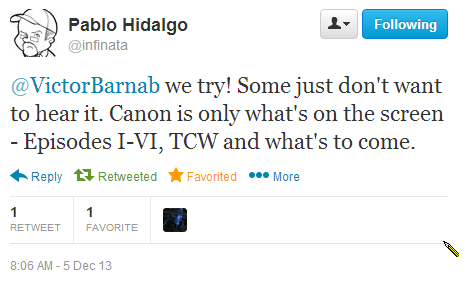 I'm posting his tweet as an image because he recently deleted his Twitter account.
Also check out this very interesting report from JediTempleArchives from a month ago about the Star Wars toys that also tells us that there are significant changes happening with the whole Star Wars brand:
Hasbro has been directed by Lucasfilm, Ltd. to avoid the Expanded Universe like the plague. Not only is it next to impossible that we'll see a brand new Expanded Universe figure in the near future, older and hard to find figures will NEVER see re-release either.

Hasbro said, and I quote, to "not expect to ever see Jaina Solo or Jacen Solo or any other older Comic Packs figure re-released in any way to get out to collectors".

On a related note, we will see a huge cutback on the characters from the Prequel Trilogy as well. They're not off limits, but the focus will be on the Original Trilogy and Star Wars: Rebels for the foreseeable future.

So whether you like it or not for now Star Wars: Episode 1-9, TCW, Star Wars: Rebels and the Spin-Off movies are the only thing considered canon.

UPDATE!

A small but fresh update. Right now Peter Mayhew is attending MegaCon 2014. During the Star Wars panel, fans where asking questions one of which is closely connected with the current topic:
Fan asks Mayhew about the death of Chewie, Mayhew notes that publisher who called him said EU books do not have a bearing on the movies.
— Lillian Skye (@LillianSkye_) March 23, 2014
UPDATE 2!

And here's something else that was brought to my attention 5 days ago that I completely forgot about. From Joe Corroney's Facebook page:
Joe Corroney (an illustrator who has provided Lucasfilm Ltd. with official Star Wars artwork for related books, games, trading cards and magazines since 1996) Going out on a limb here (not really) but I believe Lucasfilm is having to change, alter, adapt, redefine, erase, etc. (some or all of the above) the EU based on the script and story treatments coming from Disney production (JJ, Kasdan). I don't think LFL is interested in nuking and paving thirty years of dedicated EU like a corrupted hard drive for the fun of it. The new movies being created by Team Disney are dictating the new direction of the franchise and all previous and upcoming spinoff material. LFL will be salvaging as much of what they can from the EU I'm sure.
So although the EU is not considered canon it surely is not dead. Remember what JediDigger told us few months ago:
Right now they're looking at using the basic descriptions of EU characters with different names. Fans should not expect to see Kyle Katarn, Corran Horn or Cilghal, but characters who are very much like them.

That's why Bob Iger said they would use the 17,000 character for inspiration for new characters.
So all EU lovers, haters and so on should calm down. I'm sure there will be a little something for everyone in the new movies.
P.S. Be ready for some more rumors tomorrow.