Meet Leland Chee form the Lucasfilm Story Group.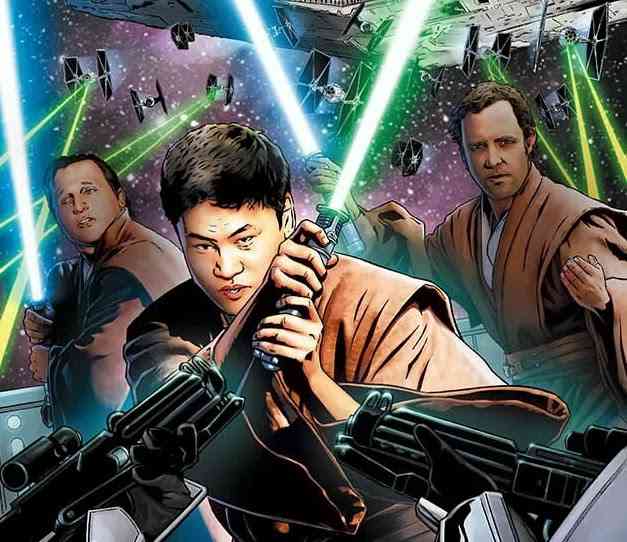 A very interesting article from 2008 shedding some light on the duties of the so called Lucasfilm Story Group and especially Leland Chee who together with Pablo Hidalgo is crafting a new and unified canon for the Star Wars franchise…

If you still don't know what Lucasfilm Story Group is, here's wiki's description:
The Lucasfilm Story Group is a division of Lucasfilm Ltd. founded in 2013 that will determine all Star Wars canon. The group, which includes Keeper of the Holocron Leland Chee, Star Wars author Pablo Hidalgo, Director of Creative Content Strategy Carrie Beck and Producer of Franchise Synergy Diana Williams aims to abolish the current canon hierarchy system and create a single cohesive continuity. The group began as an initiative from Kathleen Kennedy.
And here's the article about one of the members – Leland Chee. Although it's from 2008 it really gives you an idea of the duties and responsibilities of the group.
From wired:
On the wall behind Leland Chee's desk is a portrait of an Ithorian, an alien with a hammer-shaped head that you glimpse briefly in the famous Star Wars cantina scene. In its leathery, foot-long fingers, the Ithorian holds a cube decorated with elaborate metallic tracings, a device known as a holocron. Think of it as a Force-powered hard drive, capable of storing an enormous quantity of information. "It's a piece of Jedi technology," Chee says. "It tells you … everything."
To Star Wars fans, Chee is the Keeper of the Holocron, arguably the leading expert on everything that happened a long time ago in a galaxy far, far away. His official title is continuity database administrator for the Lucas Licensing arm of Lucasfilm—which means Chee keeps meticulous track of not just the six live-action movies but also cartoons, TV specials, scores of videogames and reference books, and hundreds of novels and comics.
Of course, Chee's Holocron isn't a Force-sensitive crystal. It's a FileMaker database, a searchable repository of more than 30,000 entries covering almost every character, planet, and weapon mentioned, however fleetingly, in the vast array of Star Wars titles and products. The Holocron isn't just for fun—when Lucas Licensing inks a deal with a toy company or a T-shirt designer, it vets those ancillary products to ensure they conform to the spirit and letter of the continuity that has come before and will continue afterward. In the past 31 years, Star Wars movies have grossed in excess of $4 billion worldwide. But retail sales of merchandise stand at $15 billion, and 20 percent of that has been earned since 2006, the year after the final film was released. Careful nurture of the Star Wars canon—thousands of years of story time, running through all the bits and pieces of merchandise—has kept the franchise popular for decades.

So Chee spends three-quarters of his typical workday consulting or updating the Holocron. He also approves packaging designs, scans novels for errors, and creates Talmudic charts and documents addressing such issues as which Jedi were still alive during the Clone Wars and how long it takes a spaceship to get from Dagobah, where Yoda trained Luke Skywalker, to Luke's homeworld of Tatooine. The Keeper of the Holocron takes this very seriously: "Someone has to be able to say, 'Luke Skywalker would not have that color of lightsaber.'"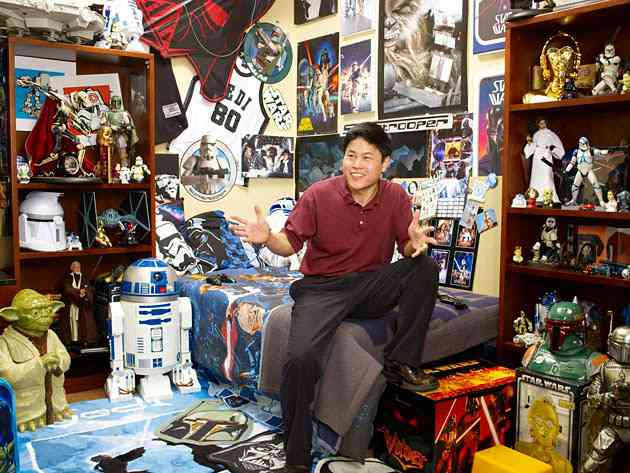 To Chee, the orderliness of the Star Wars canon is what sets it apart, what makes it feel more real than all those other franchises. "Look at James Bond," he says. "What's real in the James Bond world? What year does it take place in? It's not grounded in a real timeline." The Star Wars chronology, on the other hand, marks time from the Battle of Yavin, the assault on the Death Star at the end of the original Star Wars. Luke Skywalker was born in the year 19 BBY (Before the Battle of Yavin). It says so in the Holocron.
Back in his office, Chee asks his database what else it has on young Skywalker. The result contains scores of fields covering lineage, favorite vehicles, the planet he's from, how to write his name in the Aurebesh alphabet. "Oops," Chee says, blocking the screen with his body until he has minimized the window. "There are things in the Holocron that aren't public knowledge, stuff coming down the pike two or three years from now." He won't say whether those secrets relate to upcoming books, movies, games, or toys. Probably all of them.
Lucasfilm has to plan ahead and think long term. "We don't reboot. We don't start from scratch," Chee says. "When Chewbacca died, he died." (Poor Chewie yowled his last yowl in 25 ABY, when he was stuck on the planet Sernpidal as it collided with its moon, Dobido, in the novel Vector Prime, the first book in the New Jedi Order series. His death is now canon.)
"The thing about Star Wars is that there's one universe," Chee says. "Everyone wants to know stuff, like, where did Mace Windu get that purple lightsaber? We want to establish that there's one and only one answer."