After Disney bought Lucasfilm they announced that the studio will release a spin-off movie the year after each episode from the new trilogy hits the big screen. The first one is expected in 2016. The rumors were that the first 2 movies will be about Han Solo and Boba Fett respectively. Now another rumor suggest that indeed the Boba Fett movie is happening…



In an interview with AMC Movie Talk, director Jon Schnepp revealed that he knows for a fact that the Boba Fett spin-off movie is indeed happening:
"One of them is Boba Fett," he said of the planned spin-off movies. "It is. I know. I know for a fact. I will never reveal my source, but it is the one written by Lawrence Kasdan."

Actually there is nothing new in this rumor. The only strange thing is that it comes from a movie director (although he is pretty unpopular).

It was officially announced by Dinsey's Bob Iger that Lawrence Kasdan and Simon Kinberg are working on the spin-off movies so this is also not surprising.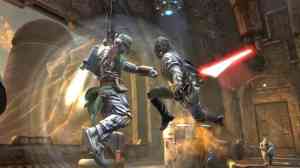 The rumors about a Han Solo and Boba Fett movies are around for some time now. These two characters are the most popular and logical choices. The Boba Fett spin-off movie is also one possible explanation why the game Star Wars: 1313 was cancelled. It was supposed to be about the famous bounty hunter.

So we have to wait and see if Schnepp does know something more than we do and not only trying to gain some attention.


Source: comicbookmovies