UPDATE 3! Denied: Benedict Cumberbatch Cast in Star Wars: Episode7?
This rumor comes from FilmChronicles without any signs of proof. I find it strange that one of the main Star Trek villains is cast in Star Wars. Still if true Benedict Cumberbatch is a great choice…
From FilmChronicles:

There's a lot of gossip swirling around that Lucasfilm are about to make a big casting announcement regarding Star Wars VII, and that casting announcement appears to be none-other than Benedict Cumberbatch, most recently seen in director JJ Abrams' previous movie, 'Star Trek Into Darkness'.

How Cumberbatch fits into the new movie is entirely open to conjecture (seeing as we know zero plot details so far!) Casting calls suggest we may see three or four early twentysomething Solo / Skywalker offspring in the film, which seems to count Cumberbatch out at a wise thirty-seven years old. Would Abrams use him as a villain for the second time in a row, or might he make an infinitely more appealing and energetic new Jedi hero, perhaps keeping the peace with Luke Skywalker?
Cumberbatch is famous for his roles in BBC's show 'Sherlock', Spielberg's 'War Horse', 'Tinker Tailor Soldier Spy', Star Trek Into Darkness and more.
I always thought that Abrams won't use any cast members from Star Trek because of the so called "fan wars" but I might be wrong. 🙂

UPDATE!

According to Marc Graser from Variety the above rumor is not true: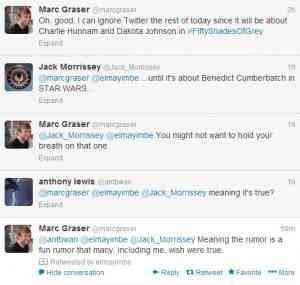 I'm not saying Cumberbatch will be in the movie – no deal is done, period – I just think these people straight up lie to press.
I personally would like to see Benedict Cumberbatch play C-3P0. Just putting that out there. You can send it right back.
— Damen Norton (@DamenNorton) September 2, 2013
UPDATE 2!

BadAssDigest has more on the story:
Last week I mentioned that all of the movie bloggers were sitting on one bit of Star Wars casting rumor. That rumor has finally been published, and now I can weigh in with my own thoughts: Screencrush is reporting that Benedict Cumberbatch may appear in Star Wars Episode VII.
I've heard this too, and I've heard the role he's up for is that of a bad guy, almost certainly a Sith. And it's a major role, one that will continue throughout the whole new trilogy. This part is why he dropped out of Guillermo del Toro's Crimson Peak.
But it's not a done deal, and it may not yet come together. There are some other commitments Cumberbatch will have to break to secure the part. In the meantime, I know that there have been official denials coming down from multiple channels – these denials are why the story didn't break in a trade – but with a JJ Abrams production I never believe the denials. That's not to say I think Cumberbatch is guaranteed the part, I just ignore the denials and wait for the official announcement. I mean, remember when Abrams said Khan wasn't the bad guy in Star Trek Into Darkness?
UPDATE 3! Denial.

Benedict Cumberbatch's rep:
"There is no truth to the rumour Benedict has been cast in Star Wars. I think the rumours are circling because JJ and Benedict have just recently had a wonderful time working together on Star Trek ."
Reps going into spin mode always has me suspicious. But Cumberbatch does have a scheduling conflict he has to sort out if he were to do SW.
— elmayimbe (@elmayimbe) September 3, 2013