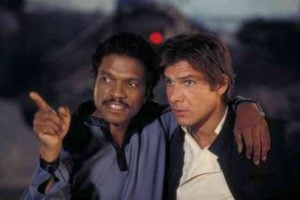 Billy Dee Williams' manager Derek Maki announced at this year's DragonCon the start of a campaign to bring back Lando Calrissian for Star Wars Episode VII. He also revealed if the other members of the original cast have already signed any contracts…


He said:
"There's a lot of rumors out there right now about the original cast coming back, and I know it's a burning question. Mark, Carrie, Harrison, and Billy, none of them have signed contracts, so it's all rumors, just so you know."

"We want you to Facebook, blog, and Twitter that you want to see Lando in the next Star Wars movie, so that J.J. gets a hold of him, because you're going to make it happen. And we have this new thing on Twitter now #BringBackLando, so if you guys are on Twitter #BringBackLando."
In his typical style Billy Dee Williams himself made a suggestion for a possible story line in Episode 7:
"The right idea actually is to come back with a daughter who's a Jedi, a beautiful daughter who's a Jedi."

That's not the first time when Maki and Williams have turned to the social networks for promoting Lando for the new Star Wars movies.
Here's what they have posted on Williams' Facebook page a few months ago:
"Everyone is still asking about the new Star Wars movie…. the best way to ensure that Billy Dee Williams will be in the new film is to FB, TWITTER, BLOG and tell Disney and Lucasfilm that you want to see LANDO again! Hopefully JJ will read the wishes and write in LANDO!
UNTIL then…. here is all that is known: "I am in the dark with the actual plans that Disney and Lucasfilm have for the future of the "Star Wars" universe. I have heard the same rumors that the fans heard, that a new trilogy is being made, that spin-offs may be made, that we all [Mark, Carrie, Harrison and myself] are going to be reprising our roles in these projects. At this point in time, nothing has been confirmed about my participation and I have signed no contracts.
I assure you that I would absolutely love to reprise my role of Lando Calrissian. He's a character that I took great pride in creating on screen and have continued to be a part of when providing his voice for video games, the new "Star Wars Detours" cartoon and for various episodes of "Robot Chicken", among other projects. It's a lot of fun to keep Lando alive and I am eager to do it again, on film, when I get the call. I thank all the fans out there for their continued support and I hope to get the call from Disney and Lucasfilm real soon, until then, may the force be with us all!"