Review: 'Doctor Aphra' #21 Sets Up Nostalgic Finale
The previous issue of Doctor Aphra made it seem as though this would be the culmination of the Ascendant story arc, but it seems we're going to get that conclusion next week. Instead, Aphra's fate is put on hold after an action-packed opening while her friends (and enemies) ready themselves for a final conflict.
This issue does set the stage well enough for that conflict, though I imagine some readers might be a little frustrated that this arc wasn't wrapped up straight away. That's an absolutely valid opinion to hold, though I am excited by some of the things that were set up by the end of the issue.
The story's subplot also ties itself further into the Crimson Reign event, as we discover exactly what happened to Lucky and Ariole on board the Vermillion. It's unclear how this sub-plot will tie itself into the main arc, but hopefully their story can wrap up soon as I don't think it's been particularly interesting. The more time spent with Doctor Aphra, the better.
Spoilers ahead…
Doctor Aphra #21 kicks off with a frantic fight as Sana Starros and Kho Phon Farrus try to take down Aphra, whose body has been possessed by the Spark Eternal. The Spark Eternal is able to shrug off all their attacks and seems resistant to blaster fire, so the two of them are forced to flee, though not before the Spark Eternal reveals that Aphra actually cares about Sana a great deal. It will be interesting to see how that new piece of information affects Chelli and Sana's relationship going forward, though I suspect things will mostly stay the same.
They managed to flee with two Ascendant artifacts – the Calling Gloves and the Whip of Sorrows – but the Spark Eternal still has the Thought Dowser. It will be fun to see how these come into play next issue, as neither were enough to defeat it this time.

Sana and Kho don't get far though, as they immediately run into Boushh and his squad. They take them straight to Domina Tagge, who wants an update on their mission to recover the ancient Ascendant artifact. I thought it odd that Sana and Kho didn't immediately scream to Boushh that there was a deadly artifact possessing their friend just around the corner, but the plot seemingly needed to just move on to the next scene. It just felt a bit rushed.
Domina predictably displayed zero concern for Aphra – though she did ask if they could safely remove the artifact from her, it's clear that she was only thinking about keeping the artifact intact – and instead ordered Boushh and his men to recover the Spark Eternal. That's when Sana speaks up and makes a compelling gambit that will make this arc's finale that much more exciting. She vows to build a team of people who know Aphra intimately – her father, Vulaada Klam, Eustacia Okka and MAGNA TOLVAN!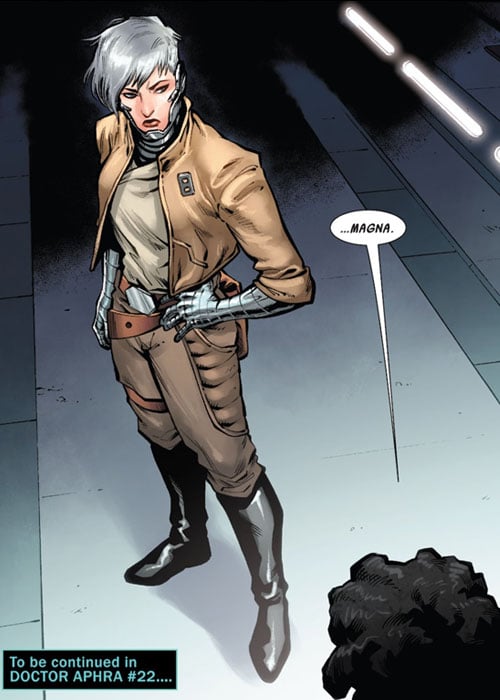 Magna's return immediately makes me more excited for this finale. Tolvan is easily one of the best characters in the Doctor Aphra series and I am always eager to see more of her. She's been away for far too long – it'll be great to see her in action and hopefully lead to some great dramatic moments as this ragtag team looks to free Chelli from the Spark Eternal.
We also spent a bit of time with Just Lucky and Ariole, as they weighed up whether or not to join Crimson Dawn. In a flashback, we finally learned how they escaped the Vermillion – it seems Qi'ra just let them leave after wining and dining them. I'm not a huge fan of Lucky and Ariole, as I don't find either of them particularly interesting, but I'm always happy to see more Qi'ra. Her involvement made their flashback interesting, as she yet again turned on the charm to recruit them to Crimson Dawn.
It does make you wonder how many people Qi'ra puts on these shows for, though. She's had a little speech for everyone she tries to recruit so far, but Crimson Dawn has so many operatives that you wonder if it's really feasible for her to do that for everyone. Are Lucky and Ariole really that important that they deserve this special treatment?

It seems they'll probably end up joining Crimson Dawn eventually, as we still have one final event to go in Hidden Empire, so these two will probably be sticking around for a while after the end of this arc. With any luck, working for the criminal syndicate will give them something a bit more interesting to do.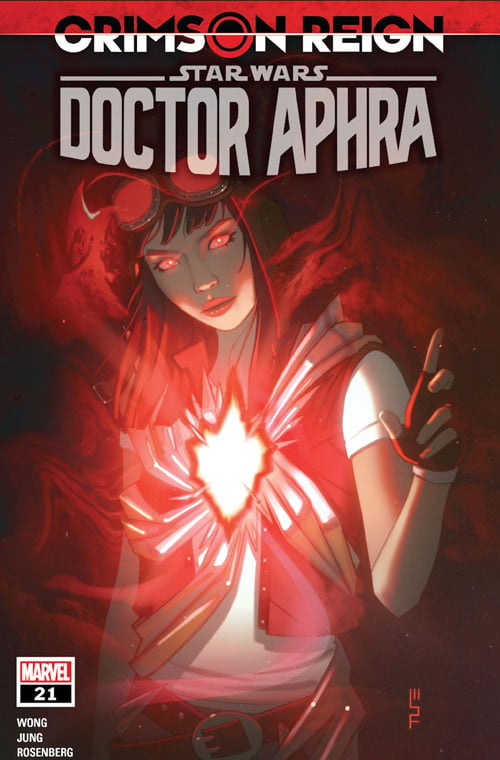 I'm looking forward to seeing Sana Starros' team in action in Doctor Aphra #22, and particularly for Magna Tolvan's return. Once Aphra is free of the Spark Eternal, perhaps she can turn her focus to defeating the Tagges once and for all.
Rating: 7/10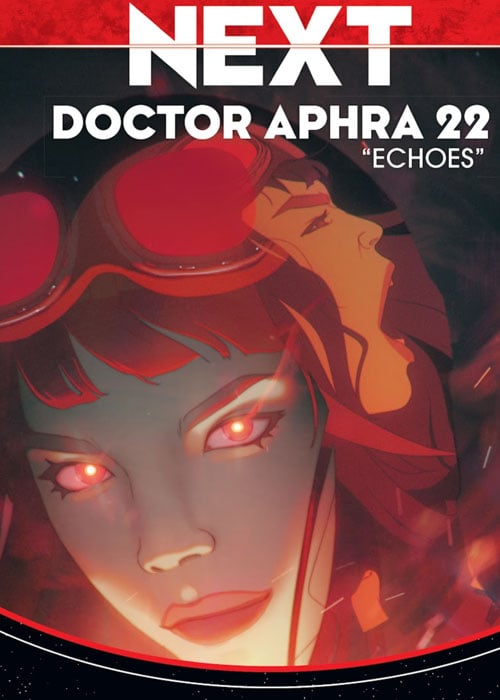 Josh is a huge Star Wars fan, who has spent far too much time wondering if any Star Wars character could defeat Thanos with all the Infinity Stones.