'Star Wars' Celebration: Kelly Marie Tran and Billie Lourd Announced as Newest Guests
We're another week closer to Star Wars Celebration in Anaheim. With it, a new round of guests is being announced — this week features Kelly Marie Tran and Billie Lourd being added to the party.
Kelly Marie Tran and Billie Lourd join the Star Wars Celebration lineup 💫 Buy your tickets today and meet these awesome guests at the show!

Buy tickets at https://t.co/EDbihTZl4f
Photo ops and autographs available at https://t.co/7VXgf42isK pic.twitter.com/u4cUfRX1eZ

— StarWars Celebration (@SW_Celebration) April 21, 2022
Tran portrayed Resistance fighter Rose Tico in The Last Jedi and The Rise of Skywalker. She also played the role for various animated ventures including LEGO Star Wars: All Stars, The LEGO Star Wars Holiday Special, and Forces of Destiny. Since then, Tran has gone on to play the lead role of Raya in Disney's Raya and the Last Dragon.
Lourd played Lieutenant Connix in the sequel trilogy and is also the daughter of the late Carrie Fisher, for whom she stood in for during certain scenes in The Rise of Skywalker. While still relatively new to the acting scene, she's definitely made an impact. She's been a major fixture in the cult hit American Horror Story since 2017, and garnered praise for her memorable role in 2019's Booksmart.
If you still need to buy tickets to Star Wars Celebration, you can visit here. For a full list of guests available for autographs and photo ops, you check that out here.
We are patiently awaiting further announcements about panels, additional guests, and so much more. Earlier this week, Asmodee announced that they will be hosting a Game Sessions booth with a number of awesome board game options. If you are at the convention and want to meet some of the team here at Star Wars News Net, The Resistance Broadcast will be hosting a Happy Hour and then having a live episode of the podcast. You are able to sign up for that event here.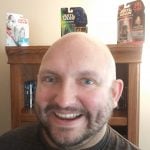 Nate uses his love for Star Wars and movies in general as a way to cope with the pain of being a Minnesota sports fan. When he's not at the theater, you can usually find Nate reading a comic, listening to an audiobook, or playing a Mario video game for the 1,000th time.