Disneyland's Millennium Falcon: Smuggler's Run Ride Just Had its Millionth Pilot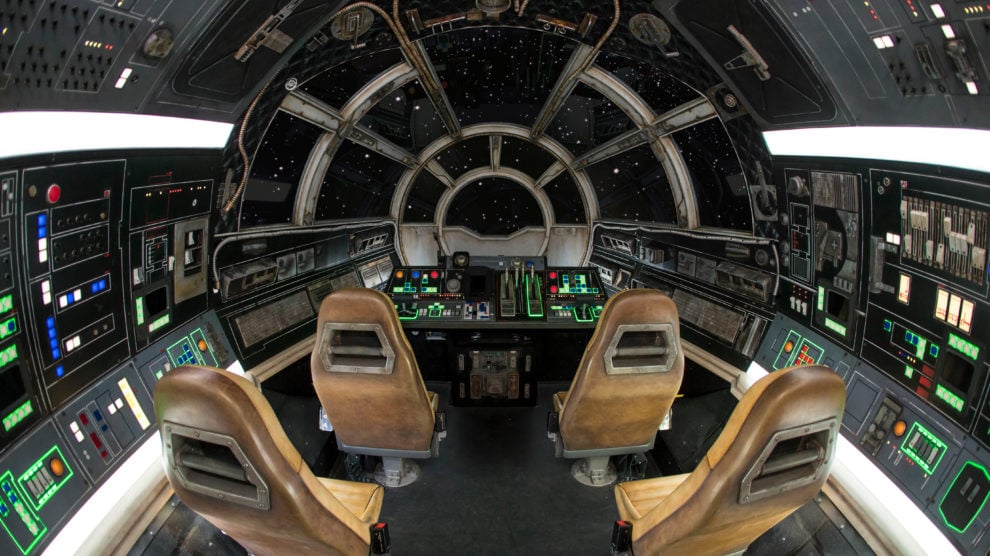 The Millennium Falcon: Smuggler's Run ride at Disneyland's Star Wars-themed land Galaxy's Edge has just accomplished an achievement worthy of the ship's name: reaching one million pilots.
Polygon reports that, fifty days after opening to the public, the only open attraction for Star Wars: Galaxy's Edge has reached a million pilots in record time. For those curious about how the math on that breaks down, each Millennium Falcon: Smuggler's Run ride lasts about four or five minutes with six riders operating different parts of the ship. In order to help control demand and line length, there are eight cockpits available for guests to cycle through with. So far, the park's been pretty efficient with handling guests, given that there are an average of nearly 24,000 pilots per day. That's not the most attended ride in the entire park, but considering that attractions that are more popular (such as Pirates of the Caribbean) have a significantly larger amount of vehicles that transport guests through the ride, having a million guests get onto what isn't even the "main attraction" in less than two months indicates that there's plenty of movement going forward.
Recently, there have been some concerns about Star Wars: Galaxy's Edge attendance after the initial few weeks of reservations were up. Aside from eyewitness testimony showing that this is not the case, there are some external factors at play affecting all of Disneyland right now. Annual passes were blacked out prior to the launch of Galaxy's Edge, and Disney have been in the process of putting a better crowd control system into place. Prices for Disneyland tickets are at a high, and as such, overall attendance is down. With that being said, the sheer amount of attendance for the Millennium Falcon ride indicates that people are still clearly making the trek to the Star Wars portion of the theme park, along with a number of park-exclusive pieces of merchandise selling out. Attendance is likely to see a boost when the main attraction, Star Wars: Rise of the Resistance, opens in Disneyland early next year. The arrival of the Star Wars: Galaxy's Edge park in Disney World is also something to look out for, given that more people travel out-of-state to visit the park than Disneyland.
Millennium Falcon: Smuggler's Run is open for business at Disneyland's iteration of Star Wars: Galaxy's Edge. Disney World's version of the ride will open with that version of the park on August 29, 2019.
Grant has been a fan of Star Wars for as long as he can remember, having seen every movie on the big screen. When he's not hard at work with his college studies, he keeps himself busy by reporting on all kinds of Star Wars news for SWNN and general movie news on the sister site, Movie News Net. He served as a frequent commentator on SWNN's The Resistance Broadcast.