Peter Mayhew, the Man Who Brought Chewbacca to Life, Passes Away at 74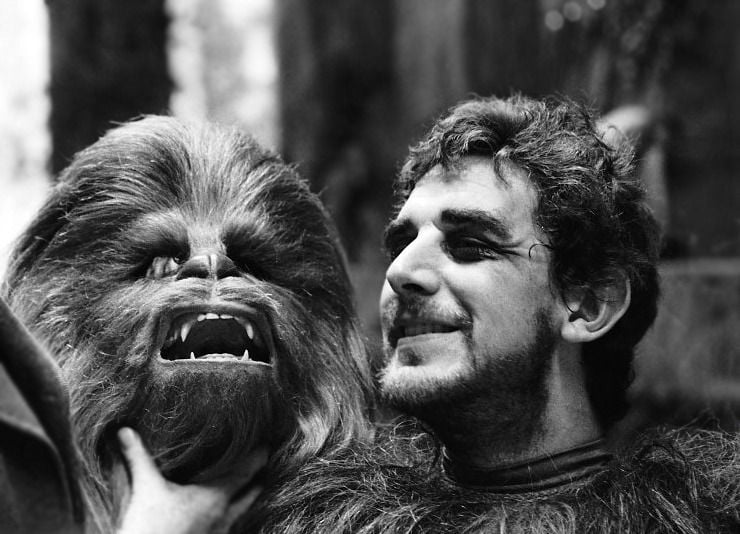 Peter Mayhew, an actor best known for bringing Chewbacca to life, is no longer with us. The actor passed away at the age of 74 due to unspecified health complications.
Mayhew passed away two nights ago in his home in North Texas, surrounded by his family. The cause of death has not yet been confirmed from official sources, but TMZ believes that he died of heart failure, while BuzzFeed News took note of his long-standing mobility issues, and mentioned that he had spinal surgery last year. Mayhew has had a long history of medical issues, particularly in his old age; he was confined to a wheelchair in 2011, had a double knee replacement in 2013, but was able to walk again for a time with the assistance of a cane. Around the time that Star Wars: The Force Awakens was being filmed, he was considered well enough to film some of the scenes that required Chewbacca.
One of Mayhew's last public appearances was last month at Star Wars Celebration Chicago, where he had photo ops and signed autographs. His family have left the following message on his Twitter page:
The family of Peter Mayhew, with deep love and sadness, regrets to share the news that Peter has passed away. He left us the evening of April 30, 2019 with his family by his side in his North Texas home. pic.twitter.com/YZ5VLyuK0u

— Peter Mayhew Foundation (@TheWookieeRoars) May 2, 2019
Mayhew's death follows the passing of R2-D2 actor Kenny Baker and Princess Leia actress Carrie Fisher, both of whom died in 2016. With the Chewbacca actor gone, this means that three of the leading cast members behind the original Star Wars film back in 1977 departed from this world in the past few years. Naturally, cast members Mark Hamill and Harrison Ford also offered condolences to Mayhew's family and spoke highly of their experiences with working with the man behind the Chewbacca mask and costume:
He was the gentlest of giants-A big man with an even bigger heart who never failed to make me smile & a loyal friend who I loved dearly-I'm grateful for the memories we shared & I'm a better man for just having known him. Thanks Pete #RIPPeterMayhew #Heartbroken @TheWookieeRoars pic.twitter.com/8xbq9HEWF2

— Mark Hamill (@HamillHimself) May 2, 2019
Harrison Ford on the death of his friend, Chewbacca actor Peter Mayhew: pic.twitter.com/DvVZYICwZ9

— Ryan Parker (@TheRyanParker) May 3, 2019
Billie Dee Williams, who joined the cast in Star Wars: The Empire Strikes Back, and returned for Star Wars: Return of the Jedi, also offered his sympathies:
Much more than Chewie to me…My heart hurts…I will miss you my dear friend…thanks for the great memories! #RIPPeterMayhew #StarWars pic.twitter.com/0DfCo59zpG

— Billy Dee Williams (@realbdw) May 3, 2019
But it's not just the old guard that are honoring his memory. Mayhew mentored Joonas Suotamo for 2015's Star Wars: The Force Awakens to become Chewbacca in action scenes that he was no longer able to perform, due to his age and limited mobility. Suotamo has spoken fondly of Mayhew, and has fully taken over the role in 2017's Star Wars: The Last Jedi, 2018's Solo: A Star Wars Story, and 2019's Star Wars: The Rise of Skywalker. Suotamo left the following message on his Twitter page:
R.I.P 😔 pic.twitter.com/FWRgaOS0Tf

— Joonas Suotamo (@JoonasSuotamo) May 2, 2019
Of course, what happened behind the scenes of the Star Wars movies is just as important as what was shown in the finished product. Director J. J. Abrams, who worked with Mayhew for Star Wars: The Force Awakens, left a short note expressing grief that the actor behind Chewbacca has passed away:
— JJ Abrams (@jjabrams) May 3, 2019
And while Rian Johnson did not direct Mayhew in Star Wars: The Last Jedi, he also expressed grief at his passing:
RIP Peter Mayhew. To create a beloved character with warmth and humor is a testament to any actor's spirit. To do it under a half ton of yak hair takes a true legend. ❤️❤️

— Rian Johnson (@rianjohnson) May 3, 2019
Franchise creator George Lucas explained that he saw Mayhew as the living embodiment of Chewbacca in an official statement (per Deadline):
"Peter was a wonderful man. He was the closest any human being could be to a Wookiee: big heart, gentle nature — and I learned to always let him win. He was a good friend, and I'm saddened by his passing."
In addition, Lucasfilm President Kathleen Kennedy explained that she was grateful for the time that she was able to spend with Mayhew from The Force Awakens onward:
"We are deeply saddened today by the news of Peter Mayhew's passing. Since 1976, Peter's iconic portrayal of the loyal, lovable Chewbacca has been absolutely integral to the character's success, and to the Star Wars saga itself. When I first met Peter during The Force Awakens, I was immediately impressed by his kind and gentle nature. Peter was brilliantly able to express his personality through his skillful use of gesture, posture and eyes. We all love Chewie, and have Peter to thank for that enduring memory."
The man who brought us the mightiest Wookiee in the galaxy far, far away will be missed by fans, friends, and family members alike. While Chewbacca's roars and growls were never intelligible to our ears, Mayhew brought a sense of humanity to this loyal, intelligent, and above all else, brave gentle giant.
His family will be hosting a memorial service in June. May the Force be with him – always.
Grant has been a fan of Star Wars for as long as he can remember, having seen every movie on the big screen. When he's not hard at work with his college studies, he keeps himself busy by reporting on all kinds of Star Wars news for SWNN and general movie news on the sister site, Movie News Net. He served as a frequent commentator on SWNN's The Resistance Broadcast.