The Last Jedi: Daisy Ridley talks Star Wars in Live Social Media Q&A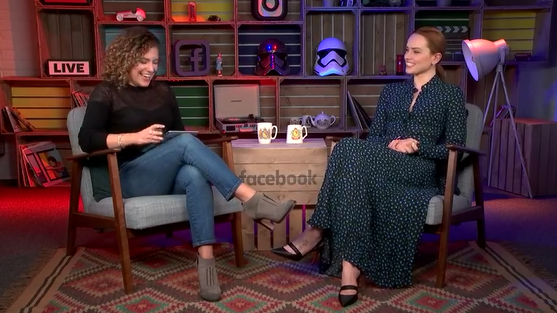 Daisy Ridley shared more interesting Star Wars stories at a Q&A session today with Facebook Live, including talk about filming locations, what it was like working with the legendary Mark Hamill, and her thoughts about Kylo Ren's path in Star Wars: The Last Jedi. Read on for more!
Andi Gutierrez, host of The Star Wars Show, sat down with Daisy Ridley to answer submitted questions via social media for a Star Wars: The Last Jedi Facebook Live London Q&A to celebrate the release of the film on home video. During the 37 min discussion Ridley shares several tiny bits of information about her time filming The Force Awakens and The Last Jedi. Highlights include:
Rey's weakness "Longing for something" in 'The Last Jedi' and beyond.
New found challenges in the film including Mark Hamill.
Her real-life locations experiences.
PORGS
Her thoughts about the path of Kylo Ren and whether or not he was redeemable, even for a split second, in 'The Last Jedi'. You can watch this part from 24 min. When I really thought that Rian wasn't trying to emphise a possible path to redemption, she pulls me back in.