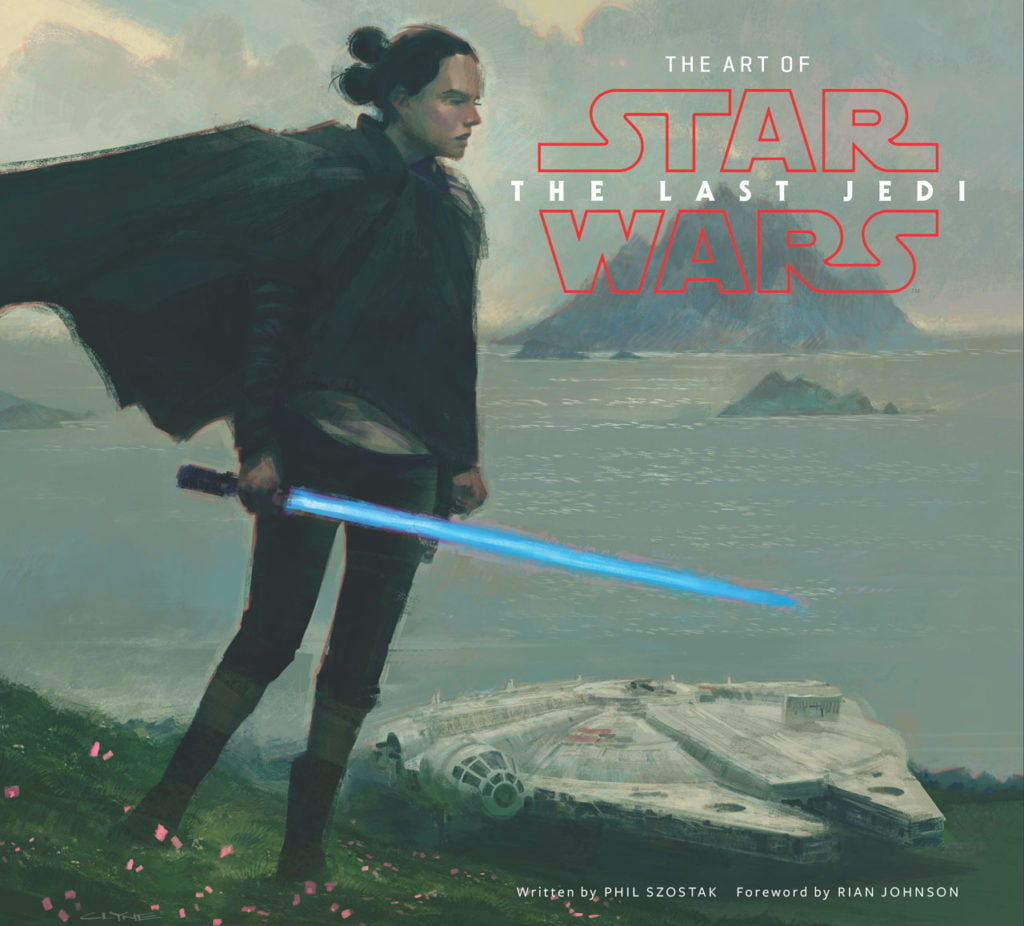 Phil Szostak's behind-the-scenes look at what goes into making his 'Art of Star Wars' books continues. In part two of our coverage, the creative Art manager for Lucasfilm, author of ABRAMS books The Art of The Force Awakens, The Art of Rogue One: A Star Wars Story and the recent The Art of The Last Jedi shares interesting details about the process of gathering art, designing book layouts, making adjustments on the fly and things that might have been. Check it out!
In case you missed our coverage of part 1, Phil Szostak, the author of this May's The Art of Solo: A Star Wars Story, gave us unique insight and details into the creative ideas that went into building his "Art of" books structure, character development, and design, as well as location usage within the films.
Phil's most recent Tweets take a look at gathering art, designing book layouts, and making adjustments.  Check out all of his tweets below….
More on my Art of #StarWars book process…
4. Gathering art: While conducting interviews, I ask the creature, costume & art department (encompassing graphics, props & set dec) & any in-house Lucasfilm/@ILMVFX artists for their art selects, usually 30-50 pieces per artist. pic.twitter.com/rs0jfAHRyP

— Phil Szostak (@PhilSzostak) March 11, 2018
Those plus the "moviescape" (the production designer's 150+ approved selects that visually run thru the entire film) form the core of what goes into the book. On top of that, I look through every single art folder in the production database, tens of thousands of pieces. pic.twitter.com/wIKVBD4CnX

— Phil Szostak (@PhilSzostak) March 11, 2018
As Lucasfilm's creative art manager, I have eyes on & am responsible for teeing-up concept art across all live-action projects for dissemination internally & to licensees. So even when I'm not the author of an Art of #StarWars book, gathering this art is a part of my day job. pic.twitter.com/ZF5PYhV20x

— Phil Szostak (@PhilSzostak) March 11, 2018
Looking thru all of those folders, I find some real gems which otherwise would never see the light of day. I also pull key frames from hi-res videos of @BLIND_LTD's UI graphics. 1000s of selects get boiled down to the 500 or so which I attempt to squeeze into the initial layout. pic.twitter.com/SRSAmlOUln

— Phil Szostak (@PhilSzostak) March 11, 2018
Some pieces I found by digging around #TheLastJedi's art department server included the ancient Jedi text pages, the Ahch-To island map and the exploded-view illustrations of the stormtrooper & Captain Phasma helmets. #StarWars pic.twitter.com/nlSyt7mRsk

— Phil Szostak (@PhilSzostak) March 11, 2018
5. Layout: Based on my previously-determined book structure, I use InDesign to start laying out the book chapter by chapter. What art ends up in this preliminary "bookmap" is completely up to me & my sense of what's interesting/aesthetically pleasing. pic.twitter.com/UuEfpuAqvH

— Phil Szostak (@PhilSzostak) March 11, 2018
I was a film/animation major in art school but am a total novice book designer, self-taught in InDesign. So my bookmap is a bit rough & overstuffed w/ art. Despite the stress of trying to squeeze everything I love into the layout, this is one of my favorite parts of the process. pic.twitter.com/S54nkuWg2M

— Phil Szostak (@PhilSzostak) March 11, 2018
The bookmap is the first thing I turn in to the publisher. Over the next bunch of months, Liam Flanagan at @ABRAMSbooks takes my layout and makes it look good, adding new pieces & making adjustments as needed. But my core layout choices/structure are retained throughout. pic.twitter.com/PSWBg2Gru7

— Phil Szostak (@PhilSzostak) March 11, 2018
I'll get into the finer details of how the layout gets whittled down & refined when I chat about the editorial process at a future date. And next time, I'll get into the real panic-inducing meat of making these books: writing the manuscript! Seacrest, out.

— Phil Szostak (@PhilSzostak) March 11, 2018
We'll be sure to keep you updated as we gather more information on this!
The Art of Solo: A Star Wars Story hit stores May 25th. The book is currently available for pre-order via: AMAZON
May the Force be with you….
Click HERE to check out and comment on this topic in our forum The Cantina