iTunes May Have Just Leaked A Major Spoiler For Tonight's Episodes Of Star Wars Rebels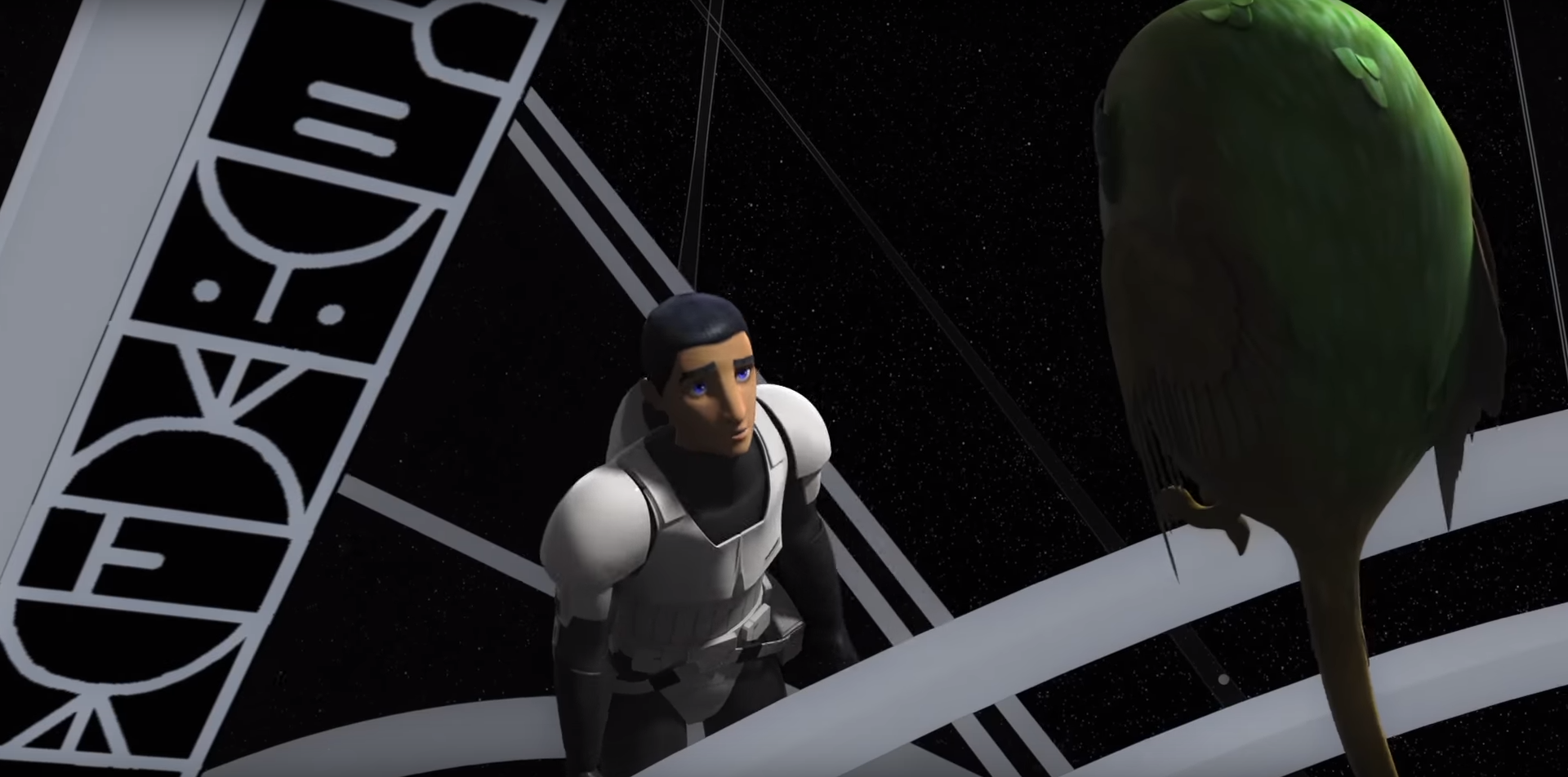 A new image found on iTunes uses a screencap of a major moment in the Star Wars Rebels episode "A World Between Worlds" – and as it turns out, the screencap in question might just be a big spoiler that will answer a question fans have been asking about for years.
Spoilers ahead. (Duh.)
To cut to the chase, here's what the screencap looks like:
Leaked image of "A World Between Worlds" by iTunes from starwarsrebels
So there you have it: Ahsoka Tano is back. Or perhaps I should rephrase that… From the looks of this image, we're getting a good look at what happened in her duel with Darth Vader after she held her ground so that Ezra and Kanan could escape Malachor. It might look like a frame from "Twilight of the Apprentice", but make no mistake, this is a new image based on the lighting and the angle itself.
The last we saw of these two characters happened in that very episode – Darth Vader is in a shot of him limping out of the Sith Temple, while Ahsoka can briefly be seen walking back in after we catch an image of a green and white Convor flying in her direction. What this exactly meant is unclear, as we don't know whether or not Ahsoka survived and she was just walking down, or if an image of herself in the Force just happened to appear there as a lingering presence. Furthermore, we already know that the Convor will be back since it was included in the trailer for the final set of Rebels stories. So what's so interesting about this bird? Simple – it has the same colors that the Daughter of Mortis did.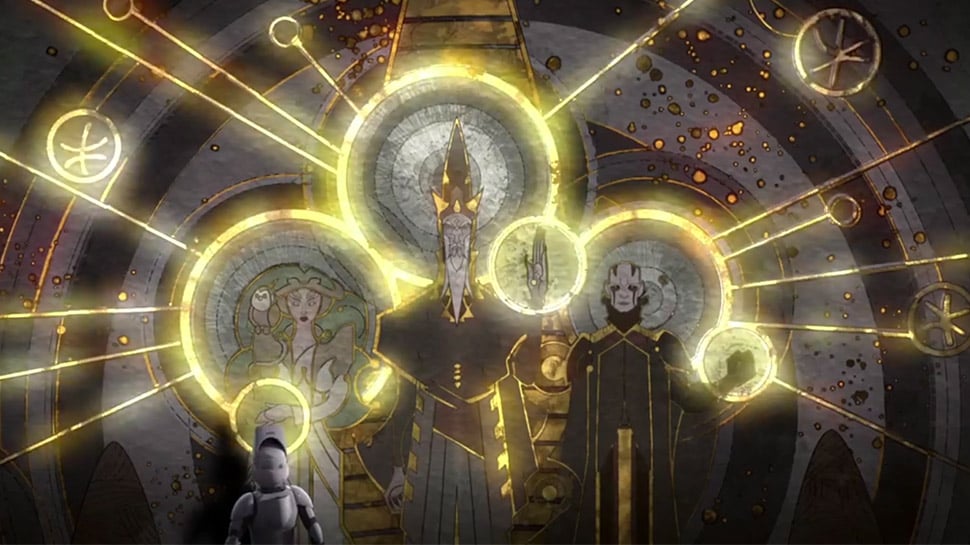 In The Clone Wars, there was a trilogy of episodes in which Obi-Wan, Anakin, and Ahsoka all visited a Force-Planet known as Mortis, where a trio of Force Entities – known as the Daughter (who represented the Light Side of the Force), the Son (who represented the Dark Side of the Force), and the Father (who represented the Balance of the Force) – challenged Anakin in order to determine if he was the Chosen One. While Anakin succeeded, the Son possessed Ahsoka as a way to try and escape the planet to wreak havoc on the galaxy, and he later killed her once she had served her purpose in his plan. However, the Daughter gave her life so that Ahsoka could live once more – and while all three of the Force Entities would end up dying, a Convor resembling the Daughter has appeared in the years since the trials on the planet.
In Rebels, they've not only shown that Convor a couple of times (along with another Convor that appeared a few times in Season 3), but the last trailer for Season 4 definitively shows the Force Entities on a mural, heavily-implying that they're going to play a big part in the last few episodes. With the Daughter so intrinsically tied to Ahsoka herself, it's looking like the episode will use that element to reveal whatever became of our favorite Togruta Jedi (sorry, Shaak-Ti). And it might just be that we'll see more of her in whatever state she appears in.
So, what is the fate of Ahsoka? Is she really dead? Did Darth Vader have a change of heart, deciding to spare Ahsoka, with the caveat of marooning her on a dead world? Did Ahsoka simply trick her former master into thinking that she killed him, and she's been hiding in a Force-Nexus ever since? Has the Force itself secretly protected her from dying fully due to the Daughter's powers? In any case, we won't have to wait very much longer to find out.
One last thing… Palpatine's apparently in this episode. Exciting times!
The Emperor's coming here. #StarWarsRebels is NEW tomorrow night at 9pm ET/PT on @DisneyXD. pic.twitter.com/fxmt8Y29uV

— Star Wars (@starwars) February 25, 2018
Grant has been a fan of Star Wars for as long as he can remember, having seen every movie on the big screen. When he's not hard at work with his college studies, he keeps himself busy by reporting on all kinds of Star Wars news for SWNN and general movie news on the sister site, Movie News Net. He served as a frequent commentator on SWNN's The Resistance Broadcast.