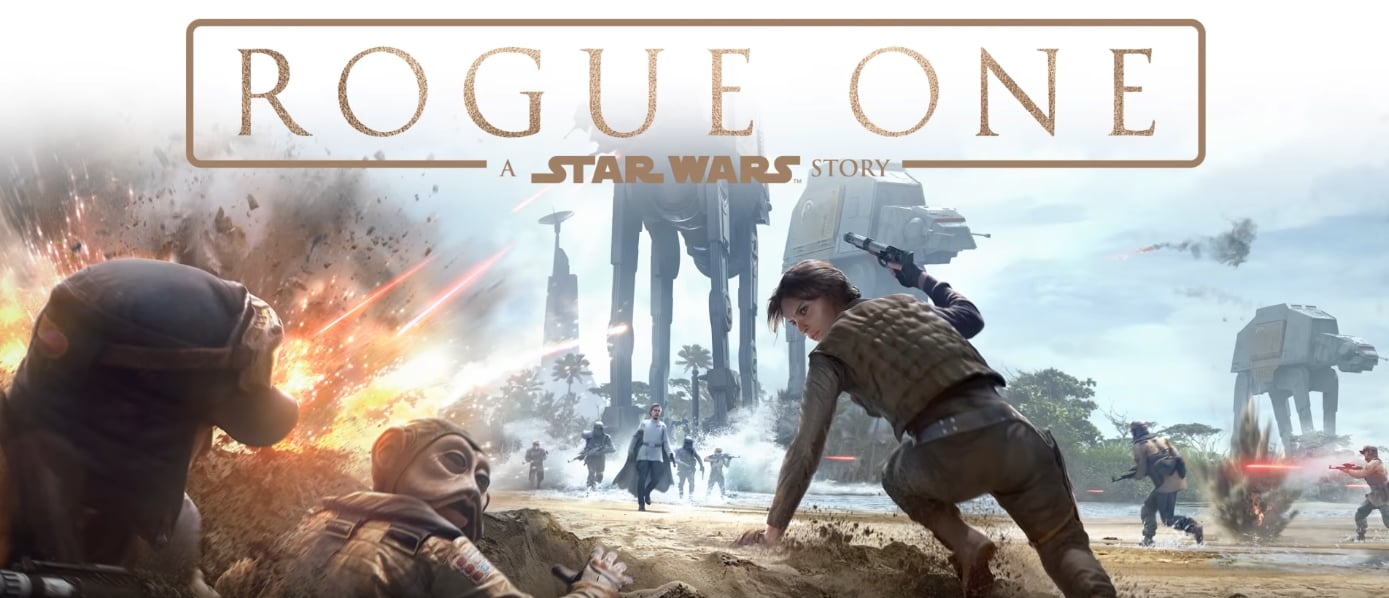 Was Star Wars Battlefront's initial price tag for the base game and the season pass (a whopping $120) a little too much for your wallet to handle? Fear not – Battlefront: Ultimate Edition will collect all the game's content under a single package at $80, with both free and paid DLC included. If you purchase this package now, you can play the Rogue One: Scarif expansion a few weeks before everyone else does.
Technically, the Ultimate Edition was available on day one – that being said, none of the DLC expansions were being sold at that time, and the Rogue One tie-in soon will be, which is why they're advertising it now. The official Battlefront website has details on that particular expansion:
We're happy to finally announce new details on Star Wars Battlefront Rogue One: Scarif, which arrives for all Season Pass owners on December 6. The fourth and final digital expansion pack gives you access to new content inspired by the upcoming film Rogue One: A Star Wars Story, arriving in theaters on December 16. In Rogue One: Scarif you'll battle across four new maps, including the sandy beaches of Scarif – an all-new tropical planet crawling with Imperials – which should look mighty familiar to anyone who saw the movie trailer. Know that incredible scene in the trailer where the AT-ACT is marching through the waves? That's the one! Joining the battle are two new playable heroes: Jyn Erso and Orson Krennic, as well as a new multi-stage game mode with space and ground combat. Take your first look at the artwork for the upcoming expansion pack above, and get ready for an epic Star Wars adventure on December 6 in anticipation of the new film.

Also arriving on December 6 is the Star Wars Battlefront Rogue One: X-Wing VR Mission for PlayStation VR. This free DLC gives you control of your very own X-wing in fully immersive virtual reality – brush up on your piloting skills, stay on target, and prepare to jump through hyperspace as you carry out an important mission for the Rebellion.
In addition, Battlefront players who do not have the Season Pass can access a free trial of the currently-available expansions from now until the end of the weekend.
For those keeping count at home, this means that the complete Battlefront experience will feature 36 maps, 14 gameplay modes (one of which is for Scarif and has yet to be fully revealed) and 14 heroes – quite a difference between the game's 12-map, 9-mode, 6-hero launch. And since the game's sequel will have much of this content to serve as a strong foundation for the franchise going forward, it's likely that there won't be a repeat of this game's highly-criticized launch lacking in content.
Battlefront: Ultimate Edition, along with the Battle Of Jakku, Outer Rim, Bespin, and Death Star expansions, are out now. The final expansion – Rogue One: Scarif – will be arriving on December 6 for those who have the Season Pass or the Ultimate Edition, and on December 20 for everyone else. The sequel to Battlefront is projected to arrive around this time next year.
Click HERE to check out and comment on this topic in our forum The Cantina