Star Wars Rebels Season 3: "The Antilles Extraction" Review!
This episode of Rebels features the introduction of a LONG TIME fan favorite character and judging by the title of the episode…it's not hard to figure out who that person is. Wedge Antilles. I was never a giant fan of the character, but Lord knows this guy carries massive "Legends street credibility" with him. Thus, the episode's importance to whet all those Rogue Squadron novel fan's appetites.
Could this episode whet my appetite even? Let's find out….
SPOILERS BELOW!!!
What worked for me: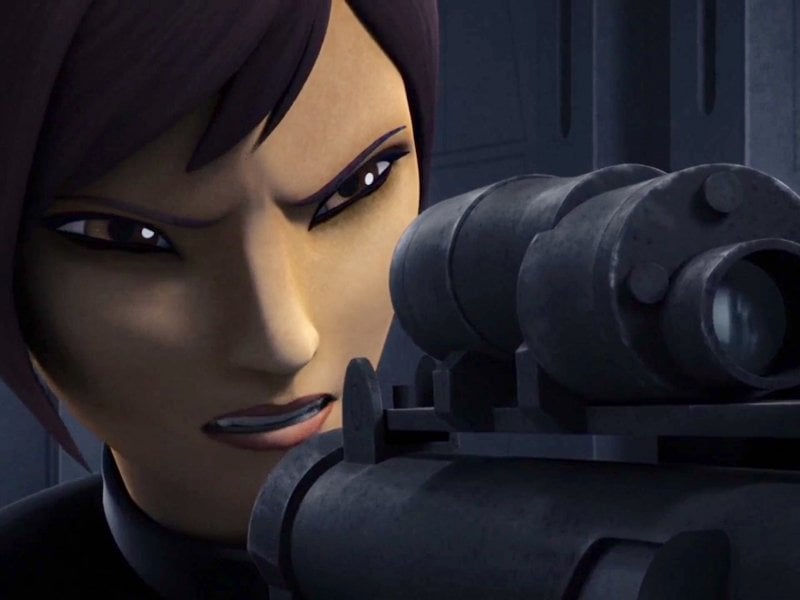 I have been VERY critical of this character since season 1. Season 2 tried to get her more involved and expand on her backstory, but some of it felt hollow to me. Her Mandalorian heritage comes with a lot of expectations and it's been hit or miss at best. This episode shows us that Sabine is just as deadly without her Mandalorian armor and we see her personality shine a bit without the main cast around. Her fight scene with Governor Pryce was pretty rad if I do say so myself. If we continue to get character building episodes like this one?…Then we are in good hands.
This episode starts off with a bang when a Rebels transport ship (I LOVE that design) escorted by A-Wings is attacked by a bunch of TIE Interceptors. The more starship dogfights the better, I say. We get to see all the Imperial TIE line in this episode. Fighters, Bombers etc. No sign of that sweet new TIE Striker from Rogue One though. Bummer.
We only heard her mentioned in the previous two seasons of Rebels and she came off like a throwaway name at most. We were introduced to her properly in the season opener and she came off like a bigger deal than I thought. In this episode? ….You don't want to mess with this lady. She's as calculated as any other Imperial I've seen and held her own against a Mandalorian warrior. As you can see from the still above…she's ready to torture some Rebels. Damn, that's hateful!
Maybe it's just me, but this season's animation seems to have taken a step up. I don't think the animation has been bad per se in the previous seasons, but it's been popping out of whichever screen I watch the show on. Now, I realize that a show SHOULD improve it's look as it goes forward, but I think it needs to be noted, nonetheless. The movements of the characters and ships seem more…fluid? Maybe it's just me. Does anyone else notice this?
What didn't work for me:
I like Ezra WAY more this season already than the previous seasons and I do like where the story is headed, but….when you mix brooding and whining together…it's brutal. I get that the show is showing how much of a loose canon this kid is. I do however need to remind myself that this show is aimed at kids and not adults like myself who come off like a spoiled child wanting Star Wars his way. I get it.
Quick hitters:
It was cool seeing how Wedge came into the Rebellion, but it wasn't anything incredible. He honestly came off as an afterthought. Thus, he ended up in "Quick hitters".
It was funny that Hobbie from ESB made an appearance. Luke yells to him while flying his T-47. "HOBBIE! I"VE BEEN HIT!" and he is pictured below.

This season of Rebels is 3 for 3 with me. This was a fun episode and gave a lot for us Star Wars fans to chew on. Where does Kallus fit in? Is Wedge going to stick around for awhile? Hobbie too? Will Ezra whine himself into oblivion? I'm excited to find out!
You can follow me on Twitter @Hermann22
You can follow my Star Wars podcast @Blastercanonpod
Paul