Inside The Star Wars Art of Ralph McQuarrie
StarWars.com's James Floyd had a chance to catch up with the authors of the new Star Wars Art: Ralph McQuarrie book. The book finally gives fans the opportunity to check out the entirety of McQuarrie's complete work for Star Wars. Read on for more!
Ralph McQuarrie's conceptual paintings and concept art that were instrumental in designing the landmark Star Wars saga have finally been pieced together into one ultimate book collection.
The "All New" collection,  Star Wars Art: Ralph McQuarrie from Abrams Books will hit book shelves this coming September 27th. This amazing two-volume set should be everything a long-time fan, like myself, would want included on his book shelf or in his Star Wars collection.
McQuarrie produced hundreds of pieces of Star Wars artwork, including conceptual paintings, costume designs, storyboards, and matte paintings, as well as posters, book covers, and album covers—even Lucasfilm's annual holiday cards—all rescanned and rephotographed for this book. In Star Wars Art: Ralph McQuarrie, readers will find the most definitive collection of the artist's Star Wars work ever assembled, including hundreds of never-before-seen illustrations. Rare unpublished interviews, as well as recollections from McQuarrie's colleagues and friends, complement and contextualize the art.
StarWars.com recently had the chance to chat (via email) with authors Brandon Alinger, Wade Lageose, and David Mandel to discuss about this incredible McQuarrie collection.
From Starwars.com
Q: StarWars.com: Ralph McQuarrie is often seen as the first person, besides George Lucas, to see the story of Star Wars, and created many of the saga's most iconic looks. How did this book, collecting McQuarrie's complete work on Star Wars, come about?

David Mandel: This is a book that Jonathan Rinzler, former executive editor at Lucasfilm, wanted to do for many years. While working on his Making Of series of books he saw the depth of the McQuarrie holdings in the Skywalker Ranch archive, which are just staggering. Jonathan had previously pulled in long-time Star Wars researcher Brandon Alinger to write Star Wars Costumes: The Original Trilogy.

Brandon Alinger: I knew David and Wade Lageose as longtime McQuarrie artwork collectors and aficionados, so it was a logical partnership.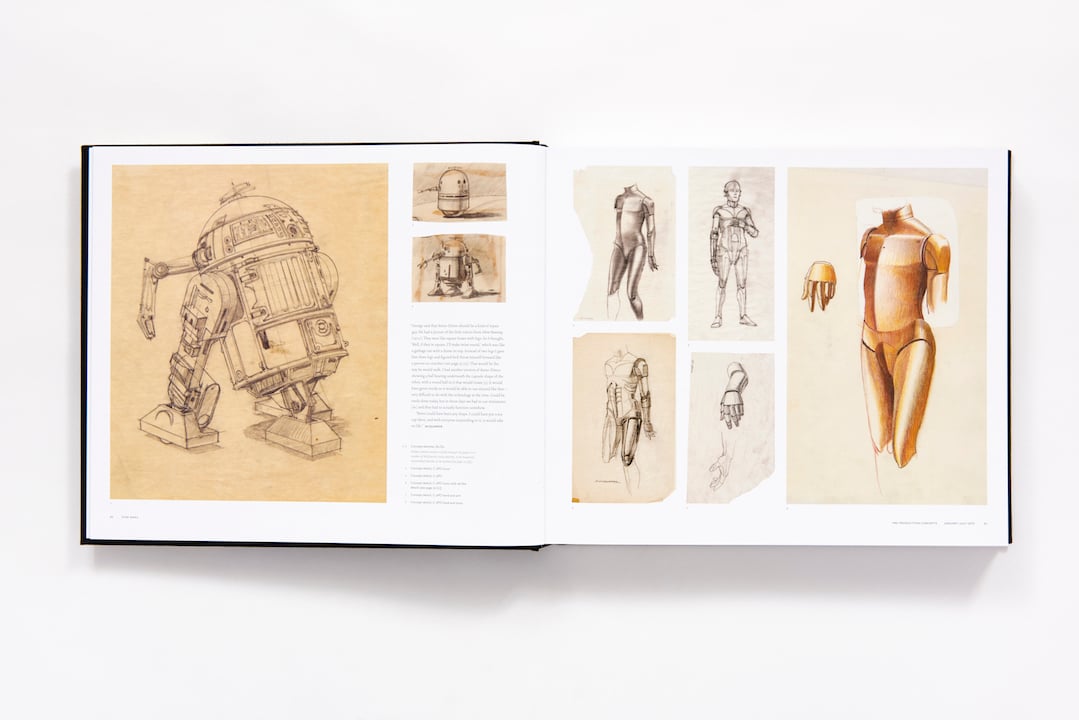 Q: StarWars.com: This two volume collection has more than 2,000 pieces of Ralph McQuarrie Star Wars art. How do you go about organizing such a colossal trove of imagery, even within the chronological framework of making a film?

Brandon Alinger: It's tricky! Working out the order was one of the major challenges of the book. McQuarrie's work touched on so many areas of trilogy's production, and related areas — concept sketches, costume sketches, production paintings, matte paintings, publishing work, the list goes on — making organization a real challenge. Along with Jonathan Rinzler and Eric Klopfer at Abrams, we decided it was most interesting to see the artwork as Ralph McQuarrie would have seen it — in the order he produced it. The easiest route would have been to lay it out in story-order, but chronologically is a more scholarly and informative approach.

David Mandel: Seeing Ralph's work laid out chronologically also allows you to appreciate just how many concepts and designs Ralph was working at any one moment, and how integral Ralph was to every aspect of the movie from costumes to designs to matte painting to early poster designs.
Brandon Alinger: The challenge came from the lack of perfect information. Very little of the work is dated. We had access to some of McQuarrie's daily calendars from the time which provided date information, and dug deep for overall production information in other sources that informed the order.

Wade Lageose: There were also challenges in the fact that McQuarrie would sometimes start developing a concept with his signature thumbnail sketches, and then move on to one or more other things, and then revisit those earlier thumbnail sketches and develop them into larger concept drawings or full-blown production paintings. We wanted to try to group material for a single piece together, when we could, to take the reader on a coherent journey from the inception of an idea to the finished work. That was sometimes at odds with our chronological narrative, so concessions were made here and there.

Brandon Alinger: Aside from determining the order in which to present the artwork, we had to work out exactly what artwork existed, where it was located, and whether the existing imagery was acceptable. The major sources were the Skywalker Ranch archives, which hold the majority of McQuarrie's originals, Lucasfilm's image archives, which contain images of some pieces not present elsewhere, the Ralph McQuarrie archives, and a number of private collections. All of these sources had to be analyzed and reconciled, and then a vast amount of the artwork was rescanned in an effort to make it look better than it ever has in print.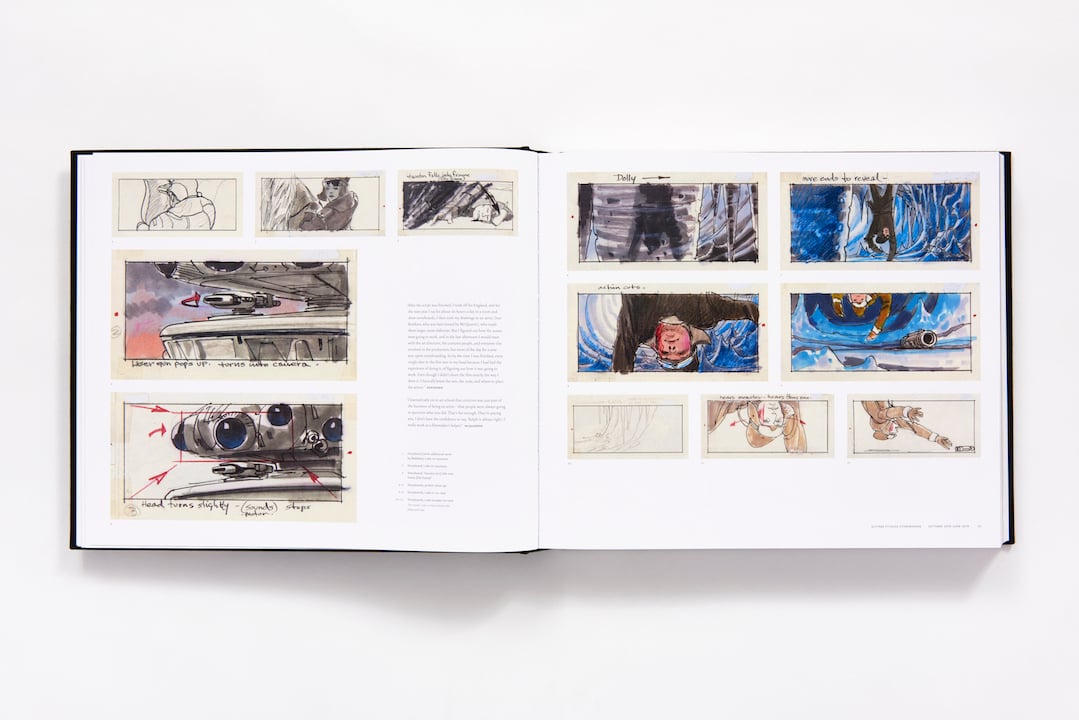 Q: StarWars.com: Which McQuarrie pieces hold a special place in your hearts?

Brandon Alinger: My favorites are the earliest sketches he did on Star Wars. It's amazing to see the first sketches of Darth Vader and R2-D2, for example, where the character essentially went from Lucas' mind to McQuarrie's sketch in a single illustration. The design of some of those characters makes up a massive part of who they are, and that's essentially where they were born. For pure artistic wonder, seeing in-person the production paintings and the matte paintings was just amazing. There's nothing like seeing the originals (though this book is the next best thing!).

David Mandel: My favorite part of Ralph's Star Wars work is how you can see the Boeing designer he once was. It's that sense of form and function despite the fact that you are looking at sci-fi rocket ships. I see it everywhere but it hits me over the head in pieces like the "Battle for Death Star (fighters dive on sphere)." We get Ralph's early interpretation of the Death Star with all sort of ports and panels and towers doing something, and at the same time we get the Y-wings looking not only all "badass" but also looking like they might actually work. I'm also a huge fan of the early Star Wars version of the Imperial City, Alderaan. I love the contrast of the cloudy grey sky with metallic city, and I love the fact that Ralph created this for Star Wars and then George liked it so much he turned it into Bespin for The Empire Strikes Back.
Wade Lageose: For me, Ralph's initial Star Wars artworks are iconic and beautiful and had a huge impact on me as a kid — from concept sketches to final production illustrations. Starting in November 1974, McQuarrie began to create a visual vernacular for the Star Wars universe that is still being used today, and that's just crazy. George Lucas had the concept, but through Ralph's paintings, we saw the vision of these new characters in new worlds, and it was mesmerizing. I have many favorites, but perhaps it was Ralph's "Laser Duel" from Star Wars that really had me fixated. The illustration has great composition and movement which features an early draft character, Deak Starkiller (often referred to as Luke), facing off with Darth Vader. As in many of his early Star Wars paintings, there's a spontaneity/energy to it, and beyond the extraordinary technical merits, each of his paintings told an engaging story that kept me coming back, again and again.
You can read more of their chat here.
May the Force be with you!