Updated With the Winners. SWNN Giveaway: Win 3 Star Wars R2-D2 Deluxe Book and Model Sets!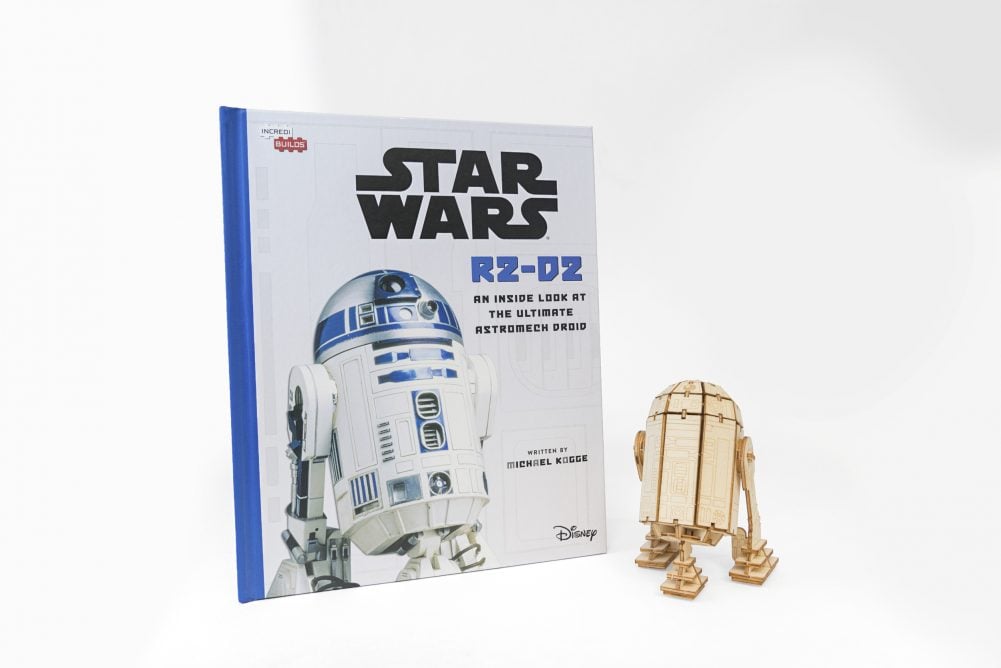 Our friends from Incredi-Builds.com want to share with our readers 3 sets of their newest product – Star Wars: R2-D2 Deluxe Book and Model Set. Read on for the details how to get one for free…
The IncrediBuilds collection features do-it-yourself, customizable, freestanding models that are sure to delight fans of all ages. Each model is made of Earth-friendly, FSC®-certified wood, and all products include step-by-step directions and coloring and crafting ideas. No glue or tools necessary.
The Star Wars: R2-D2 Deluxe Book and Model Set has just been released by the company:
Build and color your own 3D R2-D2 model and learn all about the classic Star Wars character in this deluxe IncrediBuildsTM book set.

Everyone's favorite unflappable astromech, R2-D2, takes center stage in this exciting Star Wars book and wood model set. The full-color, hardcover book is packed with information on R2—from his basic capabilities to his most heroic intergalactic adventures—and filled with amazing imagery from the Star Wars films. The wooden model is easy to assemble and snaps together to form a dynamic, displayable 3D version of R2-D2 that fans will love.
The set includes:
– Laser-cut, FSC-certified wood sheet with easy-to-assemble pieces (81)
– Step-by-step instructions
– Coloring and crafting ideas
– An R2-D2 guidebook, An Inside Look At The Ultimate Astromech Droid
Skill Level: Advanced. Age: 12+
The guidebook included in the set has 32 pages and is written by author Michael Kogge, who has penned many books, most notably the junior novels for Star Wars: The Force Awakens, the Star Wars Rebels animated series, and Batman v Superman: Dawn of Justice.
To win one of these sets just fill in the form below and answer the question "Which Star Wars Episode depicts R2-D2 the best and why" in our comments system.

a Rafflecopter giveaway

Important: This contest is worldwide. If you're on a mobile device you will see a link to the form named "A Rafflecopter Giveaway", instead of the actual form. You can do the Tweet option each day. The e-mail you use to sign in the form is the e-mail that we will contact if you win the prize. So make sure to use a valid and active e-mail. Also if you win, you will have to point us to your comment. Good luck!
If you miss the chance to win, you can always order a set yourself at Amazon, BAM!, and Barnes and Noble.
UPDATE!
Ironically we had this contest up just a few days before the tragic news of the death of Kenny Baker. Again our deepest sympathies to Kenny's family and friends. Safe travels old friend in that other galaxy far, far away…
The three winners are:
Wesley A.
Eric G.
German L.
We will contact you for your prize in the next few days. Thanks to all participants.