Bruce Vilanch Talks The "Star Wars Holiday Special"
Bruce Vilanch, known as the man who co-wrote  the "infamous cult classic" Star Wars Holiday Special  shares his thoughts and previously unknown details about the production. Read on for more!
The 'Star Wars Holiday Special' aired only once on television in the US on CBS. The 97-minute musical-variety show for families aired right before Thanksgiving in 1978, and told the story of Han Solo's original co-pilot Chewbacca and his family on "life day," a celebration of friendship and happiness.
The TV show was designed to keep 'Star Wars' on the minds of the thousands of fans who were waiting for the sequel to original 'Star Wars' film entitled, Star Wars: The Empire Strikes Back. Although Nielsen Media Research reported 13 million households tuned in to watch the show, it's hard to find anyone who actually seen the show on it's original (and only) airing. After the show aired on television it was quickly forgotten by 'Star Wars' fans and vanished forever. Well, not so fast, super fans with VCRs taped the original airing, copied and distributed to local comic book and toy conventions across the world and the cult following was formed and forever cemented in history.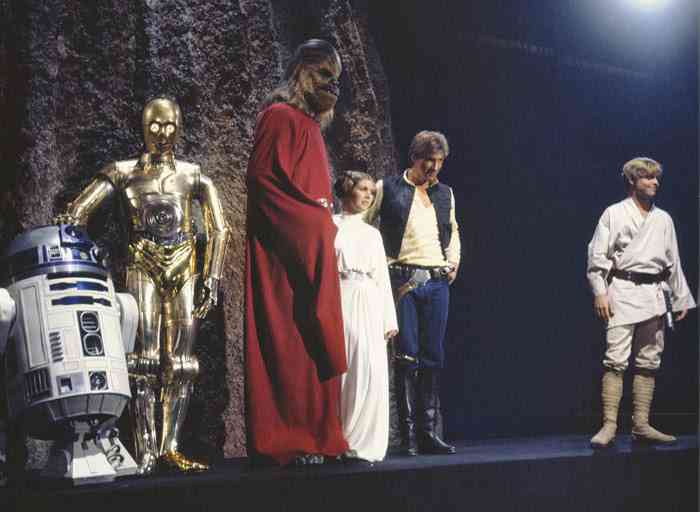 Today, everyone loves to hate on the monstrosity, and for good reason as it's one of the worst things imaginable for any Star Wars fan (Yes, even Jar-Jar Binks is more popular). For the record, I am probably one of the few that like the 'Holiday Special', mostly because I grew up a big Art Carney fan.
Anyhow, one man attempted to do his best to bring a family atmosphere to CBS television back on 'Thanksgiving day' in 1978. That man is comedy writer, songwriter, actor and two-time Emmy Award-winner, Bruce Vilanch. Vilanch, shares some previously unknown and funny information about shooting his negatively received 'CBS' Star Wars Holiday Special, which he co-wrote.
You can watch the short clip here. Good Stuff!
If you are one of the very few that hasn't seen Vilanch's complete co-written 'Holiday Special', you're in luck… It can be seen here.
Check it out!
Source: TVLEGENDS