Latest Update from Dubrovnik, Plus Another Ralph McQuarrie Connection!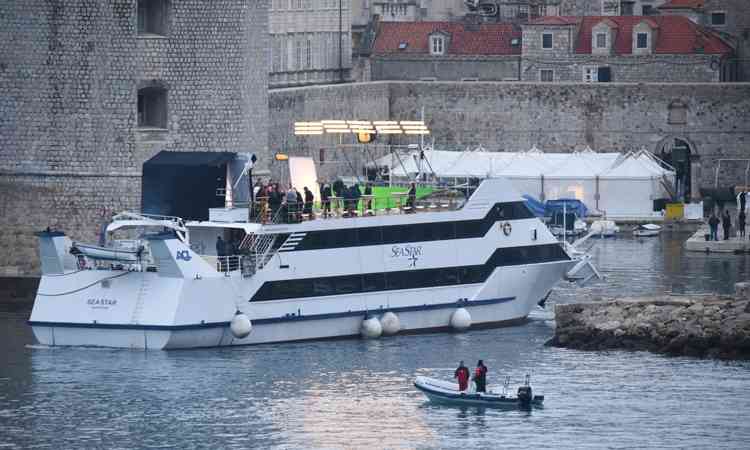 After being so concerned about drones, it seems as though the producers of Star Wars Episode VIII forgot about webcams. Because of those, it's now clear that part of the current filming in Debrovnik has already taken place on the boat, that was spotted a few days ago in the harbor.
DuList took some interesting pictures, showing us more details.
It appears as though the footage being filmed are merely to provide establishing shots of the city (shots which will be edited later to make the architecture seem more "alien" or otherwise otherworldly in nature) in addition to filming some sort of scene on the boat itself. In addition, The Dubrovnik Times reports the following information about the shoot:
It is believed that the crew were gathering footage of the outside of the city and the walls were illuminated for the filming. Nothing was left to chance and the ship was escorted by maritime police as well as a team of divers. It is rumoured that the main actors, as well as the producer, will arrive in Dubrovnik tomorrow.
Some footage of the ship's voyage through Dubrovnik's bay was even filmed. Check it out below.
Beyond the bay-based scenes being filmed is a bit of scenery that was superimposed over Dubrovnik's existing architecture (found via here). And it appears as though they're putting more inspiration from McQuarrie's old artwork with the set.
Top: Mcquarrie early ROTJ art. Bottom : EP8 set in Dubrovnik. Thanks @PaulRMQ for the tip. pic.twitter.com/igzj1jXZSm

— Blast Points Podcast (@blast_points) March 10, 2016
Another Ralph McQuarrie artwork reference of the Episode VIII Dubrovnik set. #starwars @StarWarsNewsNet pic.twitter.com/hs3cQQblei

— Oviban Kenobi (@OvibanKenobi) March 11, 2016
That's all for now, but stay tuned to Star Wars News Net as we cover more information on the filming in Croatia as it hits. The past 2 days were supposed to be only rehearsals. The real filming is expected to start later today.
Grant has been a fan of Star Wars for as long as he can remember, having seen every movie on the big screen. When he's not hard at work with his college studies, he keeps himself busy by reporting on all kinds of Star Wars news for SWNN and general movie news on the sister site, Movie News Net. He served as a frequent commentator on SWNN's The Resistance Broadcast.