REVIEW: IDW/MARVEL Star Wars Micro Comic Collector Packs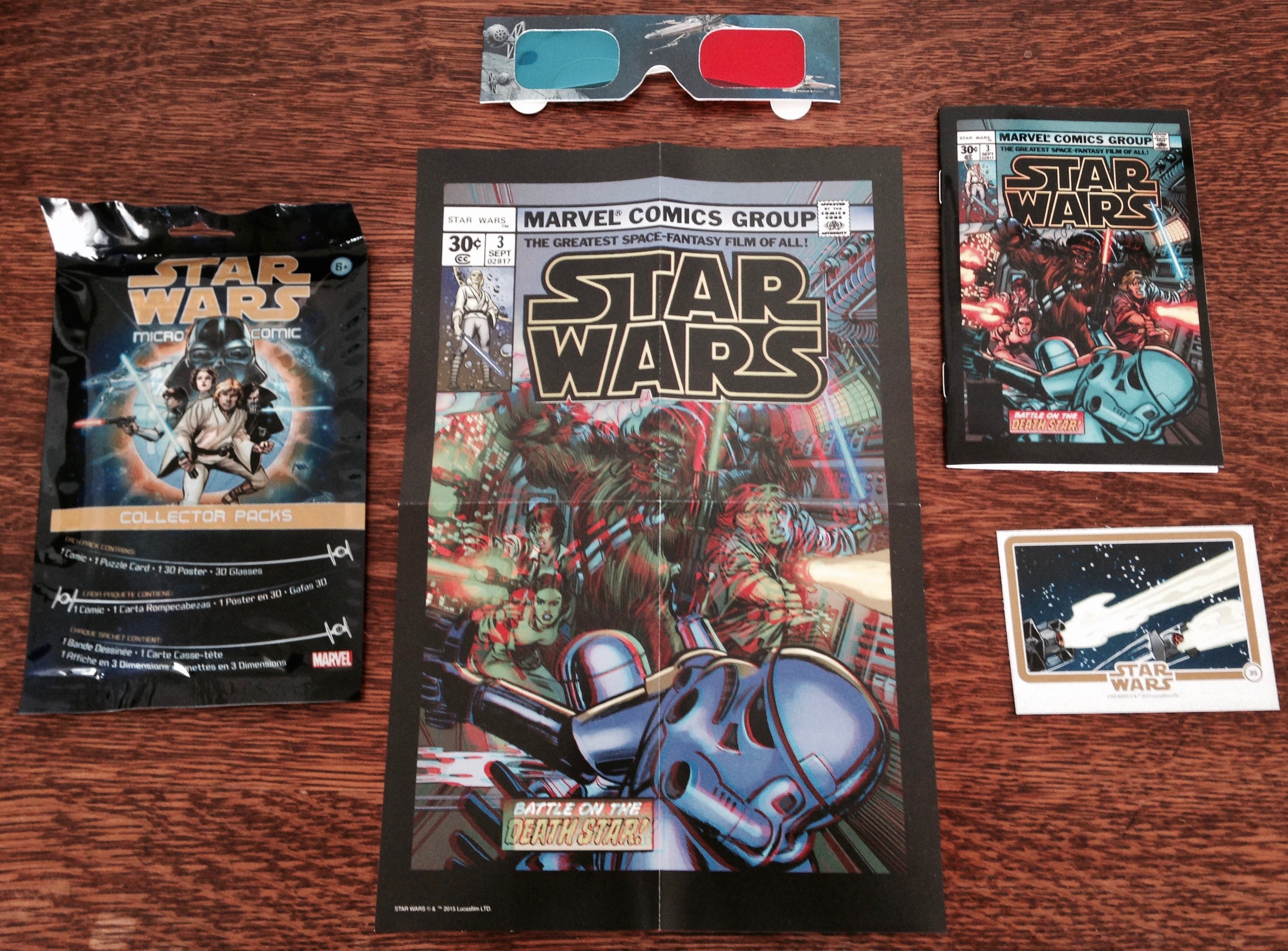 This is very cool!  IDW and Marvel have joined forces and put together something very special for Star Wars fans, specifically Star Wars comic fans.  Seriously, any Star Wars fan worth their salt would enjoy the Star Wars Micro Comic Collector Packs.  In an age of apps and online games, it's nice to get something tangible that throws people back to the first days of Star Wars.  I felt a great deal of nostalgia from my 80's childhood pouring over these.  IDW Publishing was kind enough to share this with Star Wars News Net and let us have a sneak peak at a unique, awesome project. 
Each packet contains:  a pocket size reprint of an issue from the original A New Hope comic, a trading card that doubles as a puzzle piece, a 3D poster of the same cover, and a pair of 3D glasses.
The pocket-sized reprint is beautifully done.  They have captured the original serial feel of Howard Chaykin's art.  The frames are from the re-issue Marvel put out earlier this year, but they look just as classic as the original.  Each issue has been scaled down to fit in the palm of your hand.  The quality of the print and colors are fantastic.  Nothing was lost in the downsize and everything you would come to expect from the first-run adaptation is there.  The micro comic itself is rightfully the star of the show.  There are 6 different issues that cover A New Hope, and they have all been given this treatment.  I guarantee you once you open one pack you are going to want to open another.  Really top-notch preservation of the comic and the size is just perfect to compliment the rest of the contents.
The comic cards are what really brought me back to the days spent shuffling through comic books and/or Topps baseball cards, trying to figure out how I would negotiate that blockbuster trade for titles and players my next door neighbor had.  There are 36 of these cards and there is not one you will be disappointed to get.  The comic cards are all moments and characters from A New Hope.  The colors compliment the size and they are each very unique in terms of contrast.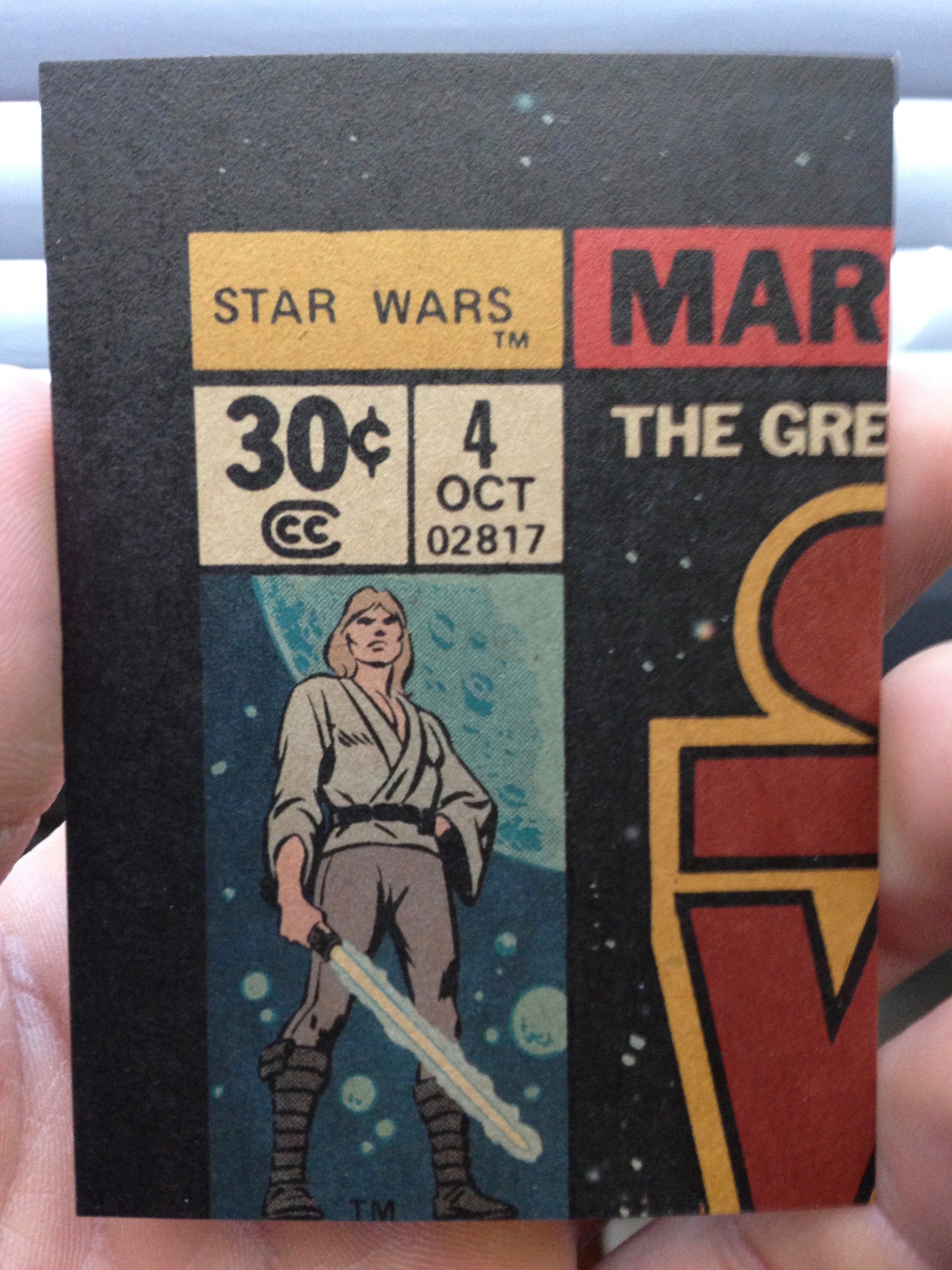 On the back of each card it becomes a puzzle piece that will eventually display a different cover of the micro-comics.  The colors on these really give me a "cereal box"-kind of nostalgia, and I mean that in the best way.  Remember when you would plow your way through a boxes of cereal so you could either send away for a gift or use a component of the box itself to solve some sort of puzzle.  That's what this is!  It is elegant, but at the same time fun, and it also gives the collector of these cards something to strive for.  I'm sure each of the finished puzzles would look awesome in a frame, proudly displayed next to all of your other Star Wars collectibles.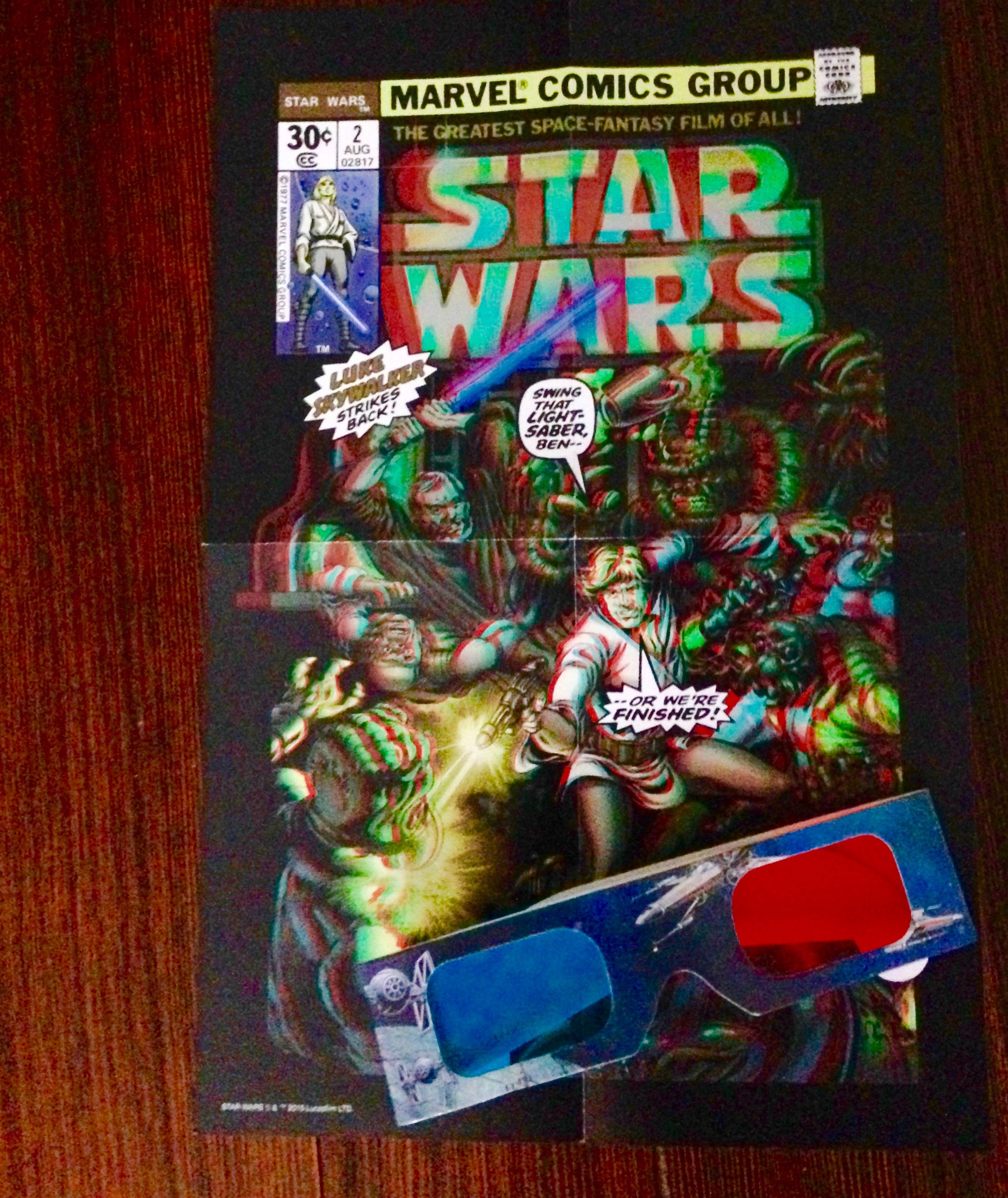 Last, but not least, we have the 3D covers and the set of 3D glasses.  From the packages I opened, the 3D poster seemed to correspond to whatever issue of the micro comic there was.  First, I'm going to come clean about my bias toward 3D.  9 times out of 10, I don't like 3D, AT ALL.  It hurts my eyes, the sloppy conversions done on so many films and products now days feels like such a cash grab.  Rarely does it impress me and I often times avoid it.  When December hits, my Force Awakens experience will be intentionally 2D because I don't want the smallest distraction.  With that bias out in the open, I was really impressed by the 3D posters that came in these packs.  I gave my eyes a few seconds to adjust, because I am jarred just by putting on 3D glasses.  After that, the cover appeared incredibly layered.  The 3D effect did not seem half-cocked or gimmicky at all.  The Star Wars marquee quietly steps into the background, while Obi-Wan Kenobi and Luke Skywalker engage several aliens in an embellished version of the Cantina ruckus.  Each figure on the page occupies their own space and once your eyes adjust it's almost like you are looking in at a small diorama.  IDW really knocked it out of the park, especially since a 3D curmudgeon like myself is impressed.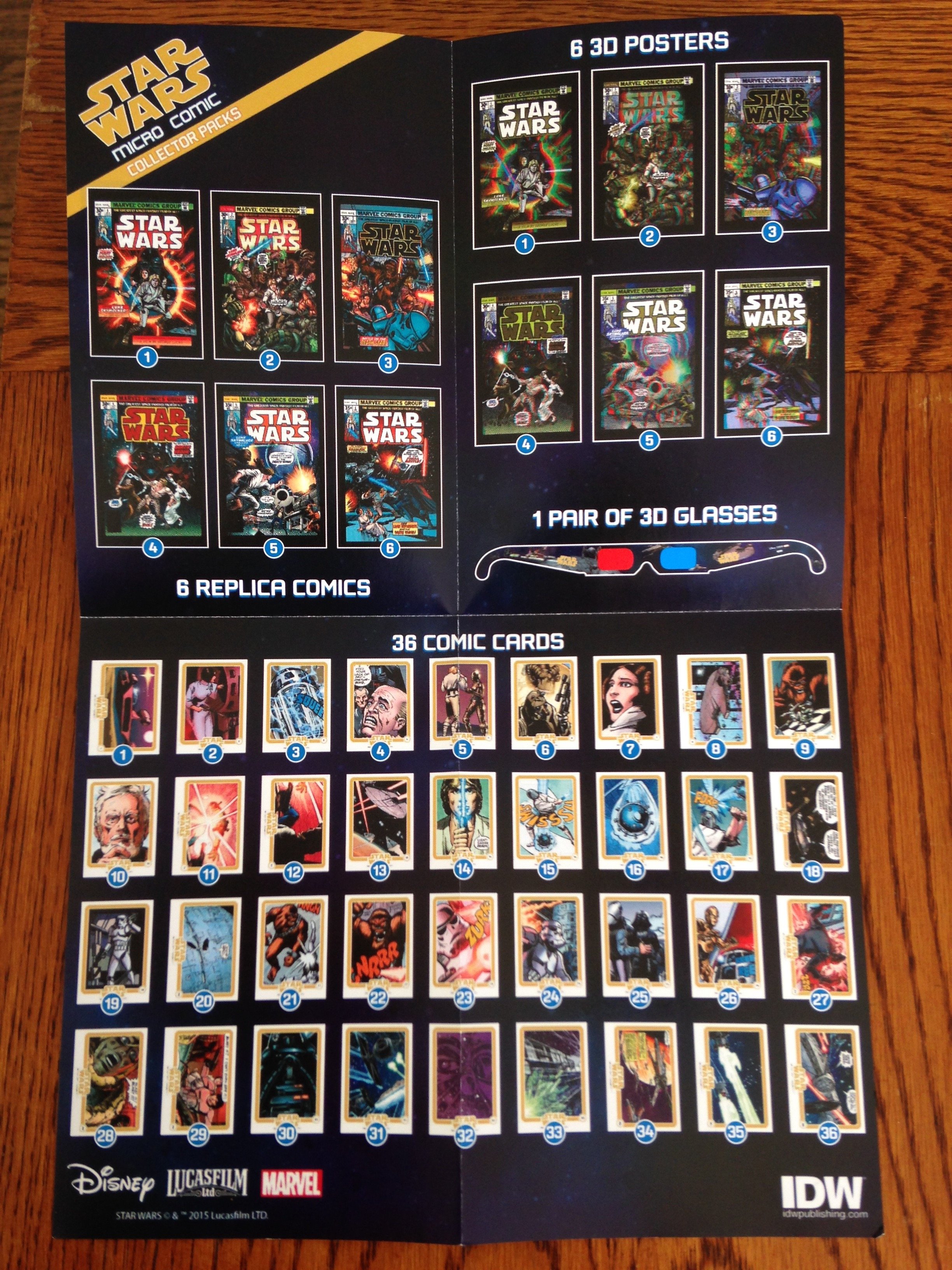 Whether you approach the holiday shopping season with anxiety or thrill, it gets closer everyday.  Make sure to add these Star Wars Micro Comic Collector Packs to your list.  Whether you are purchasing them for yourself, your family, or your friends, they should be a staple in every Star Wars collectors arsenal.
IDW seems to have put a lot of thought into this concept.  They presented something that is very sacred to Star Wars fans, put their own touch on it, and only added to the overall experience.  Nothing at all is distracting from the fact this represents the earliest moments in Star Wars history.  The respect that IDW has for Star Wars shows up each time I look through one of these micro comics or a new comic card.  For $3.99 a pack it's an absolute steal, especially considering the quality of what you are getting.  Pick a few up for yourself, crack open a root beer, and spend a few hours reminiscing with your old friends Luke, Han, Leia, and Chewbacca.
You can also look forward to The Empire Strikes Back getting the same treatment in 2016.  Such a great time to be a Star Wars fan.
The Star Wars Micro Comic Collector Packs will be available at your local comic book store and Target this week.  Suggested retail price is $3.99 per pack.