Daisy Ridley to Glamour Magazine: Steven Spielberg Has Seen The Force Awakens 3 Times!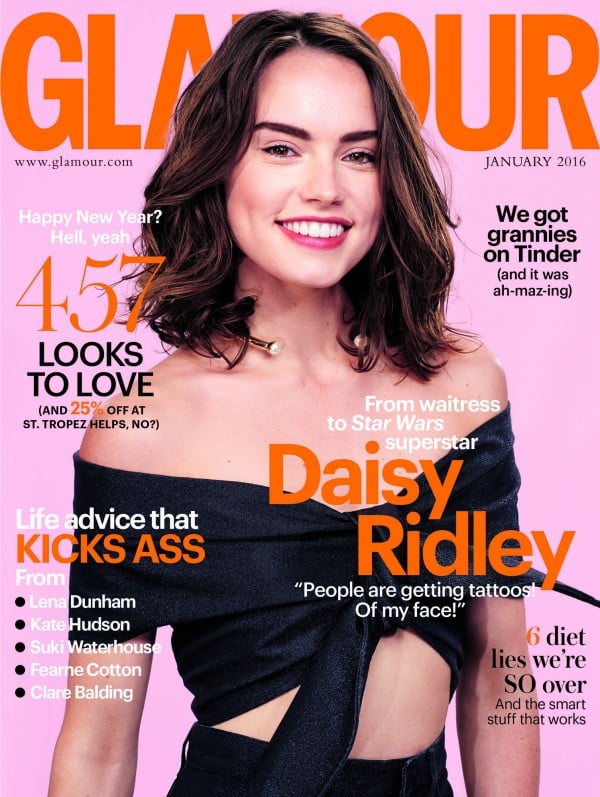 Daisy Ridley is on the cover of the forthcoming January 2016 issue of Glamour magazine. Read on for some quotes from the interview with the actress…

Ridley on first-day-of-filming nerves:
"I was petrified.  I thought I was gonna have a panic attack on the first day."
"JJ [Abrams] … he probably doesn't remember telling me that my performance was wooden.  This was my first day! And I honestly wanted to die.  I thought I was gonna cry, I couldn't breathe."
Ridley on the anticipation surrounding the film:
"It's so nice that people are so excited about it.  But people are getting tattoos!  Of my face!  Already! And I'm like; you don't even know what Rey is in the story.  It seems insane to me."

"I haven't seen the film yet – I kinda want to, and I kinda don't – Steven Spielberg's seen it three times, as he told me when I met him!"
On whether the Disney 'machine' have her firmly in control:
"My experience has been incredible, I've felt supported and respected the whole way through. I've not been told not to do anything.  My Instagram has not been…what's it called when they keep tabs on it?  Yeah, it's not monitored."
Steven Spielberg seeing the movie three times is the best indication that the movie won't disappoint. We all know the close connection that Steven has to Star Wars. This is the best review of the movie that we could hope for! December 18th can't come quick enough.
The issue will be on sale from next Thursday, December 3rd in the UK.