Walmart's Star Wars Galactic Connexions Trading Disc Game & Giveaway!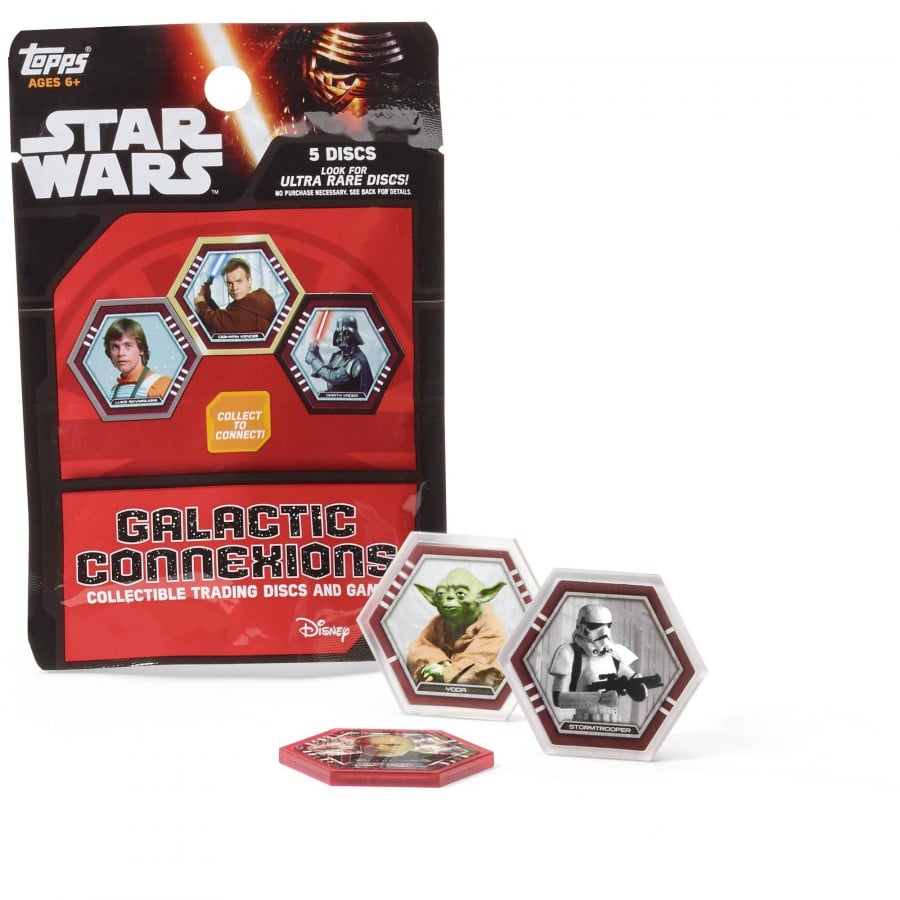 Our friends at Walmart has started new exclusive collectible trading disc game for all Star Wars fans. Each disc features a character from the Star Wars universe, ranging from common to ultra-rare finds, along with varying lines used in the game that designate different power levels. You'll need to channel your inner Jedi knowledge about each character to earn points by battling and making connections, which are done via the specific border color on every disc. Read on for the full details of the game and how to play…
Where can I get them?
Star Wars Galactic Connexions will be sold exclusively on Walmart.com and in select stores. A promotional 2-pack of discs will be given away free to fans that come to Walmart stores for the Force Friday midnight event at 12:01 a.m. on September 4, while supplies last. Other available packs include a 5-disc Booster Pack for $3.98 and a 14-disc Starter Pack for $9.98 sold online and in stores, as well as a special bundle of five 5-packs for $19.98 sold exclusively on Walmart.com.
Win toys and a room makeover, you might!
You may find a special white redemption disc in packs of Star Wars Galactic Connexions. If found, redeem the disc for an amazing Star Wars prize pack: an ultra-rare 14 karat gold disc emblazoned with Princess Leia, a cool toy collection and a designer room makeover courtesy of famed designers Cortney and Robert Novagratz*.
NO PURCHASE NECESSARY. Must be legal U.S. resident, 6 years or older.
For the full details of the contest click HERE.
One of our staff members (Tidmadt)  managed to grab several packs from the nearest Walmart for free. He got 2 game pieces (discs) per pack. The discs are with pretty good quality, about the size of a poker chip, with good weight to them. There is a big variety of discs, so the chances to get duplicates are not big. Also the color scheme shows the rarity of them, so visually it is easy to look at the discs and tell everything you need to know about it. According to Tidmadt the game appears to be rather fast paced but simple to learn. For more details on the actual game, click HERE.
To purchase the gold discs click here: bit.ly/GalaticConnexions
To learn more about the contest: bit.ly/StarWarsRoomMakeover