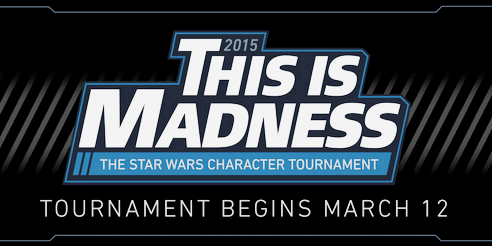 It's already March and it's time for StarWars.com's 3rd annual character tournament – This is Madness. The showdown between the Light Side and the Dark Side begins on March 12. All fans around the world may vote for their favourite character and try to guess who will be the winner. This year the tournament will be even more interesting, with the addition of the Star Wars: Rebels characters. More details after the jump.
The official announcement on StarWars.com:
In This Is Madness, characters are divided into two conferences: Light Side and Dark Side. Each conference contains four divisions: Jedi, Rebels, Scoundrels, and Republic in the Light Side; Empire & Separatists, Bounty Hunters, Sith, and Underworld in the Dark Side. Once the competition begins, new matchups occur daily, and are decided by fan voting — until one hero or villain is crowned champion. Real-time matchup updates are available on the site, letting you know if your favorite characters are winning…or if you need to double your efforts and rally the troops.
That's not all. StarWars.com offers "A FETT-WORTHY BOUNTY" for the person who predicts the winner:
Visit Predict the Madness on Wookieepedia, where you can fill out a complete bracket. Pick who you think will win each matchup and, ultimately, the tournament. Choose wisely! The most accurate brackets will qualify for incredible prizes, but you have to make the jump to lightspeed — the deadline to submit your bracket is Monday, March 16, just before the first round of This Is Madness begins.
For full details on the contest go to StarWars.com
Also we at SW7N decided to make a similar contest for our readers and forum members. Join The Cantina boards and enter to win a sixth scale Captain Han Solo – Hoth action figure and other Cantina bonuses.
For more details on this click HERE.